Gorgeous countryside, lovely old towns, and a super-high quality of life keep Le Marche firmly in the affections of foreign buyers. Fleur Kinson explains why property here continues to offer excellent value for money…
Lying halfway down the national peninsula, Le Marche is the shapely calf muscle of the Italian leg. A small but perfectly formed place, it sits snugly between the warm Adriatic, dreamy Umbria, prosperous Emilia-Romagna and rugged Abruzzo. Its borders also briefly touch Tuscany and Lazio. Beautifully situated, Le Marche contains immense geographical loveliness. Its long golden beaches are clean, safe and family-friendly. Its tidy inland landscape sees gentle green and gold hills crowned with well-kept old towns and villages. Further west, the wooded Apennine and Sibillini mountain ranges appear, full of great walking routes and low-key winter ski fun. All across the region, views are wide and inspiring, and the sense of space is immense.
But it's not just geographic blessings that make Le Marche so appealing. The quality of life here is superb – the population is low, and communities are warm, welcoming and safe. Locally produced food and wine are top-notch, and abundant festivals add plenty of colour and excitement. Le Marche has been cited by more than one reputable arbiter as one of the ten best places in the world to retire overseas.
Culturally, Le Marche enjoys the distinctive feel of central Italy – it's rural but prosperous, orderly yet relaxed. A clean and well-maintained place, Le Marche's wide open spaces are sprinkled at just the right intervals with attractive settlements, and a solid transport infrastructure to make it highly accessible.
TO MARKET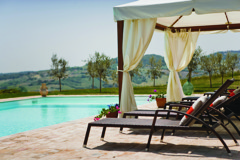 Foreign buyers began discovering Le Marche in the 1990s, initially as an alternative to adjacent Tuscany and Umbria where property prices had ballooned. Early buyers in Le Marche discovered not just bargains but a beautiful and unspoilt part of Italy whose lack of fame seemed inexplicable. Soon property articles and television programmes started drawing attention to Le Marche, and it grew from a place not many people had heard of into one of the most popular regions for foreign buyers in Italy. As its fame increased, property prices naturally rose, but they never reached anything like the dizzying heights of central Tuscany. Nor did Le Marche's character become in any way 'diluted' by an overabundance of foreign home-owners (as happened in certain Tuscan locales, where unfortunately non-Italians still outnumber local residents).
Since the onset of the global financial crisis back in 2008, sales in Le Marche have been much slower. The exception is the high end of the market, which has continued to thrive because the well-defended super-rich have been relatively untouched by the economic trouble affecting the rest of us. Despite slower sales across most of the market, property prices haven't significantly dropped – which rather highlights the strong stability that characterises the region's market. There is noboom and bust dynamic here, no steep rises or sudden plunges. So Le Marche is a very safe place to put your money. One way you might find reduced prices, however, is to negotiate with your vendor. Asking prices are often – but not always – a bit more flexible in light of the currently slow market. It's worth seeing if you can knock off, say, ten per cent of the asking price.
What kind of property can your money get? Here are some rough guidelines. With a budget of between €60,000 and €90,000, you could consider a village apartment or a country ruin needing full restoration. With €100,000 to €200,000, you might choose a standing house to restore or a three-bedroom townhouse. €250,000 to €400,000 could get you a beautifully restored three-bedroom farmhouse or a larger rural home needing minor renovation work. For €450,000 and above, you're looking at increasingly larger properties.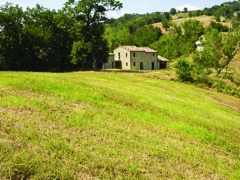 LOCATION, LOCATION
Obviously, Le Marche has its higher and lower priced areas. Also, areas that you will personally prefer over others. Remember that the region has three main parts – a long sandy coast lined with family-friendly resort-towns, a central swathe of hilly countryside dotted with medieval villages, and an increasingly mountainous west. Generally, the most established areas for foreign buyers have been the coast, the pretty Sibillini Mountains, and nearby medieval towns in the central and southern countryside such as Macerata, Sarnano, Amandola and Ascoli Piceno.
"Prices are highest on the coast, and in my opinion value is lower," says Kevin Gibney of Marche Homes Direct. "You are competing here with a much broader market – Italians, Russians and others. Go 20-35 minutes inland and you get much better value for money. You also avoid all the traffic and crowds that flock to the coast in summer."
Robert Hofsteede of Marche Property Net adds: "Inland you also find wider and more unspoilt views. If your property is situated not far from a major provincial road or autostrada, you can be at the beach in no time – and the same for skiing." Indeed, many buyers have opted for a country location within equal reach of Le Marche's highest mountains and its golden beaches, thus maximising both value for money and the chance to enjoy the region's diverse geography.
If a seaside home is really what you want, however, you can look forward to excellent holiday rental prospects, which might go some way toward mitigating the impact of your initial spend. On the other side of the region, far from the sea, the enchanting Sibillini Mountains area remains a great place for reasonably-priced property, and is worth investigating. You would find yourself within easy access of some wonderful parts of Umbria down here.
And on the general subject of access and Umbria, all potential buyers anywhere in Le Marche might be interested in what David Parish of Vinci Properties points out. He says: "The completion within a few years of two fast roads through the Apennine Mountains into Umbria means that Le Marche will be very well-connected to international visitor hotspots such as Spoleto, Assisi and Perugia. This will make Le Marche even more attractive and the market will no doubt benefit."
RESTORING ORDER
Before the recession hit, foreign buyers in Le Marche were particularly drawn to restoration projects. The region offered – and still offers – an exceptional wealth of lovely rural properties ripe for conversion into idyllic holiday homes. The benefits of restoring are obvious: you end up with a home exactly tailored to your taste and usually worth more than what you paid for the original building plus the cost of the restoration work. As the financial climate started changing a few years ago and people began to be more jittery about money, many buyers grew hesitant to invest in restoration, wondering whether they might still have appropriate funds available in later stages of the project. Others worried that the cost of restoring was going up, or that they might not make such a profit selling on their house after restoration because there
might not be a ready market for it.
So is it still a good idea to restore an old home in Le Marche? In a nutshell, yes. The quality of work and craftsmanship in the region is excellent, and builders are no more expensive now than in pre-recession years – in fact, some report that builders are slightly cheaper than before. The cost of transporting materials might be higher thanks to fuel costs, but not by much. Generally, there are all sorts of ways to save money on restoring an old property in Italy. Regarding investment and profit, any holiday home ought to be considered a long-term not short-term investment, and one to be greatly enjoyed before you finally sell it on – if indeed you ever want to. So, if restoring an old property is what you definitely want to do, there's no reason not to go for it in Le Marche.
If, however, restoration work doesn't appeal, be aware that there are some ready-restored bargains in Le Marche – especially from vendors who want a quick sale in order to liquidate assets. Partially-restored houses are also a very good buy, notes Jane Smith of Magic Marche. "With these, the owners have already done the all hard work and absorbed the big expenditure of structural restoration," she says, "leaving the buyer with only the more enjoyable interior work to do."
HOLIDAY LETS
Ever since Le Marche burst onto the foreign-buyer scene, a large proportion of buyers here have offered holiday rentals on their property. As the growth of foreign buyers coincided with a growth of visitors to the region, most buyers have found their holiday rentals sideline pretty successful. Today, experts on Le Marche all concur that rental prospects remain very good across the region. And there's no expectation that the situation will change. People still want to go on holiday, recession or no recession.
As you might expect, rental prospects are highest on the coast – and if you buy a home here your target clientele should include Italians from other regions as well as all the usual cash-rich, sun-poor northern European nationalities. Holiday rental prospects inland – in rural areas offering space and tranquility – are also pretty good. To maximise rentability here, aim to be within 90 minutes of the airport, and have a pool if possible. You might expect to rent out a country home for ten to twelve weeks a year, to mostly British and Dutch visitors.
In terms of visitors and property-buyers, Le Marche is nowhere near saturated. This is still a mercifully unspoilt part of the world. Sensible restrictions on development ensure that the charms that draw people to Le Marche in the first place are extremely unlikely to diminish.