Lorelei and Jacob Wells have made Umbria a second home that they can make available to family and friends.
Leicestershire-based Lorelei and Jacob Wells (in pink and centre, pictured with friends) own a three-bedroom rural house situated between Todi and Orvieto in southwest Umbria. They enjoy long visits there several times a year, make the place available to friends and family, and occasionally offer holiday rentals at other times.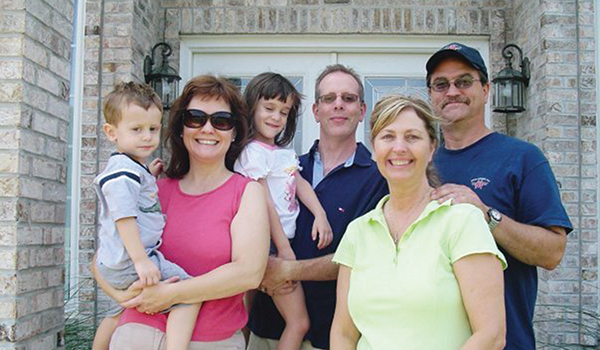 What drew them to Umbria? "I was working for a company that had a lot of Italian clients and they sent me to do an intensive Italian language course in Perugia back in 2005," Lorelei explains. "Jacob and I had been on holiday to Italy a few times, but Umbria was fairly new to me. And I loved it immediately. The next year we went out to explore the area, and travelled down from Perugia to Assisi, Montefalco, Spoleto, Todi and Orvieto. Magical places. We called it our 'Umbrian road-trip' and it was one of the best holidays we'd ever had. We had already been thinking about buying a house in Italy, maybe in Liguria or Veneto, but the Umbrian holiday left us in no doubt as to where we should buy.
"The house was just about habitable when we bought it, but it badly needed smartening up. I think it had been unoccupied for about thirty years. We had a great team of builders who hammered and scraped and plastered and tinkered inside the building while Jacob and I weeded and dug and planted and landscaped outside. We had new wiring put in, a new boiler and heating system, and we refitted the kitchen and bathroom. It was really exciting watching this dilapidated old house come back to life, and start to look all new and perfect. We ummed and ahhed about putting in a pool, but eventually decided against it. We have Lake Bolsena not far to the west and Lake Trasimeno not far to the north.
"What we love most about the place is the quiet and the fresh air. When people come to visit us, you can see the happy astonishment on their faces when they sit out with us on their first evening here. The silence, the peace of the place. All around us are woods and fields, with the nearest houses just pretty lights off through the trees and on the hillside. We always feel so restored after a day or two of being here. Being deep in nature and quietness. Of course we love to go and visit beautiful towns nearby like Todi and Orvieto, or go up to Perugia – all stimulating places – but the best thing is always coming back home to this incredibly calm nook where we live and sitting out in the garden watching the colours of the sky deepen and the twilight come up. It makes me feel completely at peace."