Marilyn and Josh Parker divide their time between a suburban bungalow in their native Wisconsin and an old stone house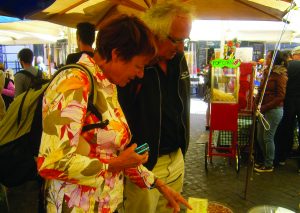 Up in the hills overlooking Sicily's northern coast. They bought their Italian home in 2014 and, after a year spent fixing it up, they now spend up to six months a year there. They love the sunshine and the food, and the friendliness of the local people.
What drew them to Italy's largest island? "My grandfather was Sicilian," Josh explains, "and when it came time for me to retire I guess I just felt the lure of 'the old country' awakened in my blood! Marilyn has some Italian ancestry too – her people came from Abruzzo, we think – and she was just as excited as I was when I suggested we buy a place in Italy. We had been to Sicily a few times on vacation, we knew it was a pretty inexpensive part of Italy, and we soon agreed that this was where we wanted a house.
"We both like peace and quiet, fresh air and nature, so we figured we'd prefer to be out in the country rather than down in a beach resort that could get pretty busy in the summer. We knew Cefalù on the northern coast, which is a really beautiful place, and we decided to look for a house a few miles inland from it. We drifted west a bit, and found an adorable little house not far from Caccamo. This meant that we could easily get to Palermo in one direction and Cefalù in the other. It seemed perfect to us. The house was an old stone cottage that hadn't been lived in for a few decades and needed some work. We were nervous about navigating local builders and workmen, but our estate agent helped us out and thankfully everything went really well.
"It took us a while to get used to the more relaxed, slow pace of life out here. I guess part of that was just the shock of retirement. But we soon realised how healthy it was to take your time, chat to your neighbours, and go food shopping every day in the little shops in the village. We had both made an effort to learn Italian before we came out here, and I'd strongly recommend that anyone moving to Sicily does the same.
There's not a huge amount of English spoken on the island away from the main resorts. Speak even just a little Italian and the Sicilians are thrilled. They are such friendly, chatty people, and we love that we can converse with them and get to know them well. Sicily is wonderful. We are both absolutely delighted with our new life here."