Matt and Shirley Partridge from Leicestershire own a small country house in the far south of Puglia. They enjoy month-long visits there several times a year, and plan to retire there permanently later this year.
What drew them to Puglia? "We've both had careers in catering and hospitality," Shirley explains, "and this contributed to us both becoming big wine buffs. Italian reds have always been our favourite, and about ten years ago we discovered the characterful delights of Negroamaro and other Puglian wines. We went down to Salento for a local wine festival and had such a great time we went mad and decided to buy a house here.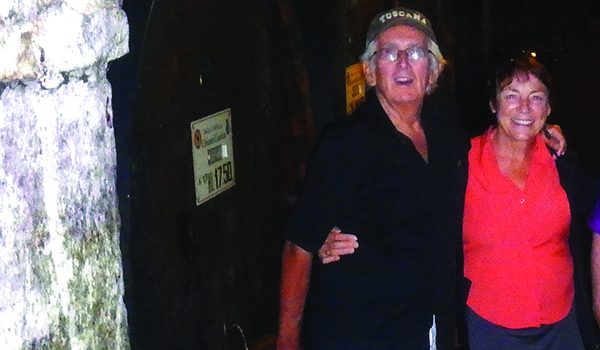 "It's not as crazy as it sounds, really, because the prices of homes in Puglia are astonishingly good value, and we figured our money was better invested in a property than kept in a bank. Lots of happy holidays followed, and now we're going to move here full-time. Puglia has everything we could want for in a place to retire to – super healthy food, fresh air and space, long hot summers, lovely friendly people and a gentle pace of life. We absolutely love it.
"Our little house is about twenty minutes from the sea, on the edge of a small village. Lecce isn't far away, and Brindisi is an easy drive from there when we want the airport or a special restaurant. It's a three-bedroom house, which means we get to enjoy lots of visits from English friends.
It was habitable when we bought it, but badly needed an upgrade inside. We got a crew of local guys to make it beautiful, and we extended the patio so that now we have this gorgeous outdoor space with flowers and secret nooks. Some days we hardly go inside except to sleep. We take all our meals on the patio, and lounge in its shady places to read and so on. Being able to spend so much time outdoors is one of Puglia's great blessings. Inside, the house is surprisingly cool on hot days, thanks to very thick stone walls and the ubiquitous Puglian whitewashing. People live in harmony with the climate down here.
"I'd recommend Puglia to anyone. It might not be as sophisticated as northern Italy or have as much art as central Italy, but it certainly has a beauty all its own. It feels innocent and safe, but is never boring. I'd recommend learning Italian if you're going to spend lots of time here.
Matt and I have a pretty good fluency now, and it means we get to take part in all gatherings, and really get to know all the people in the village. Everyone has been so welcoming to us, and we're hugely looking forward to becoming a permanent part of the place later this year."