Alex Josephy and David Hornbrook had always thought that Tuscany was out of their reach, until they were introduced to a newly restored property that made their dreams come true…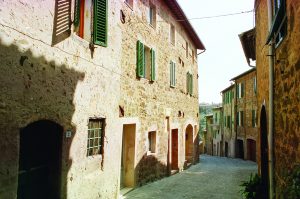 Alex Josephy and David Hornbrook bought their three-storey house in the wine-producing town of Montalcino, Tuscany, in 2008. The house is half of an old palazzo dating back to the 18th century and fronts onto a narrow flagged street that is typical of the hilltop towns and villages in southern Tuscany. Unusually for a house in this location, it also has a garden and panoramic views over the fortress and medieval town hall.
The palazzo was originally bought by Toscana Restoration, who extensively renovated the property and divided it in two. As a company that specialises in restoring Tuscan buildings by using eco-friendly materials, it replaced existing ceiling supports with solid chestnut beams, then rebuilt the roof using the original terracotta tiles but with a natural ventilation/insulation system that lowers the internal temperature in summer and retains warmth in winter. Windows were either reclaimed from the structure or made in the same way by a local artisan carpenter. Floors were tiled with handmade mezzane pamments from a local workshop and walls were plastered with lime by a local craftsman with hand-mixed lime paints inherited from his father.
A Place to retire
Both then working in education, Alex and David had been searching for a place to retire to in Italy since 2006. The weather, scenery, food, and friendliness of the people were all factors in the decision, but with an interest in the arts, the pair also wanted to live close to Italy's great art and architecture. For them, this meant being within easy reach of both Florence and Rome. They began their search in central Italy, namely Le Marche and Umbria.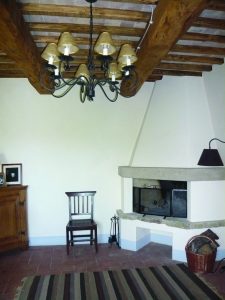 "We saw some amazing places," explains David. "One house halfway up a mountain looked, and smelt, as if the animals had only just moved out. Too isolated for us. We realised that we really were town people. We wanted a garden but we also needed to be within walking distance of shops and restaurants. And at our age we didn't want to spend the next ten years restoring a ruin."
Back in London, Alex and David visited La Dolce Vita exhibition, and found themselves talking to Wanda Djebbar from Toscana Restoration. They had always thought Tuscany out of their reach financially, but Wanda persuaded them to visit Montalcino. A month or two later, driving south from Siena, they found themselves in a terrain quite different from anything else they had come across. The gentle rolling hills of southern Tuscany began to work their magic on the pair.
Change of plan
When they saw the palazzo, they knew their search was over. It was perfect. "It had obviously been restored to a very high standard using local, eco-friendly materials, and all the utilities were in", David enthuses. "There was plenty of room for the two of us and for our family and other guests. There was even a garden with vines and olives!"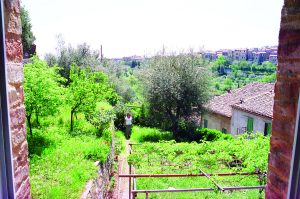 As Alex and David soon discovered, the medieval town of Montalcino also ticked the other boxes on their list. Butchers, bakers, fishmongers and a market were all within easy reach of their new home. Surrounded by the Brunello vineyards, local wine was freely available, and there were plenty
of restaurants around.
A year on, Alex and David are delighted with their home and the help given to them by Toscana Restoration. David comments, "The company has bent over backwards to help us settle in, helping us to set up a bank account, taking deliveries from England, dealing with the comune – even watering the flowers. We have gained a beautiful house and some true friends.'
For more information about Toscana Restoration's properties visit www.toscanarestoration.com
Tags:
Toscana Restoration
,
Tuscany