Romantic little cities, sleepy hills, shimmering rivers and long Adriatic beaches – Veneto has no shortage of enchantment. Seekers of urban apartments and of rural retreats should take a closer look, says Fleur Kinson
Photos by Getty Images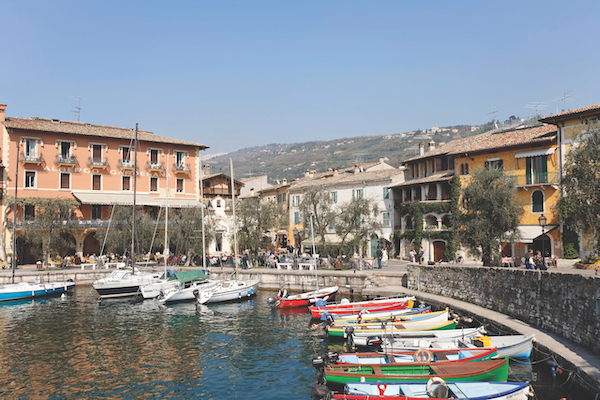 You're a well-travelled italophile. You know all about Venice, and Romeo and Juliet's Verona. But you might not be quite so instantly familiar with the rest of the elegant, affluent region in which they both sit. Veneto is tucked up in Italy's northeast corner, unfurling its pretty landscapes from the otherworldly stone needles of the Dolomites to the green flatlands of the Po Valley, and from the gilded shores of Lake Garda to the wide blue shallows of the Adriatic. 
For all its geographical loveliness, Veneto is best known for its exquisite urban environments. This is not only the region of Venice and Verona, but also of handsome Treviso, colourful Padua, and Vicenza with its wealth of Palladian villas. There's a great deal of architectural charm in this corner of Italy, with highly-decorated buildings, fine stonework and delicate balconies adding a sense of refinement to street scenes. Head north and things take a turn for the Tyrolean, with chalet-style houses effusively decked with flowers. On the seaside, meanwhile, it's all pretty pastel gaiety.
Veneto's small cities are much-loved by international visitors. Venice, for example, is famously one of the most visited cities in the world, with its now more than 20 million annual passers-through creating some logistical problems for the city. But for all the fame of Veneto's big draws, the region still holds plenty of beautiful, tranquil countryside. Seekers of a rural idyll should certainly get to know the Euganean, Lessini and Berici Hills areas and also the foothills of the Dolomites. There are some quiet spots along the coastline too, and even in the Venetian lagoon if you look carefully – on tiny, sleepy satellite islands.

People and place
Culturally, Veneto offers all the things you'd expect from northern Italy. Life is generally well-organised and things run in orderly fashion. Transport connections are good and it's generally pretty easy to get about the place. Veneto is one Italy's most populous regions and its five million inhabitants are a creative and industrious bunch, but like Italians everywhere they enjoy a very healthy work-life balance – making ample time for leisure with friends, savouring fine meals and sitting at cafés watching the world go by. The people of Veneto show a clear awareness of the fine things in life and they have a flair for good living.
Centuries ago, Venice acted as a kind of bridge between the West and the East, bringing oriental exotica into Europe thanks to its location and special trading privileges. Perhaps because of its long tradition as a conduit between different worlds, the whole Veneto region still tends to be rather cosmopolitan-minded and outward-looking. For all its elegant old-world charm and strong sense of regional identity, the Veneto region still oddly feels like a bit of a global hub and never remotely like a backwater. 
Of course, Venice is still a major port as well as a magnet for tourists from across the globe. And various local manufacturers have become multinational companies. So Veneto feels rather switched-on and savvy, which can come as a surprise given its dainty old architecture and small-sized settlements.
As a foreign buyer in this region, you can expect a warm welcome into whatever community you choose. Buy in one of the little cities and you'll find no shortage of ex-pats and international people to commune with and share tips on how to get the best out of the place. Buy in a sleepy rural backwater and the locals will embrace you and ensure that you never feel isolated. Italians are friendly everywhere you go, as readers of this magazine are sure to know. 

Property markets
Quite apart from the charms outlined above, there are many good reasons to buy a home in Veneto. It's easy to get here, and quick too if you happen to be coming from a northern European country such as the United Kingdom. 
Then there's the region's traditionally robust property market. This is a perennially appealing bit of the world that tends to weather well any storms in the world economy. Much of this comes down to the ferocious, unwavering appeal of Venice, of course, and that city's property market has a knock-on effect on the strength of the whole region. 
Popularity means that Veneto isn't one of Italy's cheapest regions for property. But there is still good value for money to be had in the historic little cities (particularly when you consider their strong year-round holiday rental prospects), and especially in the region's rural hills – where prices can be very attractive indeed. Veneto's small hill areas are not only appealing in themselves, they invariably give easy access to one famous little city or another.
Property prices are generally highest in Veneto's cities, as you'd expect, with Venice at the apogee. Lovers of the gilded island-city should note that they can save €100,000 or more by buying on one of its nearby isles such as Burano or Torcello. In Veneto's second-tier cities, such as Verona, Treviso and Padua, two-bedroom apartments generally range between €200,000 and €400,000, depending on their features and location. In other cities, property prices can be quite a bit lower, with some apartments going for as little as €100,000. In the leafy countryside hills, whole houses might ask €130,000 to €200,000.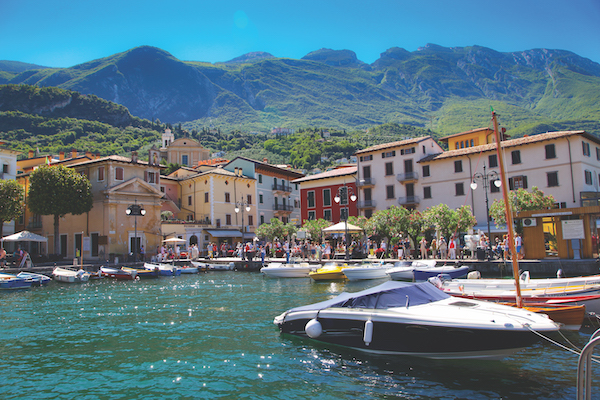 Land and water
Like many Italian regions, Veneto squeezes in a greater variety of physical geography that seems quite possible. It's useful to know how the land lies here – as well as how all Veneto's shimmering water fits into it – so you can decide where to target your property search. 
Veneto's far north is dominated by the soaring stone teeth of the Dolomites – an exceptionally beautiful offshoot of the Alps and home to some charming mountain towns and villages as well as glitzy ski resorts such as Cortina d'Ampezzo. Moving south, Veneto landscape slowly flattens out to meet fertile lowlands dominated by pretty cropfields and innumerable rivers. The region's gem-like little cities are generously scattered about this wide valley plain.
But the flat part isn't all flat, of course. There are occasional outcrops of leafy hills, and it's in these that many foreign buyers have found their affordable rural idyll. Three hill ranges come recommended: the Berici Hills south of Vicenza, the vineyard-striped Lessini Hills northwest of Verona, and the wonderful domed Euganean Hills south of Padua – famous for their spas and restful atmosphere. Charming villages can be found throughout all three of these hill ranges. In the Euganean Hills you might begin by investigating Montagnana, Cittadella and Este, and in the Lessini Hills you might start with Soave. With such reasonably-priced property on offer throughout Veneto's several ranges of hills, you'll probably want to do some exploring.
Considering Veneto from west to east rather than north to south, the story is one of water to water. The region's westernmost edge encompasses half of Lake Garda – Italy's largest and most visited lake, much loved by sailors and wind-surfers for its reliable breezes. It's a busy place full of people having fun, but there are still serene and lovely settlements here such as Malcesine and Torri del Benaco. The lakeside terrain grows steeper and more dramatic the further north you go, and property prices tend to rise in parallel. Holiday rental prospects on Lake Garda are superb. Heading east from Lake Garda across Veneto, traversing an infinity of rivers en route, you eventually come to…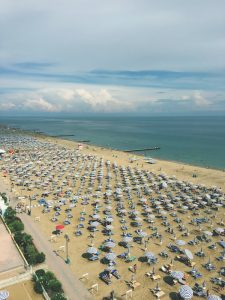 The sea, the sea!
Veneto's coastline is one of the region's most enchanting assets. Uniquely looping and intricate, dominated by lagoons, sandbars, strands and islets, there are more meetings of sand and water than seem possible in one small place. Beaches are often huge – several hundred feet wide and many miles long. The seawater is warm and shallow, making for exceptionally safe bathing. 
There's a lot of tourist infrastructure here, as you'd imagine – hotels, holiday villages and campsites nestling among the pinewoods – but there are also plenty of quiet natural spaces where you can silently commune with the elements. The seaside shifts in flavour from classic holiday gaiety to mystic tranquillity and back again.
If you want a house or apartment by the sea, there are countless pleasant resort-towns to consider in Veneto, and you should have a perfectly lovely time exploring several of these to decide which one you like the most. Don't overlook the comparatively undeveloped Po River delta area in Veneto's extreme south, which is a reedy, restful delight of a place. 
Property prices along Veneto's coastline tend to be linked to how close to Venice you are. The further you go from the magical island-city, the lower the prices. But note that whether you head east or south of Venice, the seaside is still wonderful. 
For many buyers interested in Veneto, however, there's only one watery locale they want: Venice itself. This incomparable city is one of the most coveted places in all of Italy. It's atmospherically gorgeous at all times of the year. However, with an ever-growing global population and so many people who understandably want to visit, Venice is also extremely crowded for much of the year. 
It is undeniable that property prices in Venice are among Italy's highest, but it is also immediately obvious that the city's holiday rental prospects are some of the world's best. If you can afford to buy here, go for it. For all the crowds, there are still quiet back alleys where you can find yourself alone even in the height of summer. The San Marco district is the priciest and most crowded, while more reasonably-priced districts include San Croce, San Polo, Dorsoduro and Giudecca – all of which are thoroughly charming areas with no shortage of Venetian magic. 
Useful contacts
Italia Casa 
Properties in Italy 
For more on the area's property potential, see our Veneto regional guide
Veneto property picks

[slideshow_deploy id='23749′]