This dreamily serene region of fairytale landscapes and jewel-like hilltowns continues to be adored by discerning visitors. Property prices are currently in a very favourable situation for you, says Fleur Kinson.
Tucked away in the middle of the Italian peninsula, encircled by Tuscany, Lazio and Le Marche, Umbria is famed for its lyrical landscapes, its ancient hilltowns and its tranquil, contemplative atmosphere. Spacious and leafy, it has been called 'the green heart of Italy', but more than a heart, Umbria is something of the nation's spiritual soul. Many of Italy's best-known saints and mystics hail from here (St Benedict, St Clare, St Francis of Assisi) and the region yields abundant jaw-dropping churches and cathedrals.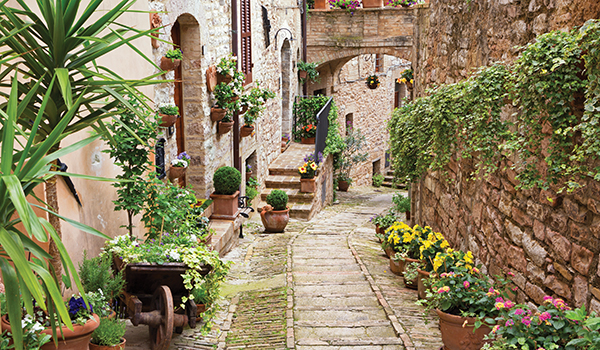 It's hard not to find a kind of divine inspiration in a place like this. Umbria's wide, undulating landscapes continually pull your mind towards the bigger picture. With softly rounded mountains lining the horizon and smooth hills climbing into the middle distance, your eye is continually drawn to upward-rising land and the sky above, and your thoughts inclined to higher things. Meanwhile, Umbria's perfectly-preserved hilltowns with their exquisitely decorated buildings appear like mini-heavens in the distance. And they're pretty heavenly when you enter them, too. Well maintained and unspoilt, many of Umbria's hilltowns are treasure troves of art and architecture. They're also home to warm communities enjoying a very high quality of life.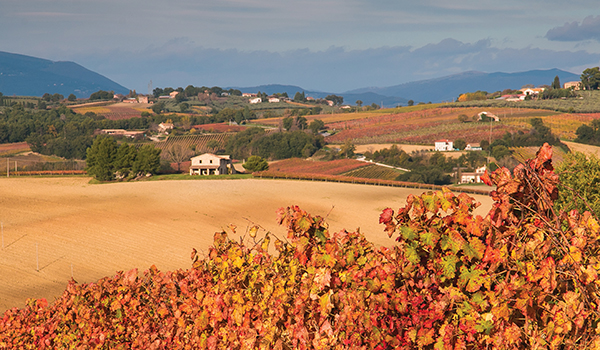 Umbria is a particularly good place for a peaceful retreat or to recharge your personal batteries. It offers a strong sense of the eternal and the timeless, and somehow puts the everyday world with its petty worries into better perspective. There's a lot of unchanged space and silence here, a lot of physical beauty – both natural and hand-built. Crucially, life is uncrowded and unhurried. Thinly-populated Umbria has fewer than a million inhabitants, and it seems to absorb its fairly large visitor numbers without ever feeling swamped or diluted. Nicely balanced, Umbria is tranquil but not remote. It enjoys a good transport infrastructure, with easy connections to neighbouring regions and direct flights from Britain. It's great for a personally restoring escape, but so much easier to reach than many other secluded, out-of-the-way places round the world.
Market then and now
With so much going for it, Umbria was never going to remain undiscovered by foreign property buyers. They started trickling in about forty years ago, at first in search of lower prices than those in the adjacent region of Tuscany. But many found Umbria even more enchanting than its better-known neighbour, and spread the word. Property prices slowly rose and rose in both regions until they reached near parity. Then, from 2008 onward, global financial woes saw many would-be international buyers putting on hold their plans to get a second home abroad. Buyer numbers shrank dramatically in Umbria, as across the rest of Italy and many other destinations. The effect this had on Umbrian prices was slight, slow and steady – which is how things tend to go in Italy's notably stable property market, where sudden booms or busts are mercifully rare. Bit by bit over the next nine years, property prices drifted ever so slowly downwards.
Today in Umbria, as across the rest of Italy, property prices can be said to be between 15 and 40 per cent lower than they were in 2007, depending on the area. Nine years is a lot of time for a slow, slow decline to add up to a significant overall decrease. Needless to say, this means that your money can get you more in Umbria today than it could a decade ago, even taking into account shifts in the euro-pound exchange rate. According to the credit ratings agency Standard and Poor's, and some other financial soothsayers, property prices in Italy are expected to stay fairly unchanged this year and then to have risen by a meagre 1 per cent by the end of 2018. So now is a perfect time to buy if you can. Prices are low, not expected to go much lower, and thought to begin gently rising again very soon.
But what about today's actual figures? What sort of prices might you expect to pay for a home in Umbria these days? Obviously this is a very rough guide, but there are nicely renovated village apartments available for as little as €35,000-€50,000, and two-bedroom village houses from €100,000. Small country houses start at about €140,000, and larger farmhouses at about €240,000. Even two-bedroom apartments in highly-desirable hilltowns such as Assisi can be had for around €200,000. There is also, of course, no shortage of sumptuous luxury properties in towns or in the countryside available from €400,000 and upward into the millions.
How the land lies
Location is always a major factor in price, but even if it weren't you should still gain a good idea of Umbria's various areas before you begin your property hunt. Let's start with a quick look at the region's geography. Central, northern and western Umbria tend to see fertile valleys of manicured cropfields unfurling between rounded elevations. In the far south and east, meanwhile, the terrain climbs higher and grows more craggy and forested. Umbria has no coastline, but it is blessed with some splendid lakes, the largest of these being warm, shallow Lake Trasimeno in the west. (Beach-lovers, note that the sea is a ninety-minute drive to Umbria's east or west.)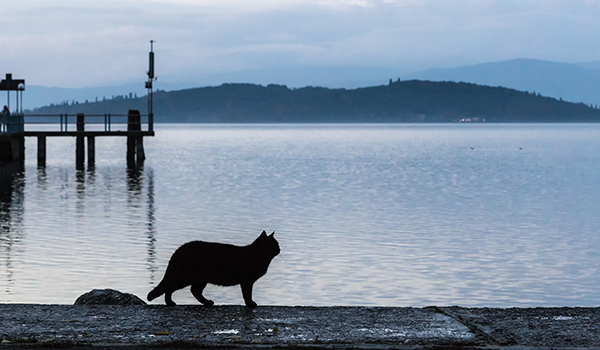 There are no big cities in Umbria (the largest, Perugia, is home to just under 170,000 people). Most buyers come to Umbria to enjoy the region's intense rural beauty and its enchanting ancient towns. The rural areas most popular with buyers are the Vale of Spoleto in the region's centre, the Upper Tiber Valley in the far north, and the area around Lake Trasimeno. None of these are Umbria's cheapest parts, but there are still plenty of reasonably priced, good-value homes available in all three areas. Umbria's very cheapest rural homes can be found in the region's eastern and southern extremes, where the landscape is generally higher and wilder than elsewhere. Especially recommended down here for geographical beauty plus low prices is the Nera Valley area (the 'Valnerina') and the Sibillini Mountains.
On the subject of land and geography, you should always bear in mind that Umbria – like almost everywhere else on the Italian peninsula – is a seismically active zone. You will have heard in recent years news reports of earthquakes in this and several other central Italian regions. All newly built homes, and all old homes bought as restoration projects, are legally required to include various earthquake-proofing techniques in their construction. These protective measures work very well, but must of course be present to do so. If it is your intention to do up an old country home in Umbria, like so many foreign buyers have done before you, make absolutely certain that you employ the latest anti-quake technology in your construction. After all, you wouldn't want any ugly cracks – or worse – appearing one day in your beautiful old walls, would you?
Golden towns
As suggested earlier, its abundance of enchanting ancient towns – especially hilltop towns – is one of Umbria's greatest assets. These old settlements are well-preserved and well-kept places full of historical buildings, and they often enjoy a lively calendar of public events. Many buyers opt for an apartment in one of Umbria's old towns rather than a rural property outside town. The advantages of this are total immersion into the community of the town itself, plus in many cases an even longer holiday rentals season if you're planning to rent your place out when you're not there. Some of Umbria's most-loved towns include Assisi, Todi, Orvieto, Perugia and Spoleto, but you should also be aware of other gems such as Montefalco, Spello, Montone, Trevi, Bevagna, Umbertide, Città di Castello and more. Umbria really does have an exceptionally high number of beautiful settlements to explore, and their property prices can be surprisingly reasonable.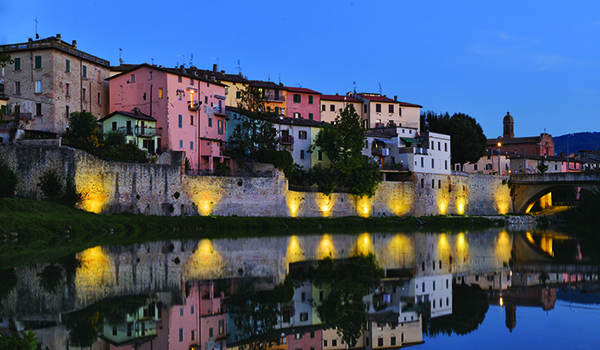 If holiday rental returns are a big factor in what you want from a town-home in Umbria, you might look closely at Assisi and Perugia. The former is one of the world's great pilgrimage sites, as well as being a dazzlingly lovely spot, and people flock here year-round. Perugia, meanwhile, has several rentals markets to look into – tourists, students and business people who often make short- and medium-term stays in the city. As the regional capital, Perugia enjoys good swift connections to other places, yet remains a handsome and atmospheric town in itself and a great place to be.
Holiday rentals
On the general subject of holiday rentals, you should know that visitors have shown no sign at all of falling out of love with Umbria for several decades, and have kept coming irrespective of wobbles in the global economy. Visitors to Umbria are a discerning, cultured and well-mannered bunch who come to enjoy the countryside and the delights of the historic towns. A two-bedroom apartment in an Umbrian hilltown might get you rental returns of €300-€500 per week – more if it's large or luxurious. A country house with a pool could garner €1,000 per week in the summer months, and considerably more if it's a very large property. The rural rentals season runs from May to early October, with the hilltowns often seeing a longer season than that.
If, like many buyers, your dream is to restore an old tumbledown property in Umbria, there are still projects available to take on. Local builders – whose standards are extremely high – will be keen to take on the work, and you may be able to negotiate a very good price. Note that any restoration work will have to maintain the traditional style and character of Umbrian buildings, at least on the outside. The attractive look and feel of rural buildings is one of the charms that keeps visitors coming back to the Umbrian countryside, so you can understand why that's legally protected. Many foreign buyers have done beautiful property-restorations in Umbria over the last few decades, and if you don't want to take advantage of this by buying something someone else has already lovingly restored, you can certainly join their ranks and decide to do up a ruin yourself.
Tags:
buying in Italy
,
Homes in
,
Homes in Umbria
,
Umbria