This central Italian gem still offers much lower-priced property than neighbouring Tuscany and Umbria. Its unspoilt landscapes and easy-going lifestyle are hard not to fall in love with, says Fleur Kinson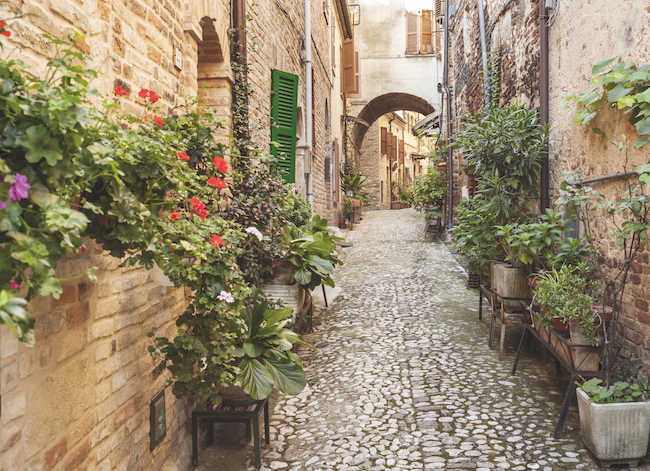 Goldilocks knew that perfection often lies not at the extremes but in the middle. For many homebuyers, central Italy is neither 'too north' nor 'too south' and is 'just right'. Industrious northern sophistication and slow-paced southern dreaminess seem to reach a lovely balance here. Then of course there's the wonderful climate, architecture, culture and lifestyle of the whole area. No wonder so many people love Italy's centre. But of central Italy's three main regions – Tuscany, Umbria and Le Marche – the first two are still far better known than the last.
Le Marche has all the stunning landscapes and handsome buildings you'd expect to find in Tuscany and Umbria; it has all the fine food, warm communities and easy way of life you'd look for in its central Italian neighbours. But it lacks the summer overcrowding. And it generally lacks the high property prices too.
It's easy to fall in love with Le Marche's landscapes. It's an overwhelmingly rural region, and many of its natural spaces have the fetching, tidy look of a series of large gardens. And there's so much physical variety packed into this region. Its eastern edge is a long line of clean, honey-gold beaches gently sloping into the warm and shallow Adriatic. A short distance inland, you enter an expansive tranquil world of verdant hills, prettily manicured into fields and crowned with ancient towns and villages. Head to the region's western and southwestern extremes, and the hills become low, shapely mountains with wonderful walking trails and magnificent views.
The Marchigiani are an easy-going but orderly bunch who like to keep their towns as well-maintained as their countryside. You'll find the centres of villages and towns here well-kept and well-preserved. Le Marche is a prosperous and productive place, but one with a noticeably gentle pace of life. You can take your time here, and stop to smell the roses.
With a low population density, a very low crime rate and a particularly lively annual calendar of local festivals to bring people together, Le Marche offers an extremely high quality of life. Little wonder then that the region has been drawing many discerning homebuyers and retirees from other countries over the past 20 years.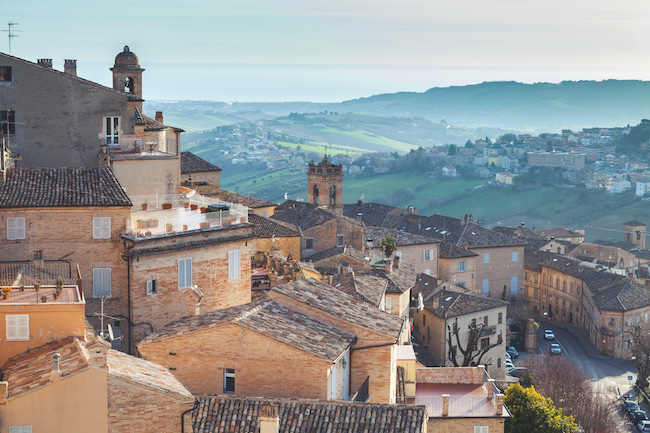 The market story
Le Marche's initial appeal to international property buyers was that it was a much cheaper place to buy a home than Tuscany and Umbria, and this is still the case, with prices perhaps 30% lower on average across Le Marche than they are across Tuscany. Ten years ago, the long tail of the international financial crisis began to sweep across Le Marche as it did across all other Italian regions, and the sudden absence of foreign buyers very slowly brought prices down by about 15% over the next few years.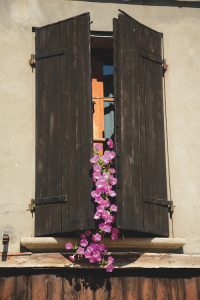 Things were just beginning to rally in Le Marche's market a couple of years ago when Britain's unexpected vote to leave the EU threw many would-be British buyers into a quandary. A few months later, a series of mid-sized earthquakes hit central Italy, causing considerable damage to some buildings in mountainous parts of Le Marche and making quite a few would-be buyers think again.
It's two years on from all that. What's happening in the market now? Kevin L. Gibney of Property For Sale Marche says that buyers are back in the region. They realise that now is a very good time to buy, because "prices are reasonable, there are good property options across the spectrum, and value-for-money is excellent." Kevin says that for €50,000 to €100,000, you can pick up an old ruin to restore which would have cost twice as much ten years ago. For €200,000 or less, he says, you can get "a terrific townhouse" in one of Le Marche's many lovely little towns. Go up to €350,000 or more and you'll be looking at some really beautifully-restored old houses and farmhouses.
Seismic activity
Even though Italy is well-known as a seismically-active country where small and medium-sized earthquakes can occur almost anywhere, the international news stories about Le Marche's 2016 quake damage had a short-term effect on the number of buyers coming to this region. But let's clarify some things about seismic activity in central Italy, to help you make better-informed choices on where to buy.
First of all, while tiny earthquakes in Italy are quite common, larger ones are not. Secondly, most of Italy's earthquakes tend to occur in areas of the Apennine mountains that run down the centre of the Italian peninsula, where there is a complicated network of geological fault-lines. Coastal areas and anywhere up to about 15 miles inland from the sea tend not to experience earthquakes. The more coastal part of Le Marche experienced no tremors and no damage whatsoever during the events of 2016.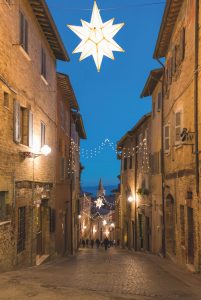 Since the 1980s, all newly-built or restored old homes across Italy have been legally required to include earthquake-proofing techniques in their construction. There are all sorts of cunning ways that buildings can be strengthened to survive earthquakes, and Italian law obliges all builders and restorers to use them. So, when agents or restorers make mention of earthquake-proofing in Le Marche properties, you mustn't fear that the buildings of Le Marche are somehow uniquely vulnerable to seismic activity. Earthquakes can happen in almost every Italian region. And earthquake-proofing has to be incorporated into every new building or restoration project – because that has been the law for decades now.
The 2016 headlines are still having some influence on where people are buying in Le Marche, however. Roberto Mauro Dari of Marche Estates notes that he has far more clients for Le Marche's more coastal areas these days, and fewer for the mountainous areas, where there had been many more buyers before 2016. Memories of the earthquake news stories are also currently affecting what types of homes people are buying. Kevin L. Gibney of Property For Sale Marche notes that the current buying trends in the region are "at the opposite ends of the spectrum – finished, recently-restored, certified quake-proof homes at one end, and old ruins to be custom-restored at the other. Old ruins are really gaining in popularity; they have been a neglected market for ten years, so prices are extremely attractive and buyers know that after they restore they will have an earthquake-proof house completely customised to their individual needs and tastes." Roberto Mauro Dari concurs. He says "Ready-restored homes offer good savings, but it's satisfying to re-build a ruin and put in eco-friendly energy systems and everything else you might want from the ground up."
Beaches and hills
One of the great benefits of a region like Le Marche is the diversity of landscapes and activities it puts within easy reach. Whether you buy a home on the coast, in the hills or in the mountains, it's not far to go to immerse yourself in another kind of place for a while. But let's look a little more closely at the region's various parts to help you choose where you might want to seek a home. Le Marche's long, beautiful seaside is full of safe, family-friendly resorts built beside exceptionally clean beaches. Low-rise, modern-built apartments are a common property type by the sea, and these might ask between €100,000 and €240,000. There are older properties too in the centres of resort-towns. As everywhere in Italy, prices are generally higher the closer to the water you are. Holiday rental prospects on a seaside property are, of course, excellent throughout the warmer months.
As you drift away from the sea and further inland, Le Marche's landscape begins to buckle into gentle hills. As well as being less populous than the seaside, this hilly hinterland can give you beautiful views down to the Adriatic and, in the opposite direction, up into the Apennines. In general, a property within a dozen miles of the sea is likely to cost perhaps 10% more than a similar-sized home in most areas further inland. But you might not want to go too far inland if you'd like the reassurance of the very low levels of seismic risk which areas near the coast offer. Perhaps you might look at places within a dozen and a couple of dozen miles from the water. This zone gives you more property for your money, more seismic peace of mind, and the advantage of easy access to both coastal and mountainous areas. Holiday rental prospects on homes within 45 minutes' journey-time of the sea are good, and you could expect to have clients in the spring and autumn as well as the summer.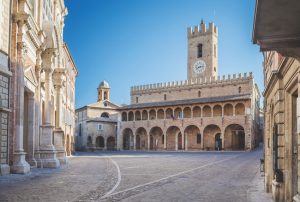 Some parts of Le Marche's mountainous far west and far southwest still bear seismic scars in the form of visible damage to buildings. (It takes a long time to clean up after an earthquake.) If you don't like the thought of seeing stricken buildings in the towns and villages near you, be sure to widely explore Le Marche's beautiful mountains to find their many undamaged places. There are great bargains to be had up here in the highlands, of course. Le Marche's mountains see the region's very lowest property prices. As you'd expect, there's also a tremendous sense of space, fresh air and quiet, which make the area irresistible.
Obviously, if you're buying in the mountains, make sure that any restored property you consider buying has been well earthquake-proofed according to law. And if you're buying a ruin to restore, do not scrimp on the quake-proofing when you have the place restructured. Peace of mind is invaluable. Buyers hoping to rent out their mountain home in Le Marche to holidaymakers should note that visitors do come this far inland. You won't have as many clients as you would on the coast or in the hills, but you're unlikely to have none. The mountainous parts of Le Marche are extremely beautiful areas which discerning visitors still love to explore.
For a more detailed look at property in the different parts of Le Marche, check out our Regional Guide.