A recent snowfall accentuates the beauty of the walled city of Urbino, Le Marche. The World Heritage site is within easy reach of two lesser-known ski resorts…
Most ski enthusiasts will be heading for the slopes of the Italian Alps or the Dolomites this winter, but those aren't the only places you'll find snow in Italy.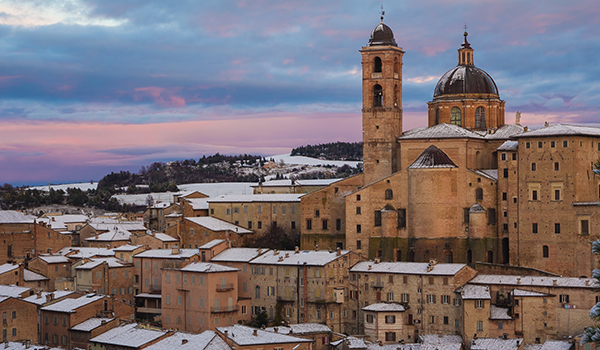 Urbino itself is best known for its medieval structure and unique Renaissance architecture, but not far from here are the ski resorts of Piobbico and Eremo di Monte Carpegna.
No, the snow in the Apennines is not as reliable as it is in the Alps or the Dolomites, and it is generally only locals and people looking for a new experience who come to this part of Italy to ski. But those in the know, and those with the time to closely follow the weather forecasts, and act on them at short notice, can fly into Bologna, for example, pick up a car and come to this picturesque part of the world for a ski experience like no other.
SaveSave