Order your copy online today from just £9.99 (inc.P&P) here.
The brand-new Rome & the South travel guide from the publishers of Italia! magazine has 132 pages packed with expert travel know-how, stunning imagery and itineraries to make the most of your next trip to both Italy's capital and the lands beyond – the captivating region of Lazio and further south to the heel of Italy. However long you are planning to stay, our essential guide will help you make the most of your precious travelling time. Discover the heritage and cultural legacy of the iconic places you will visit, as well as guided city tours, where to stay and eat plus excellent local attractions like historic gardens, traditional festivals and stunning beauty spots.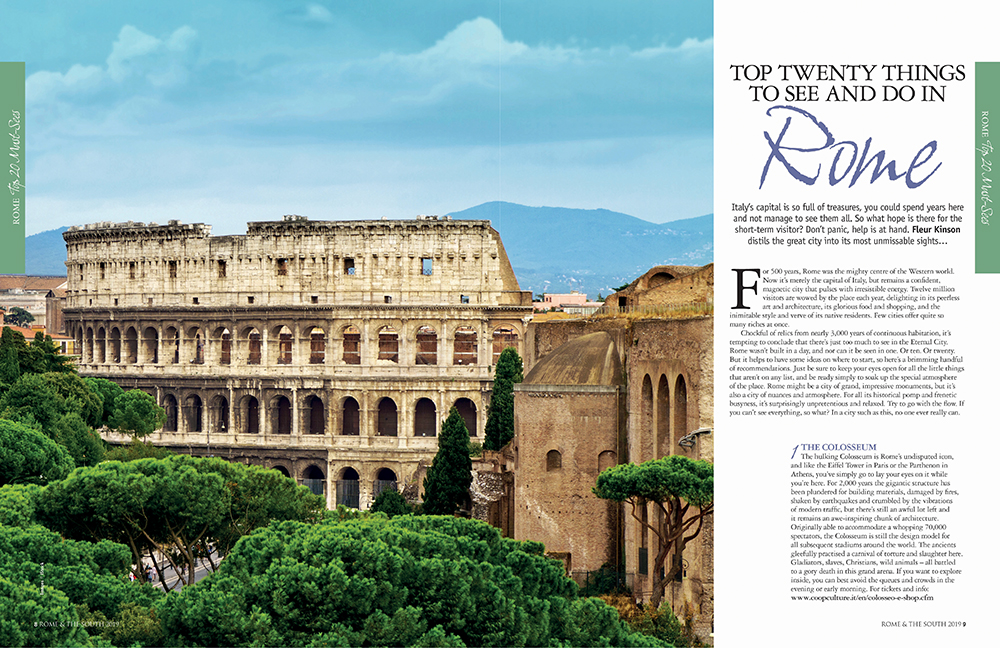 Whether you like the idea of a gourmet tour, a city break, a cultural stay or a beach holiday, there's plenty of travel inspiration here parks to whet your appetite for your next Italian trip, in the three easy-to-navigate colour-coded sections. In the first section of this glossy guide, explore the very best of Rome, the aptly-named Eternal City and its many classical and contemporary attractions, from food and places to stay, to history, culture, activities and attractions. The second section takes you on day trips and getaways in the wider Lazio region; glorious rural retreats off the beaten track, spectacular hill-towns and more. In the final section, we head to southern Italy with diverse holiday destinations, natural wonders plus a guided tour around Matera in Basilicata – the 2019 European City of Culture.