The latest issue of Italia! is on sale now, available to buy online and from stores across the UK! You can also download the digital edition for Apple devices or online /Android/ Windows 8 devices.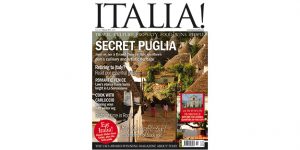 February always feels like a bit of a watershed month to me: the post-Christmas slump has been and gone in the dull days of January, the new year is well and truly bedded in, and putting the right year on our correspondence has become automatic.
It's a time to look forward to what spring has to offer, make plans for the summer, and enjoy the first excuse for a party since New Year: Valentine's Day. I don't follow the idea that it's only for those 'in love' in the hearts and flowers/true romance kind of way: it's a time to celebrate enduring friendships and the special people in our lives, too.
So, on point as ever, we bring you to the true 'City of Love', Venice, with its evocative canals and palazzi, as well as hidden corners for secret assignations.
As you'll have noticed from our cover, Puglia's the place to go, and for more than just sunny beaches. Art historian Ros Ormiston explores its cultural and historical delights. Meanwhile, Antonio Carluccio tells us about his favourite winter-veg recipes and much more.
We always love to hear about your trips to Italy and see your favourite snapshots so hashtag #ItaliaMoments or send us your photos on our Facebook page.
Don't miss out on your copy – you can order online here or download the app for your Apple or Android device.
We hope you love this issue as much as we do! Do write and let us know.
Best Wishes
Amanda Robinson 
Editor, Italia! Magazine