In this edition of our bilingual feature, Tom Alberto Bull reports on the rise and – in hindsight at least, inevitable – fall of the Domino's pizza chain in Italy, home of the handmade pizza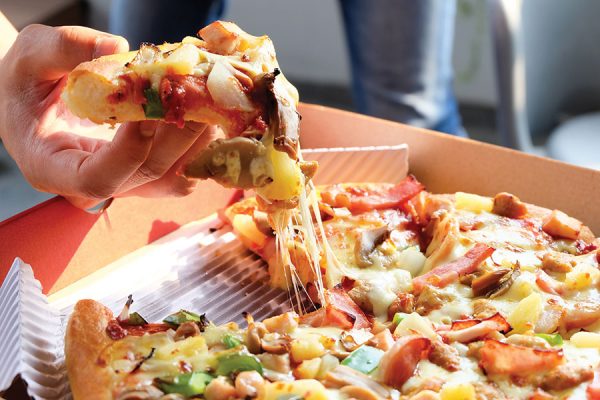 KEY WORDS
Useful Italian words and phrases to add to your vocabulary
Cotta (cotto) alla perfezione Cooked to perfection
Prosciutto ed ananas Ham and pineapple
Il suo progetto ambizioso His (her) ambitious plan
Riconoscere la sconfitta To accept defeat
Cosa è andato storto? What went wrong?
Per essere precisi To be precise
Punto vendita esclusivo Unique selling point
Era destinato a fallire Was destined to fail
Con prezzi a partire da With prices starting from
L'arte tradizionale The traditional art
Rispondendo alle critiche Responding to criticism
Io sono un genio I am a genius
ITALIANO | L'EFFETTO DOMINO
Esistono poche cose più preziose per un italiano di una pizza cotta alla perfezione. E viceversa solo l'idea di una pizza hawaiana con prosciutto ed ananas è destinata ad offendere.
Nonostante questi fatti risaputi, l'imprenditore Alessandro Lazzaroni ha creduto che la catena Domino's potesse conquistare un pubblico fra i più esigenti quando ha varato il suo progetto ambizioso con l'apertura di ben 880 filiali in tutto il paese. Se ci era riuscito McDonald's e se Starbucks continua a farsi strada, perché lui stesso non poteva farcela?
Il primo esercizio ha aperto a Milano nel 2015, seguito da Bologna, Torino, Parma e Roma. Ora, dopo sette anni e altre 21 succursali, sono stati costretti a riconoscere la sconfitta, chiudendo tutti gli esercizi e rinunciando completamente al loro sogno italiano.
E allora, cosa è andato storto? Innanzitutto, i prezzi. E' abbastanza facile trovare una pizza margherita cotta in pochi minuti in un forno a legna per poco più di cinque euro. Nel Regno Unito una pizza grande (13,5 pollici per essere precisi) al formaggio e pomodoro appare sul menù di Domino's per £19.99 – senza includere sconti o offerte speciali. Sin dall'inizio non prometteva bene.
Il secondo problema determinante è arrivato con il Covid-19. Dopo il lockdown introdotto per impedire la diffusione del virus, le pizzerie tradizionali in Italia hanno cominciato ad offrire il servizio a domicilio.
Questa trasformazione ha avuto un'ulteriore accelerazione con l'arrivo delle app per le consegne tipo Deliveroo e Glovo. Senza la consegna a domicilio come punto vendita esclusivo, Domino's era destinato a fallire.
La ritirata della società giunge in un momento in cui si discute più generalmente dell'anima del settore della pizza. Flavio Briatore, l'imprenditore italiano diventato famoso per la sua partecipazione nella Formula Uno e per la sua presidenza del club di calcio londinese dei Queen's Park Rangers, ha provocato l'indignazione dei tradizionalisti quando ha aperto un ristorante nella capitale che serviva pizze con prezzi a partire da €15 per una margherita e fino a €65 per una pizza con il prosciutto crudo di pata negra.
Questi prezzi hanno destato scalpore soprattutto a Napoli, dove l'arte tradizionale dei pizzaioli ha ricevuto lo status di patrimonio culturale dell'Unesco nel 2017.
Rispondendo alle critiche per i prezzi, Briatore ha dichiarato in un video pubblicato sui social media: "La cosa che veramente mi dà fastidio è che l'Italia è un paese rancoroso, pieno di invidiosi. La verità è che io sono un genio e voi non lo siete. Questa è la differenza". Altro che alzare posta in gioco!
ENGLISH | THE DOMINO'S EFFECT
There are few things more precious to an Italian than a pizza cooked to perfection. Conversely, the mere thought of a deep-pan Hawaiian with ham and pineapple is sure to cause offence.
Despite these well-known facts, entrepreneur Alessandro Lazzaroni believed that Domino's could win over the toughest of crowds with his ambitious plan to open 880 franchises up and down the country. It worked for McDonald's, and Starbucks continues to make inroads, so why couldn't he manage it too?
The first outlet opened in Milan in 2015, followed by Bologna, Turin, Parma and Rome. Now, seven years and 21 branches later, they have had to accept defeat, closing all stores and giving up completely on their Italian dream.
So what went wrong? Well, firstly; the prices. It is quite easy to pick up a margherita cooked in a wood-fired oven in just a few minutes for little more than €5 euro. In the UK, a large cheese and tomato Domino's pizza (13½in to be precise) is on the menu for £19.99 – not taking into account any deals or discounts. Not a good start.
The next major problem came with the impact of Covid-19. As lockdowns were enforced to prevent it from spreading, traditional Italian pizzerias began to embrace the delivery service.
This transformation was accelerated even further by the arrival of delivery apps such as Deliveroo and Glovo. Without home delivery as a unique selling point, Domino's was destined to fail.
The company's retreat comes at a time of a wider debate over the soul of the Italian pizza world. Flavio Briatore, the Italian businessman famed for his time in Formula One and a stint as chairman of London football club Queen's Park Rangers, has outraged traditionalists with a restaurant in the capital offering pizzas ranging from €15 for a margherita up to €65 for one with pata negra cured ham.
The prices have been met with uproar, especially in Naples where the traditional art of pizza making received UNESCO Heritage status back in 2017.
Responding to criticism over the prices, Briatore exclaimed in a video posted on social media: "The thing that really bothers me is that Italy is a rancorous country, full of envious people. The truth is that I am a genius and you are not. This is the difference." Talk about raising the stakes!
Enjoyed reading about Domino's in Italy? Learn more Italian language in our archives.