In this edition of our bilingual feature, Tom Alberto Bull invites you to a hand of Burraco, the card game that's become all the rage in Italy
KEY WORDS
Useful Italian words and phrases to add to your vocabulary
Fare il quarto/la quarta To make up a foursome
Un gioco di carte A card game
Facile da imparare Easy to learn
Un elemento sociale A social element
Nei primi anni 80 In the early '80s
Da tre in sù Of three or more
Il ramino Rummy
Un elemento di fortuna An element of luck
I jolly The joker
Carte matte Wild cards
Un elemento di bravura An element of skill
Impresa non facile No easy task
La vita quotidiana Everyday life
Chissà? Who knows?
In bocca al lupo! Good luck!
ITALIANO | UN GIOCO DI CARTE CHE HA ATTECCHITO IN TUTTA ITALIA
Durante un recente soggiorno in Italia una mia parente è stata invitata a fare la quarta per un gioco di carte che è diventato sempre più popolare negli ultimi anni e che si chiama 'Burraco'.
Ha scoperto che il gioco è piuttosto facile da imparare, e come molti presto è diventata appassionata. Qualche partita può servire a riempire le ore calde del pomeriggio nei mesi estivi o quelle buie in inverno. C'è naturalmente un elemento sociale nel gioco, tanto più che è meno impegnativo rispetto ad altri giochi di carte come il Bridge.
Inventato nel 1940 in Uruguay, Burraco fu introdotto nei primi anni 80 in Puglia da emigranti che rimpatriavano. Oggi ci sono più di cinque milioni di persone che giocano regolarmente, governate da una Federazione che vanta 16000 iscritti e 160 affiliazioni locali.
Il gioco viene accomunato al ramino, in cui le carte sono conservate per creare delle combinazioni da tre in sù oppure scartate, fino a quando un giocatore rimane senza carte in mano. Generalmente partecipano quattro giocatori divisi in due squadre, ma ne bastano anche solo due.
Il gioco comprende un elemento di fortuna, dal momento che la rapidità con cui un giocatore riesce a chiudere la mano dipende spesso dalle carte che riceve.
Siccome i jolly e idue sono 'carte matte', pescarne un paio rende molto più facile il tentativo di costruire una sequenza di sette in un palo, ossia un 'Burraco'. Tuttavia, ci vuole anche un elemento di bravura, per cui i giocatori con una certa esperienza avranno sempre un vantaggio sui principianti.
Burraco si è diffuso enormemente, al punto che non viene giocato solo da amici a porte chiuse, ma in tornei a livello locale, regionale e nazionale, presediati da moderatori il cui compito è di assicurare che il vocio sia tale da permettere ai partecipanti di concentrarsi pienamente. Impresa non facile in una sala piena di italiani!
Alcuni italiani famosi come lo stilista Giorgio Armani e l'ex-capitano della squadra nazionale di calcio Francesco Totti hanno trovato in Burraco il modo di sfuggire agli stress della vita quotidiana. Un altro appassionato, il cantante lirico Luciano Pavarotti, usava dire che Burraco era un passatempo 'fondamentale' nella sua vita.
Come nel Bridge, molti giocano online, o con persone vere o contro il computer, una tendenza che è molto aumentata durante la pandemia Covid.
Poiché le regole di Burraco si trovano facilmente su internet, se avete tre persone disposte a partecipare potreste provare. Chissà? Forse il gioco acquisterà popolarità anche nel Regno Unito! O magari sarete invitati a fare il quarto la prossima volta che vi troverete in Italia. In bocca al lupo!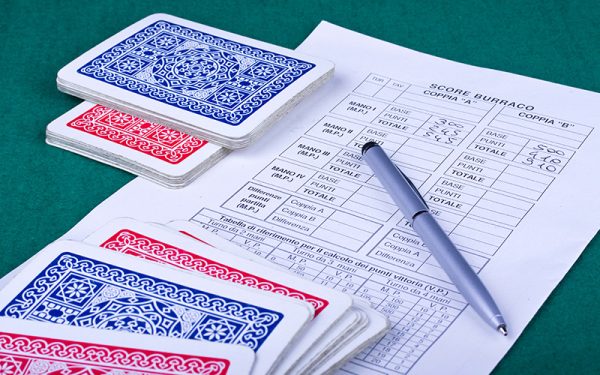 ENGLISH | A CARD GAME THAT HAS CAUGHT ON ALL OVER ITALY
During a recent stay in Italy one of my relatives was asked to make up a foursome for a card game that has become increasingly popular in recent years, called 'Burraco'.
She found it a straightforward game to learn, and like many people, she soon got hooked. A few rounds can help to fill the hot afternoon hours in the summer months or in the dark winter months. There is a social element to it too, of course, as it is less intellectually demanding than other card games such as bridge.
Invented in 1940 in Uruguay, Burraco was brought over to the Puglia region in the early '80s by returning migrants. There are now over five million regular players, governed by a federation that boasts over 16,000 members and 160 local affiliations.
The game is related to rummy, where cards are retained in order to create sets of three or more while others are discarded, until one player ends up with no cards in their hand. It is normally played by four players, playing in two teams, but it can be played by just two.
The game involves an element of luck, because the cards you are dealt can often determine how quickly you can close out the hand.
The jokers and the twos are wild cards, so it helps to pick up a few of these in your attempt to build a seven-card sequence in a suit, known as a 'Burraco'. However, there is also an element of skill, giving experienced players a clear advantage over newcomers.
Burraco has taken off to the point where it's not only played by groups of friends behind closed doors, but tournaments are organised at local, regional and even national level, supervised by moderators who must ensure that noise levels are low enough to enable participants to concentrate fully. No easy task in a roomful of Italians!
Some famous Italians such as the fashion designer Giorgio Armani and the ex-captain of the national football team Francesco Totti have found Burraco to be the perfect escape from their stressful lives. Another fan, the opera singer Luciano Pavarotti, used to say that Burraco was a 'fundamental' pastime in his life.
As with Bridge, many people play online, either with real people or against the computer, a trend which increased hugely during the Covid pandemic.
The rules of Burraco are readily available on the internet, so if you have three friends to play with you could give it a try. Who knows? Perhaps the craze could begin to sweep across the UK too! Alternatively, you might be asked to make up a foursome next time you go to Italy. Good luck!
Looking to learn more Italian? Discover more in our archive
Featured image © Karzof Pleine via Getty Images