Karen Jensen-Jones discovers the quiet contemplation and self-care on a restorative yoga retreat in the rolling Sabine Hills.
Images courtesy of In Sabina.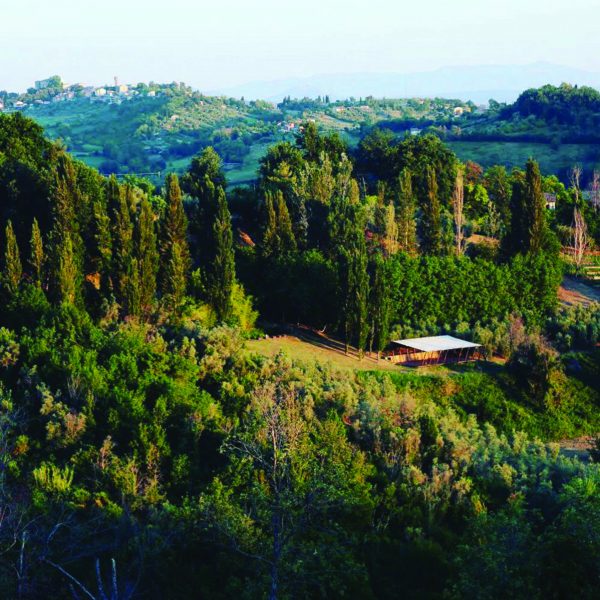 It's true. Our general surroundings really can make a difference to our wellbeing, and within an hour of landing in Rome, travelling north, I'm dazzled by the glorious sunshine, undulating olive groves and the medieval magic of the beautiful Sabine Hills. Already I believe I can feel the benefit of this unique, unspoilt, natural environment.
The warm welcome on my arrival at In Sabina, my yoga home for the week, was relaxed and nurturing with anthropologist Gillian Evans, our highly-experienced yoga teacher, and In Sabina's owner, Giulia Landor, greeting us all like old friends. Within half an hour I was settled into my room and admiring the spectacular views and lush grounds of this seven-acre property.
Set near the charming medieval village of Torri in Sabina, this renowned retreat boasts two restored 17th-century buildings overlooking a panorama of fruit trees and olive groves. Rooms are cool and simply furnished, creating the ideal backdrop for slowing down and quietly retreating. An impressive yoga platform sits in the valley with a natural spring and lily pond nearby. Giulia's thoughtful restoration has created a stunning venue designed to soothe the soul. The atmosphere could not be more serene.
First gathering 
Following a refreshing swim in the pretty pool and a peaceful stroll exploring the grounds, our memorable first gathering with Gillian involved a Spinal Release Class and an Opening Circle to bring us all together. Mats and bolsters were dotted around the yoga deck with thoughtful gifts of handmade cards and dõTERRA essential oils to welcome us. A lovely touch! There is always going to be some initial anxiety on a first retreat, but Gillian provided safe and guiding hands from the moment we gathered and clearly outlined the week ahead, describing how her particular style of Alignment-Based Hatha Yoga sits alongside her extensive enquiry into anthropology. (Gillian is unique among yoga teachers because she's also a social anthropologist.)
As we settle onto our mats for our first class, she explains that anthropology is the study of what it means to be human, and that as a yoga teacher, her preoccupation is with the conditions for human flourishing. "It's about bringing muscles and bones into alignment through the practice to create a flowing energy," she explains. Over the course of the week Gillian inspires us as she gently explains how her twin interests – yoga and anthropology – work perfectly together.
Our evening restorative practice was mellow and slow-paced, bringing the nervous system to a complete stand still through gentle positions without ever standing up. "For some of you it will be the first time you've ever understood that you can bring your own nervous system to a state of equilibrium and what a radical possibility that is in terms of peace and restfulness," Gillian told us. "And another outcome is that you'll most likely sleep very well tonight." I literally felt my shoulders melting into the mat.
Following the restorative Spinal Release class, dinner at 8pm on the outdoor terrace was convivial, with a delicious spread of locally-sourced vegetarian dishes including seasonal vegetables both raw and cooked and homemade soups with delicious breads. You couldn't rival the simplicity of Giulia's homegrown sun-ripened tomatoes generously lathered with locally-made olive oil and herbs. Perfection! As was the sunset over the Sabine Hills. And Gillian was right. I slept like a log.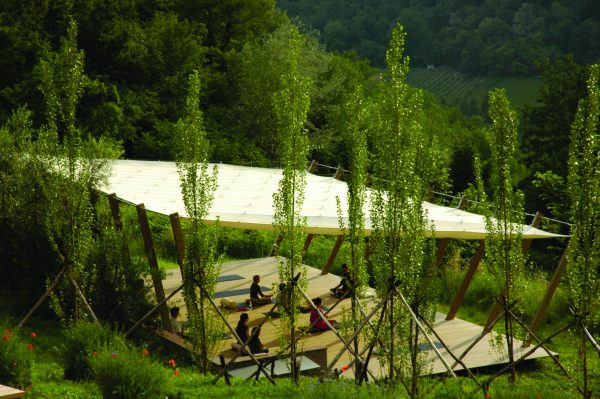 Learning to be still
Morning meditation, just after sunrise, immersed in the natural landscape, was definitely worth rising early for. Gillian encourages a courageous awareness to see, hear and feel what's stirring within. "Learning to be still can create the opportunity to be alongside whatever's coming up for you. Rather than trying to distract ourselves or ignore what we're feeling, we can learn how to breathe alongside it." The stillness and early morning light was ideal for this gently-guided meditation, which left me grounded and alert.
Green tea and fresh fruit followed to sustain us as we wrote our daily journal as part of our ongoing practice. And with the sun on my face, and surrounded by nature, this quiet contemplation couldn't have been a better start to the day.
Returning to the yoga deck for our morning class of Sun Salutation, the incredible views of the rolling hills encouraged a strong sense of wellbeing. "I was looking for a place where we could recover and rest deeply in nature and to breathe and move in fresh air," were Gillian's reasons for choosing Italy for our retreat. "You often find yoga retreats by the sea and the heightened experience is the ocean, but being so peaceful in the countryside you feel the force of nature in different ways. It's clear people have been living this simple lifestyle here for a long time and it serves them so well. It reminds us that part of our challenge is to work out how humans need to be living to thrive and be vital, energised and active." This struck me as particularly relevant as we navigate these Covid-restricted times.
An invitation for enquiry
One of the unique attractions of Gillian's yoga classes and retreats is that they appeal to all abilities and ages. "Everything is an invitation for enquiry and exploration in a gentle way, and that's why the classes are for everyone," confirms Gillian. "We move slowly and carefully so each person has time to explore what the invitation means for their body. It's a strong practice, and usually on retreat we're working on a specific pose, such as the pose yoga teachers call Wild Thing or The Ecstatic Opening of the Enraptured Heart. It's one of those poses that people think they'll never be able to achieve, and yet they build up to it slowly, and then it's a transformational experience when their body and their heart opens up."
Gillian is also a strong advocate for self-care and self-compassion, and learning how to take care of ourselves is a subject she passionately embraces. Her idea of cultivating a personal tool kit for survival in our uncertain world is useful imagery.
The morning routine suits me well and brunch comes at just the right time after the energising Sun Salutation ritual. Once again we are thoroughly spoiled by the views from the terrace as we tuck into soaked oats, chia pudding, freshly-laid eggs, bread and marmalade, tahini, peanut butter, fresh fruit and local yoghurts and cheese. After just a few days, we are already a community, with Gillian explaining the importance of a supportive practice and not an individual competitive one. "My way of teaching fosters and creates community rather than the individual competitiveness that you might see in a lot of yoga studios. It's so much more heartening and healing to also have a lot of fun and remain light-hearted."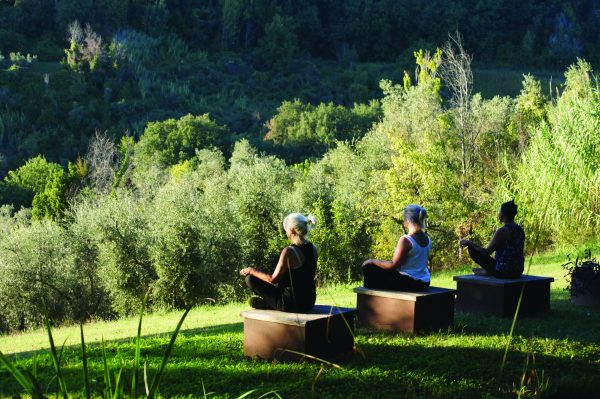 Rest and Relaxation
As the week unfolds, there's just the right amount on offer to dip in and out of throughout the day, with plenty of time for deep rest and relaxation alongside daily meditation and yoga classes. Silent walks through the glorious countryside, dõTERRA Essential Oils and Tarot Card readings with Gillian's assistant, Ty, and thoughtful readings from chosen authors – Robin Wall Kimmerer, a distinguished Native American ecologist, and healer Pixie Lighthorse – are all there to encourage our deepening appreciation and sense of gratitude on a daily basis for being alive in harmony with nature and learning from it.
It's hard to choose a highlight on this joyful retreat as every day brought a fascinating new musing and exciting physical challenge in the most rejuvenating environment. Tarot readings with Ty were an unexpected, meaningful collaboration and I was surprised to observe how our conversation about the symbolism of the cards became part of my own transformational journey. I wasn't expecting that! And finding space for contemplation by the lily pond or under a tree, and silent walks through the lush landscape to the ancient village of Torri in Sabina were moments of pure alignment with nature. If you've never walked silently, it's something to try as the well-being benefits, much needed now in our Covid gloom, are quite invaluable.
Upon leaving the retreat after seven days of mindful practice, heart-warming community and the beauty of the Italian landscape, I felt very strong and highly energised, and ready to put my tool kit for survival into practice. I'll definitely be back.
Find out more
Gillian Evans Yoga and Walking Retreats run annually for one or two weeks every summer; this year from Saturday 17-24 July and Saturday 24-31 July. Early booking is advised. One week staying at In Sabina includes two yoga and meditation classes and two delicious vegetarian meals a day with homemade snacks mid-afternoon from €900 per week. Transfers to In Sabina from Rome Fiumicino and Ciampino airports can be arranged.
For more details on the summer retreat, visit www.yogianthropologist.com and for further information on In Sabina Yoga, visit their Facebook page.