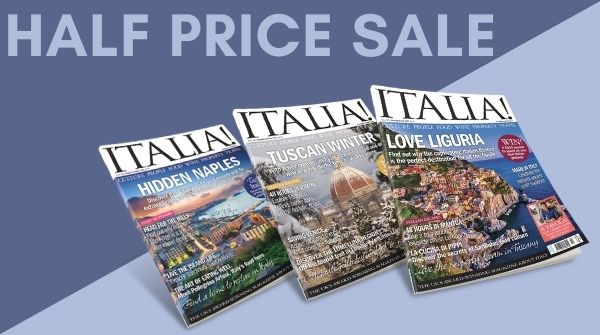 We would love to welcome you to our community of Italy lovers this January. Whether you're feeling happy and comfortable with travelling in the current situation, or if you'd rather stay at home for now, a subscription to Italia! can still help transport you to the most beautiful country in the world.
There's no better time to subscribe to Italia! as you can currently get your first 3 issues for only £9.25, saving an amazing 50% on the cover price! These are our absolute lowest prices, so be sure to snap up this offer while you can.
For less than £10, you'll get three amazing issues of Italia! delivered straight to your door, a free digital issue while you wait for your copy to arrive, and a 10% discount on all Italia! back issues and specials. Don't miss out on these stunningly low prices!
Italia! is a bi-monthly magazine that explores all things Italy. Whether you are passionate about Italian recipes, want to book a holiday to Italy, or are thinking of buying a property, we are on hand to offer advice and insights from travel experts and those enthusiastic about Italy.
Each issue is packed with amazing travel features, beautiful and inspirational photography, delicious recipes, helpful relocation guides, and much more. Subscribe today and start your subscription with our latest issue!
We also have amazing discounts for our overseas subscribers! Just click here to find out more.
🇺🇸 USA – $17.99 for your first 3 issues, saving 50%
🇦🇺 Australia – $32.50 for your first 3 issues, saving 40%
🇪🇺 Europe – €21.99 for your first 3 issues, saving 23%
🌏 Rest of World – £17.99 for your first 3 issues, saving 40%
Terms & Conditions: The 50% saving is calculated from the UK cover price, and is only available to UK subscribers paying by Direct Debit or continuous card payment. After the first 3 issues, payment will step up to £12.99 every 3 issues. There are 6 issues of Italia! published in a year and you can choose your start issue as the issue on sale now, or an unpublished issue in the future. Offer code: JAN22ITLWEB. Offer ends 31 January 2022.