Find some of the best places to stay, eat and visit while staying around Procida with Kate Wickers guide to the highlights of the area…
What to see and do
Abbazia di San Michele Arcangelo
Via Canalone
The catacombs beneath this clifftop church are now a museum holding the books and artefacts of the cardinals who lived there. There is a crypt with coffins where the congregation were encouraged to mull over their own mortality.
Vivara Nature Reserve
The small island of Vivara is linked to Chiaiolella by a bridge. You can't stay there, but you can visit if you are up bright and early. It is open from 8.30am to noon, but last entry is at 10am, so don't be caught out.
Museo dei Misteri
Via Salita Castello
Housed in this old Bourbon prison are the fl oats and fi gures used in the Good Friday processions so you can view them, whatever time of year you visit the island. Open daily from 4pm to 8pm.
Walk to the beach 
Spiaggia del Pozzo Vecchio
This tiny hidden beach featured heavily in Il Postino but even now remains quiet and undiscovered. It's situated in a bay between Punta Serra and Punta Ottimo on the northwest of the island. The walk from the port takes about half an hour.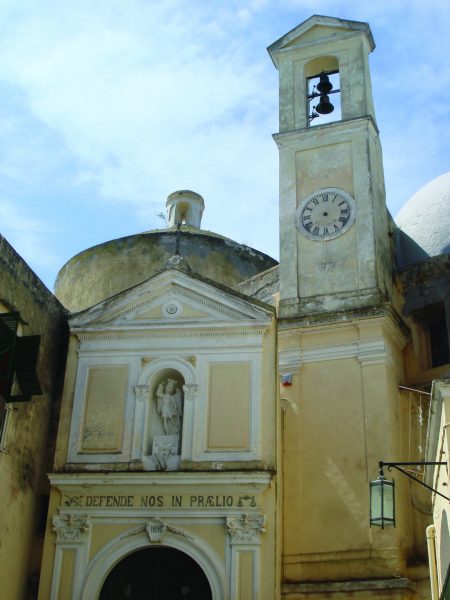 Where to eat and stay
Via Marina di Corricella 88
This hotel offers a fabulous bird's eye views of Corricella as well as excellent food in its restaurant. Think generous antipasti sharing boards, sumptuous seafood risotto and pasta, and local fi sh fresh off the trawler. Average main course €25.
Fuego
Via Marina di Corricella 45
A friendly pizzeria offering casual dining while you enjoy the prettiest of views on a terrace right on the waterfront at Corricella. Perfect for families – the pizzas are generous and taste divine. Average main course €8.
Ristorante da Mariano
Via Marina di Chiaiolella 32
This may not be the swankiest eatery on the island but many say it's the best. It's very popular with locals – which is always a good sign, wherever you are. Try the fiori di zucca ripieni (stuffed courgette flowers) to start, if you happen to catch them in season, followed by whatever happens to be the catch of the day. Average main course €20.
Salita Castello 13
Ten lovely double rooms in an 18th-century traditional house, just a stroll from the citadel of Terra Murata and with dizzying views of Corricella and the ocean. Helpful hosts can arrange tours of the island and private dinners on your balcony. Double room rate starts at €79.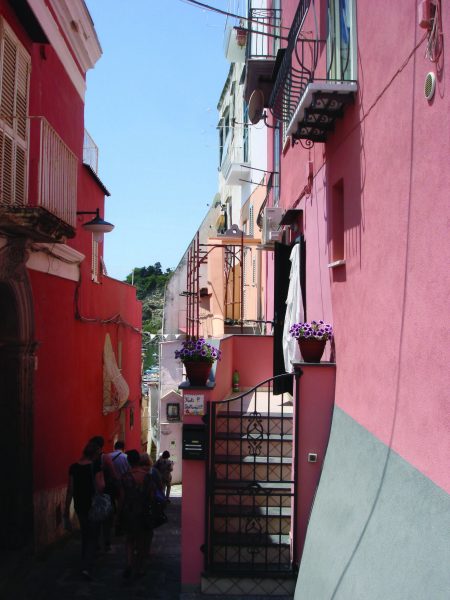 San Michele Hotel
Via San Rocco 61
Bohemian, boutique and beautiful, this is the coolest hotel on the island, complete with twelve light, airy rooms decorated with raw wood furniture. Plus, it has an equally stylish organic restaurant, Il Pescatore, situated at the harbour. Room rates start at €160.
Getting there
By plane and ferry: The nearest airport is Naples. Direct flights operate from major UK airports. Buses to the ferry terminal at Naples operate half-hourly from the airport. Ferry schedules for the 20-minute crossing to Procida are seasonal. For latest ferry schedules go to www.naplesbayferry.com