With her film star good looks, Italy's Capital of Culture for 2022 gets her close up, writes Kate Wickers…
Gosh, Procida is a beauty. I step off the ferry at Marina Grande, onto this small but perfectly formed island with an area of just 1.6 square miles – making it the third largest of the four Phlegraean islands, located in the Bay of Naples. Standing in the sunshine, I take a minute or two just to savour the moment. It's certainly good to be back, and wonderful to see that things are just how I left them, with leatherskinned sailors sitting quietly mending nets and hopeful cats prowling for scraps. A reassuring sight in a world turned so upside down. I sit at a quayside café and order an espresso, which arrives with a lingua, a local pastry filled with lemon cream. I have time enough to linger here. With no major tourist sights to tick off, Procida is all about slow travel: the pleasure of connecting with local people and their culture in an unhurried, positive way. It came as no surprise to me that Procida had been named Italy's City of Culture for 2022, the first island ever to win the accolade.
The Postman
I was smitten with the island long before I first visited – in fact, ever since I saw the 1994 film, Il Postino (The Postman), which won a BAFTA for Best Film Not in the English Language, Best Director and Best Film Music, and an Academy Award for Best Original Score. With an A level in Film Studies under my belt and yet to visit Italy – a country I would later grow to love and write often about – the evocative shots of Procida, where the film was set and filmed, were so very captivating that I had to save up to visit. Basing myself in a cheap hotel in Sorrento, I crossed by ferry to Procida each day to explore, revelling in discovering the places where scenes from Il Postino had been shot, such as the 17th-century fishing port of Corricella.
"You're going where?" a friend had asked back then. "Procida," I told her. The island's name sounded like a whisper. It was somewhere that only a few people knew of, and they weren't keen to share it with the rest of the world. It was the antithesis to glitzy Capri: void of designer boutiques and over-priced restaurants, and with few tourists – let alone the jetset/paparazzi/ instagrammers of recent years. It would have been easy for the island to cash in on its filmstar good looks, particularly after scenes of the 1999 film The Talented Mr Ripley were shot here, starring Jude Law, Matt Damon, Cate Blanchett and Gwyneth Paltrow, but beyond establishing a film festival eight years ago, it has kept its feet on the ground.
On Marina Grande, I cast a wistful eye over the board that informs visitors of the island's Il Postino fame, then, over the hill, through cobbled lanes, I continue to my lodgings. Hotel La Casa sul Mare, an 18th-century house, is simple, stylish and amenable (bespoke private dinners and tours are effortlessly arranged). My double room has a striped cotton bed spread, prettily tiled floors and views that are five-star from a private balcony, where I gaze over a rainbow of coloured houses to the picture-perfect port of Marina di Corricella.
I've brought a guidebook with me, which remains closed as I wander at whim. Up scalatinelli (staircase streets) strung with washing I climb, calling buongiorno to old ladies who are busy fussing with their window boxes or sweeping away the dust that has been blown by ocean breezes onto their porches during the night. At the top, in Terra Murata (meaning walled land), I happen upon their husbands – gossiping on the benches in the piazza – who raise their caps in greeting; the twinkle in their eighty-year-old eyes still playful.
The canons found here are reminders of Procida's turbulent history and the protection that the once reigning D'Avalos family needed against both political enemies and marauding pirates. On this lofty perch sits the hulking edifice that is Palazzo d'Avalos, once a palace fortress which later served as a military school, and from 1830 to 1988 as a prison housing anti-fascist Resistance members during the Second World War and, more recently, senior mafiosi. I remember the shudder I felt on my first visit to the island in passing by a place so incongruous with the beauty of its location. While the island's council ponder a new use for this disused penitentiary, I wonder if the dazzling view (arguably the best on the island) makes it perfect for a hotel. From this vantage point, Procida looks nothing more than a sliver of land, with the sea visible both in front and behind the lemon-hued church of Santa Maria delle Grazie, built in 1679, which sits atop Corricella, shining out like a beacon. The houses below are painted in a kaleidoscope of colours for a reason: so that weary fishermen returning from a night at sea can identify their homes easily. With a vista such as this surely it's time for Palazzo d'Avalos to cast off its gruesome past and become a fit for a king once more.
From here, it's a short stroll to Abbazia di San Michele Arcangelo, founded in the 11th century, destroyed and rebuilt over the centuries, and named for St Michael, who is said to have saved Procida from the volcanic eruptions of Mount Epomeo on nearby Ischia. The hidden chapel, catacombs and coffered ceiling are considered the highlights, but for me it's the simple nativity scene made from oyster shells and the paintings by shipwrecked sailors that provide a touching connection to Procida's seafaring history.
Jack of all trades
I like to take advice on where to eat and what to see from whoever I bump into. This time it's Gennaro, the driver of my micro-taxi (a cross between an autorickshaw and a delivery van) who is happy to play guide. Jack of all trades is a well-respected profession on the island and Gennaro's vehicle is perfect for squeezing through narrow lanes (once wing mirrors have been folded in). "Good we've not yet had lunch. Breathe in," Gennaro jokes in one particularly slender street as we criss-cross the island. I nestle in amongst the bounty of fresh vegetables that he is halfway through delivering, holding a box of porcini on my lap as we travel to Marina di Chiaiolella at the opposite end of the island.
"Order razor clams and the fennel insalata," Gennaro tells me, dropping me off at Da Mariano, a quayside restaurant. He insists on waiting for me, worrying that I'll not find another taxi when I require one. It's a compliment to think that I take precedence over the delivery of his artichoke and radicchio, but in reality it's Gennaro's lunch hour too. "Pay me later," he says. "When you're ready." I watch him settle happily on the quay with his picnic lunch and I'm reminded once again of just how good life is here.
Settled on Da Mariano's terrace, I look across the marina to the tiny, crescent-shaped isola of Vivara (the smallest in the Phlegraean archipelago) which opened as a designated nature reserve in 2017, linked now by pedestrian bridge to Procida. Dating back some 55,000 years, it is what remains of a volcanic crater, with archaeological excavation revealing evidence of human life from the Bronze-Age Mycenaean era. Today it's a popular excursion for bird watchers hoping to catch sight of migratory birds such as the golden oriole. I follow Gennaro's advice and order the salad but can't resist the special of the day too – prawns served di paranza (from the trawler), washed down with a fresh, citrussy Falanghina wine. Whatever you order here will be jumping fresh, just hours from the sea.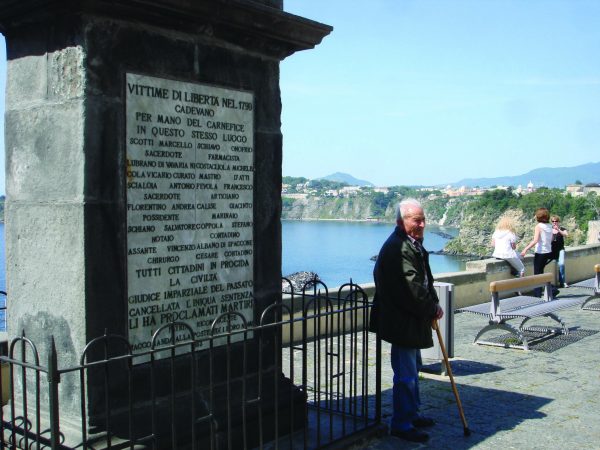 By Hannah Bellis
Seaside Charms
Although you don't really visit Procida for its beaches (unless it's August and you're a Neapolitan and keen to escape the searing heat of the city for a day), the island isn't without seaside charms. There's Chiaiolella beach, unencumbered by steep cliffs and facing the open sea, popular with families because of its shallow waters; and Ciraccio, with its two colossal rock stacks on the west coast with views to the neighbouring island of Ischia (the largest in the group). I head to Spiaggia di Chiaia, a narrow stretch of sand with beautiful vistas to the pastel higgle-piggle houses of Marina di Corricella that lies at the bottom of cliff-hugging zig-zag steps, descended to from Via Pizzaco. This is a local haunt popular for an early evening swim, and with school kids, who come to leap into the sea from the well-worn wooden jetty. I join the scene, casting my towel on sand the colour of gingerbread before striking out for a swim in clear water. Later, as the sun slips away, I sip an Aperol in rustic La Conchiglia and let the swoosh of the sea and the animated family banter swirl in my ears. At this moment, I really couldn't feel more Italian.
Only time will tell if this tiny idyll can strike a balance between retaining its tranquillity and coping with the increase in tourism that the coveted City of Culture title will inevitably bring. Perhaps, like one of Procida's fishermen, it would be best to cast out early and catch it while you can.
Liked this article? Discover more like it in our Procida archive!
Tags:
Culture
,
Holidays
,
Italia Magazine
,
Italy
,
procida
,
Travel