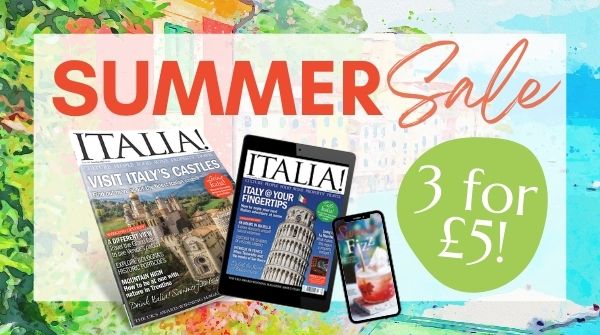 Kick off your Summer in style
Summer is just around the corner, but we couldn't wait a moment longer to bring you our deal of the year – the first 3 issues of your Italia! subscription for only £5!
Choose between our print and digital subscription and receive the next 3 issues of Italia! magazine sent straight to your door, or your device, for £5. That's six months of beautiful photographs, well-written articles, delicious recipes, and helpful property advice – all for less than the price of a glass of wine, and in a format that works best for you! Whether you're jetting off to Italy for your summer holidays or enjoying la dolce vita from afar, Italia! will be your perfect companion this summer.
Try an Italia! subscription this summer and pay only £5 for your first 3 issues!
Choose a print subscription here
Choose a digital subscription here
Are you an overseas reader? Don't worry about missing out! Try our digital subscription and you can also receive an incredible trial price – find out more about our overseas offers here.