Adrian Mourby uncovers the rich history of Cannaregio, the most northerly of Venice's six districts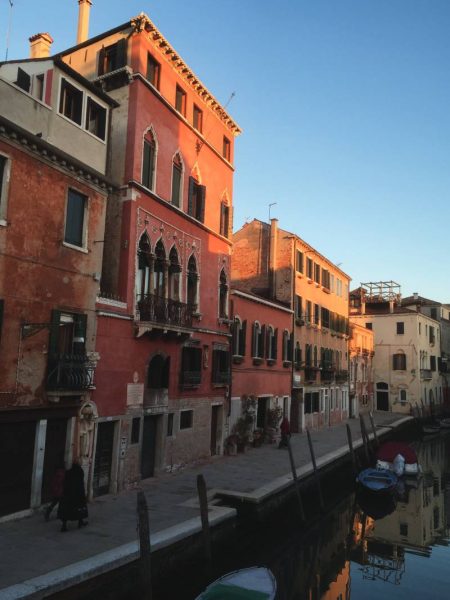 Image: Bottega Tintoretto
It's a misty winter's morning outside Tintoretto's house in Cannaregio. Here at the tall, pink house on Rio della Sensa the great painter would kiss his wife goodbye and promise to account for the money she had given him for his day. When he'd return late with alcohol on his breath, he'd always insist, against all the available evidence to the contrary, that he'd given most of it away in charitable donations.
Yet Tintoretto did his greatest work in Cannaregio. Just around the corner stands the church of Madonna dell'Orto, a tall brick Gothic structure, much beloved by John Ruskin, that contains some of Tintoretto's greatest works. There is a massive Last Judgement on one side of the altar, matched by an equally huge Making of the Golden Calf on the other, as well as a Presentation of the Virgin at the Temple, which is arresting in its irregular composition and use of light. Jacopo Tintoretto, also known as Il Furioso, is buried in this church along with members of his family.
Cannaregio is extraordinarily rich in beautiful churches, even by Venice's high standards. It is the most northerly of the city's six sestieriand has its share of obelisk-sporting palazzi, but in Tintoretto's day it was a working-class district full of traders and artisans. Behind what is now called Bottega del Tintorettostands an ornate canalside warehouse decorated on its façade with the relief of a camel. The animal was displayed there so that Moorish traders would know where to find their fellow countrymen.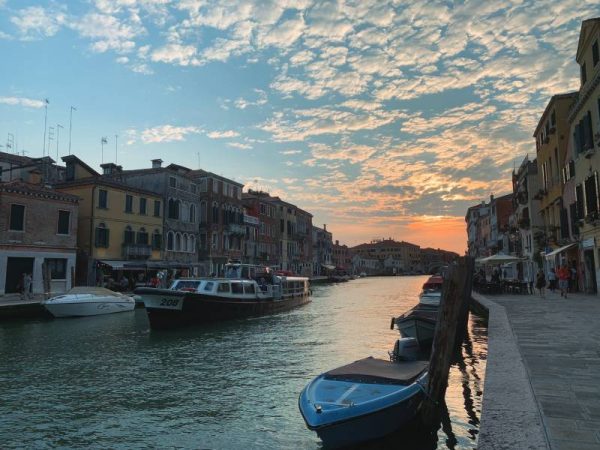 Image: Canal Regio
ROYAL CONNECTION
Damp and atmospheric, particularly in the wintertime, Cannaregio gets its name from the Canal Regio (Royal Canal), which used to be the main route into the city of Venice from the mainland for traders. This Royal Canal then connected with the more residential Grand Canal near the Church of San Geremia and what is now Palazzo Labia.
The sestiere owes its unusual configuration to an early act of town planning and civil engineering back in the 11th century. This was when the land north of the Canal Regio was reclaimed from the lagoon. Three great new canals parallel to the Royal were created to drain three long islands that could be linked by bridges and used for new buildings. These canals were known as Rio della Misericordia, Rio della Sensa and Rio di Sant'Alvise/ Madonna dell Orto. Each was over a kilometre long, with a broad quayside, or fondamenta, for loading and unloading.
Tintoretto lived on Rio della Sensa. Leaving the doorway of his bottega, I pass the statues of the three turbaned Moors carved in stone and set into the walls of an osteria called L'Orto dei Mori. One of the Moors has a metal nose; his original was rubbed away by generations of Venetians touching it for luck.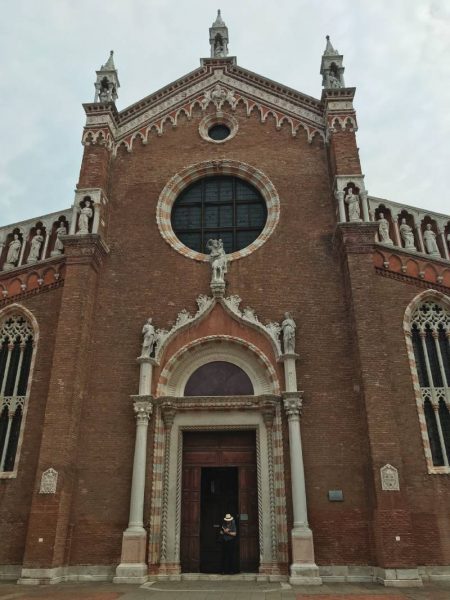 Image: Madonna del Orto
As you cross the bridge to Madonna dell'Orto, the church rises magnificently through the mist. It was built in the mid-14th century by a religious order called the Humiliati and dedicated to St Christopher, whose statue is still visible over the doorway. In the 15th century the Humiliati were thrown out of Venice for their gluttony, lust and lack of monastic piety, and the church became known by its new name. A statue of the Madonna had been commissioned for the Church of Santa Maria Formosa but had been rejected. It was found languishing in an orto (an orchard or kitchen garden) and was brought to the Humiliati's old church because of its miraculous healing properties. The sculpture is displayed in the Chapel of San Mauro, to the right of the altar. It's rough-hewn and unremarkable, and wholly eclipsed by Tintoretto's ten paintings elsewhere in the church. (If you visit only one church in Venice this should probably be the one.)
Emerging an hour later, I find the mist clearing as I head west along Rio di Madonna dell'Orto in the direction of Sant'Alvise. This quayside runs out before reaching the plain brick church, which has the most amazing frescoed ceiling of clouds and floating cherubs, the 17th-century work of Pietro Antonio Torri and Pietro Ricchi.
GHETTO VECCHIO
I cross the canal on a bridge in front of Ospedale San Raffaele Arcangelo to reach Calle Loredan, a narrow passageway between two of these 11th-century canals, arriving on Fondamenta dei Ormesini. Heading west as the sun emerges through the last clouds, I come to the old wooden bridge that leads into the Ghetto Vecchio. This former waste ground for a foundry (ghetto) is part of the enclave that was created for Venice's Jews after 1516, when the city required them to live behind locked doors.
Ghetto Vecchio is actually the more recent part of the Jewish ghetto. The ground of the newer foundry (called Ghetto Nuovo) was the area of Cannaregio where the Jews were first resettled and contains their older houses.
There are a number of campi in this small site linked by bridges. The buildings are notably taller than elsewhere in the city, as whenever the number of Venetian Jews increased the only way to expand was up. There are a number memorials to the Holocaust here, including one to Venice's chief rabbi, Adolfo Ottolenghi, who in 1944 chose to travel with his congregation to the Nazi death camps. There are also some artists' studios, open to the public.
Emerging through the Ghetto's low wooden portal onto Fondamenta Cannaregio, if you look right you can see how ships would have originally entered Venice down the Canal Regio. Look left and there is Ponte delle Guglie, a broad marble and brick bridge decorated by four obelisks, one at each corner. Over this bridge, day and night, tourists bump their rolybags on the way to Santa Lucia train station. From the bridge there's a good view of the Church of San Geremia, seat of the cult of Santa Lucia herself, and of Palazzo Labia. This majestic white structure was only finished in the 1750s, making it one of the last great palaces to be built in Venice. In 1951 it held a masked ball, often described as the largest and most lavish social event of the 20th century. The career of fashion designer Pierre Cardin was launched here with the outfits he created for 30 members of the dolce vita set. Christian Dior and Salvador Dalí designed each other's costumes, and Cecil Beaton took the photos.
ON TO STRADA NOVA
Rather than cross the bridge to Palazzo Labia, I turn left into Rio Terà San Leonardo, part of Venice's Strada Nova (new street). During the French occupation that followed Venice's surrender in 1797 to revolutionary forces, certain canals were filled in to modernise a city that had no streets. Today the various rio teràs (land-capped rivers) that make up Strada Nova comprise Venice's main shopping street and offer a very different aspect of Cannaregio from the historic canals when I began this walk. Lush, Flying Tiger Copenhagen, the Candy Shop and many mobile phone outlets lie along this route.
At Campiello de l'Anconeta the modern DeSpar supermarket is located in an early 20th-century theatre known as Teatro Italiano. Outside and inside it still looks like a theatre, despite all the shelves selling groceries and prosecco. And at Farmacia Santa Fosca, a modern chemist's shop shares its premises with Spezieria all'Ercole d'Oro, a perfectly-preserved baroque dispensary. Seventeenth-century chandeliers, antique poison jars and ancient love potions decorate the dispensary. There's also a goldpainted wooden statue of Hercules (Ercole) himself. The spezieria doubled as a fashionable coffee shop for centuries. It's remarkable that it is so perfectly preserved on a busy modern shopping street.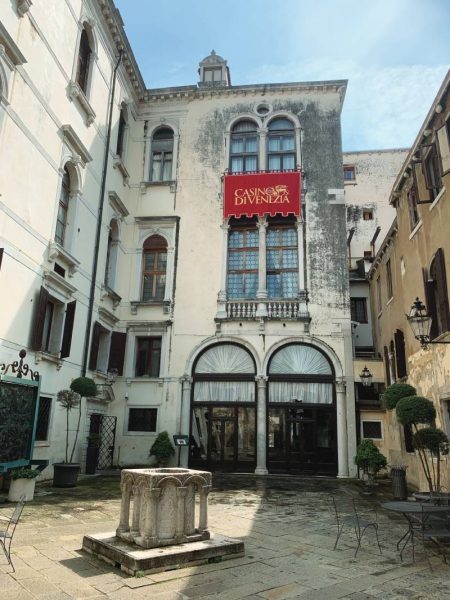 Image: Casino where Wagner died
Not much further down Strada Nova, just to the right towards the Grand Canal, I come across Venice's towering casino, which was built during the Renaissance as Ca' Vendramin Calergi. Even with the sun now smiling down on Cannaregio it seems a dark and forbidding place. Inside, carabinieri in dark glasses give gamblers the once-over before they're allowed upstairs. If you've contacted the Associazione Richard Wagner di Venezia in advance however, you can visit the palazzo's garden wing. Here in 1883 the controversial German composer died in midpolemic (he was writing a pamphlet at the time on the role of women). A custodian will show you round the 18-room apartment, point to a reproduction of the couch on which he expired, and also to the last words he scribbled by hand (which are now kept in a glass case).
Further on along this busy Strada Nova, not far from Rialto and the border with San Marco, stands Teatro Malibran. It's hidden away in Campiello del Teatro, behind a church and some cosy courtyard restaurants. Opened in 1678, this is Venice's oldest theatre and the only one that didn't regularly burn down. Both Handel and Rossini oversaw premieres of their operas here. Inside, the whole auditorium is a decorated in faded green and pink, with half-naked Art Nouveau ladies painted on the ceiling, vestiges from its last refurbishment
SANTA MARIA DEI MIRACOLI
It's nearing lunchtime, so time to turn back. From the Malibran Theatre there is a walk through backstreets that brings the visitor suddenly upon Santa Maria dei Miracoli, a perfect marble jewel box of a church that was preserved by the "Save Venice" campaign over a period of ten years, 1987-97. It's one of the best examples of early Venetian Renaissance design. Inside, the altar is reached by a long flight of steps, resembling a stage with the congregation as audience. The architect was Pietro Lombardo, who was also renowned as a sculptor. Looking at this church you can see why. It is as if Miracoli had been carved out of marble.
Now it's back along the "new" canals of Cannaregio to where I began at Bottega del Tintoretto. The winter sunshine is glorious and there are a number of interesting osterias nearby. Definitely time for lunch.
WHAT TO SEE AND DO
The Wagner Rooms at Ca'Vendramin
Cannaregio 2400, 30121 Venezia, Associazione Richard Wagner di Veneziaarwv@libero.it
Wagner memorabilia is preserved in the garden wing of the Grand Canal palazzo in which he died. Admission free but donations accepted. The rest of Ca' Vendramin is now the city's casino (in the English sense of the word, ie, a gambling house).
annaregio 2908, 30121 Venezia, www.tonygreen.net http://www.tonygreen.net>
The Naples-born American painter Tony Green can often be found in his studio in the Ghetto Vecchio. His paintings of Venice reflect how long he has lived in Cannaregio.
Church of Madonna Dell'Orto
Cannaregio 3512, 30121 Venezia
This great Gothic church is open from 10am-5pm but closed to visitors on Sunday mornings during services. Admission €3.
Galleria Giorgio Franchetti Alla Ca' D'Oro
Cannaregio 3932, 30126 Venezia, www.cadoro.org http://www.cadoro.org>
In the 1890s Baron Giorgio Franchetti purchased the graceful Ca' d'Oro on the Grand Canal to house his art collection. Admission €8.50.
The atmospheric cemetery island of San Michele is actually part of Cannaregio and is just one vaporetto stop from Fondamente Nove on Lines 4.1 and 4.2. Open daily from 7.30am-4.30pm.
Church of Santa Maria Dei Miracoli
Campiello dei Miracoli, 30121 Venezia, www.chorusvenezia.org http://www.chorusvenezia.org>
Almost as beautiful inside as it is outside, the Church of Saint Mary of the Miracles has an impressive coffered ceiling and is open 10.30am-4.30pm. Admission €3.
WHERE TO EAT
Fondamente Nuove, Cannaregio 5039, 30125 Venezia
www.algiubagio.net
Great views across to Murano and San Michele from this quayside restaurant on Cannaregio's northern edge.
LAGUNA LIBRE ECO RISTORANTE CULTURALE
Fondamenta di Cannaregio 969, 30121 Venezia
www.lagunalibre.i
Informal live music venue and art gallery serving Venetian food and Sicilian wine on the quayside in summer.
Fondamenta Misericordia 2515, 30121 Venezia
Facebook: Trattoria Misericordia % +39 041 839 1729
Small, traditional Venetian trattoria on one of the three broad 17th-century canals that formed the new development of Cannaregio.
OSTERIA CONTEMPORANEA DA RICCARDO
Calle de l'Oca 4426, 30121 Venezia
www.osteriadariccardo.com
Riccardo's osteria is pleasantly quirky and his 'non-democratic cuisine' celebrates contemporary Venetian recipes.
Campo dei Mori 3386, 30121 Venezia
www.osteriaortodeimori.com
Stripped back brick and original artwork in this stylish osteria.
Calle Stua Cannaregio 3628a, 30121 Venezia
www.vinidagigio.com
Noisy, family-run trattoria with a good wine list and late opening in spring and summer.
WHERE TO STAY
Cannaregio 3534, 30121 Venezia, www.hotel-heureka.com
A colourful design hotel carved out of an old palazzo with a lovely garden to the rear. Double rooms from £200 B&B.
Calle dell'Aseo, Cannaregio 5768, 30131 Venezia, www.alponteantico.com
Eccentric palazzo with possibly the best terrace on the Grand Canal. Doubles from £303 B&B.
Fondamenta Madonna dell'Orto 3500, 30121 Venezia, www.dahotels.com
A grand former convent with a beautiful garden and pleasantly old fashioned furniture. Double rooms from £241 B&B.
Campo Santa Sofi a 4198/99, 30121 Venezia, www.casagredohotel.com
Former palazzo on the Grand Canal that was famous for being held up by two giant white arms. Double rooms from £300 B&B.
Campo Santi Giovanni e Paolo, Castello 6805a, 30122 Venezia, www.palazzocristo.com
Four suites restored by a husband and wife design team from Paris. Doubles from £600.
Fondamenta della Sensa, Cannaregio 3319, 30121 Venezia, www.morihotel.com
Hideaway hotel with Moorish touches in its décor. Doubles from £172 B&B.
GETTING THERE
BY PLANE Venice has two airports: Venice Marco Polo (VCE) (www.venice-airport.com) is about 6km north of the city on the edge of the lagoon. British Airways (www. ba.com) fl y here from London Heathrow, Gatwick and City. Treviso (TSF) is some 40km from the city and is generally served by the budget airlines.
DISCOUNT CARD
The Chorus Pass costs €12 and allows admittance to 16 of Venice's churches, including Sant'Alvise and Santa Maria dei Miracoli. Passes can be bought at churches and are valid for a year. www.veneziaunica.it