So far this month, we've discovered that the Italians are the population most addicted to TV, a new gondolier school opens and Madonna fancies something more than just a quick snack…
Italians are top TV addicts
Italy might be home to some of the world's best opera, restaurants, museums and galleries, but that doesn't seem to stop the natives from being glued to the television. According to a new report by IHS Markit, Italian people watch more TV than their German, French, British or Spanish counterparts, with the average person tuning in for four hours and 22 minutes per day.
The Spanish came in second place with an average viewing time of three hours and 54 minutes. Then came the French (three hours, 44 minutes), the Germans (three hours, 30 minutes) and the British (three hours, seven minutes). Italian broadcasters must be doing something right!
Back to school…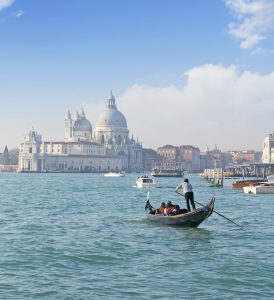 We've all heard of learning through play, but this new initiative takes it to a new level, as Venice-themed hotel, The Venetian in Las Vegas opens the doors to its Gondola University.
A five-star hotel on the Las Vegas Boulevard, The Venetian is renowned for its Italian authenticity, but the hotel has really pushed the boat out this time with their latest venture…Yes, over the course of a day, guests can earn their sea legs (well, canal legs) by learning to pilot a genuine gondola around the hotel's network of waterways (including their very own Grand Canal).
The unique experience begins with a brief history of Venice, where you learn fascinating facts about the city and its famous water transport (did you know, for example, that it once took ten years of training before you could be granted your gondolier's licence?). Then you're taken around the canals by a real Italian gondolier, before you're given the chance to take up the proverbial reins yourself.
Score on the test and you'll be given certificates and even an Italian name! If the Gondola University sounds like something that might float your boat (it costs $199 per person), head to www.venetian.com to find out more. O sole mio…
Pop legend gets the munchies during Italian getaway
She may be a Material Girl, but Madonna still enjoys the simple things in life – such as Italian bread.
The US singer and actress spent time in Italy in August, and shared some of her photos on Instagram and Twitter. In one, she can be seen playfully sharing a chunk of bread with an unidentified friend, alongside the caption, "We love bread! We love bread! We managed it every day in Puglia." In another, she poses in front of a freshly baked pizza at a restaurant, beneath the tweet, "The pizza we ate. We love you Puglia. Ciao Italia."
Madonna, whose grandparents on her father's side were Italian, was in the city for her friend's wedding and stayed at the five-star Borgo Egnazia hotel, which has stunning views of the Adriatic coast, but sheis believed to have moved on to Rome and Milan to continue her break. Sounds like a fantastic Holiday.