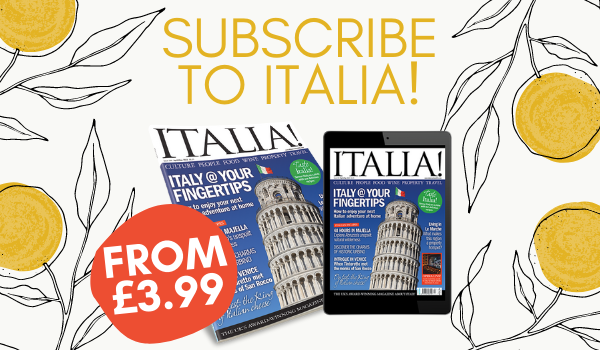 Read Italia! on any device, at any time, from anywhere in the world!
As you probably already know, here at Italia! we pride ourselves on bringing the best of Italy to everyone, no matter where you are in the world. Well, we've made it even easier with our brand new digital subscription package!
You can now enjoy all the travel inspiration, stunning photography, news, reviews, recipes, and more from Italia! on-the-go, when you subscribe to our digital edition. No more queuing at the shops, waiting for your issue to arrive, or worrying about it getting lost or damaged in the post – when you get a digital subscription, you'll get your magazine instantly when it goes on sale. Italia! will be right there on your device as soon as it's published, wherever you are in the world!
Plus, as a digital subscriber, not only will you get every issue of Italia! to read on your mobile, tablet, or desktop device, but you'll also get access to some extra subscriber benefits – namely our free fortnightly email newsletter, 10% discount on all print back issues and Italia! Guides, and savings on other Anthem magazines.
You can currently subscribe to our brand new digital package and save an incredible 33% – that's only £3.99 per issue for all the Italy content you could wish for!
Your digital savings
🇬🇧 UK – £3.99 per issue (saving 33%)
🇺🇸 USA – $4.49 per issue (saving 36%)
🇪🇺 Europe – €4.99 per issue (saving 28%)
🇦🇺 Australia – $6.99 per issue (saving 36%)
🌍 Everywhere else – £3.99 per issue (saving 33%)
Still want print?
No worries! We know that sometimes there's nothing quite like having a physical magazine to read. If our print magazine is the one for you, then you can of course still get every issue of Italia! delivered direct to your door and save money on the shop price. There's an option for everyone! Learn more about our print subscription options here.
TERMS & CONDITIONS: Savings are calculated from the local print and digital cover prices, and are only available to subscribers paying by Direct Debit, PayPal, or continuous card payment. There are 6 issues of Italia! published in a year. For all terms and conditions, please visit shop.italiamagazine.co.uk/terms.