Jewel-like cities, golden beaches, sleepy hills and dramatic mountains – this sophisticated northern region has it all. From elegant urban apartments to low-priced rustic retreats, Veneto is a great place to buy property, says Fleur Kinson.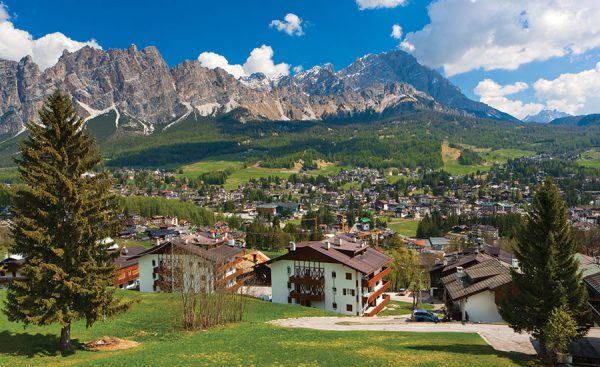 Tucked up in the northeastern corner of Italy, Veneto encompasses an extraordinary array of landscapes.
The region's feet are planted in the flat Po River Valley while its head gazes over the high Dolomites onto Austria. Its eastern flank is licked by the warm Adriatic Sea while Lake Garda unfurls all its holiday fun to the west.
Home to the superb cities of Venice, Verona and Vicenza, and the super-chic ski resort of Cortina d'Ampezzo, Veneto is one of Italy's most visited regions. But for all the fame of its tourist hotspots, few people explore further afield, leaving Veneto with plenty of uncrowded and beautiful spaces.
The region's smaller cities and rural gems aren't lesser-known because they're difficult to reach, however.
Veneto has excellent transport connections. It's just that visitors are generally too busy being wowed by Venice and Veneto's other famous places to find much time to explore the region's beautiful hills and countryside.
For property buyers, of course, this lack of popular awareness means some very attractively affordable country homes – and all within easy reach of exquisite little cities. Meanwhile, the visitor popularity of those cities means great holiday rental prospects for anyone looking to buy an urban apartment.
Venito at a glance…
THE REGION Veneto lies in Italy's northeast. It is not the most northeastern region of the country – to its east is Friuli-Venezia Giulia and to its north is Trentino – but it does extend a finger right up over the Dolomites to the Austrian border in the north, and spreads all the way down to the Po River Delta, which it shares with Emilia-Romagna, in the south.
THE CLIMATE On and near the coast, probably warmer than where you live, but not exactly non-stop Mediterranean sunshine either. Winters get rather chilly, and not just in the highlands.
THE CULTURE Historically, Venice was a major power in this part of the world, and as such was the entry point into Italy (and Europe) of much cultural influence from Asia Minor and beyond. Culturally and politically, it still sees itself as somewhat distinct from the rest of Italy.
Look and feel
As a well-travelled italophile, you'll know that most Italian regions have a look and feel all their own. Veneto is certainly one of these.
The overall impression is one of elegant drama combined with dreamy enchantment, as fantastical buildings and haunting landscapes are wrapped in autumn mists or gaze across shimmery summer water.
The region's urban architecture is highly decorated, with intricately wrought shapes climbing out of the pink, bone-white or dove-grey stone buildings.
Down at the seaside, it's all pretty pastel gaiety. Head north and things take a turn for the Tyrolean, with chalet-style houses effusively decked with flowers.
An abundance of rivers as well as the long coastline that frequently fractures into lagoons and deltas means that there's water snaking everywhere in Veneto – except in the far north where the otherworldly vertical rocks of the Dolomites pierce the sky.
Culturally Veneto is a very prosperous and orderly place, with a clear awareness of the fine things in life and a flair for good living.
Veneto's five million inhabitants are creative and industrious, but like Italians everywhere they enjoy a very healthy work-life balance – making ample time for leisure with friends, savouring fine meals and watching the world go by.
For all its elegant old-world charm and strong regional identity, Veneto never feels like a backwater. It's a switched-on, savvy sort of place with a cosmopolitan outlook.
Buy a home here and you can expect a very warm welcome. In the little cities you'll find no shortage of ex-pats and international people to commune with, and in a sleepy rural backwater the locals will embrace you and ensure you never feel isolated.
Market and prices
It's been a turbulent few years for the world, and this has had an inevitable effect on property markets, although they have now recovered.
"Covid had a strong impact on Veneto's property market," says Andrea Redivo Zaglia of the estate agency Properties in Italy.
"In 2020 there were very few property transactions, while 2021 witnessed high and low periods depending on when restrictions were imposed or eased. Now in 2022 the market is basically back to normal; foreign buyers are looking again, and prices are stable.
"Holiday rental prospects, meanwhile, are always good in Veneto, especially in Venice, and in the major cities such as Verona and Vicenza, and in smaller hamlets such as Asolo and Valdobbiadene. This year we were packed with tourists in the summer – mostly Europeans but there were also many American visitors."
Veneto is a generally prosperous and perennially appealing part of the world and its property market tends to weather very well any storms in the world economy. People will always want to come to this astonishingly beautiful place.
Popularity means that Veneto isn't one of Italy's cheapest regions for property, but there is excellent value for money to be had in the region's rural hill areas and indeed in many of the historic little cities when you consider their strong year-round holiday rental prospects.
Venice is the region's priciest spot, with few apartments asking anything less than €250,000 and plenty asking a lot more. But Venice-lovers should note that they can save €100,000 or more by buying on one of the island-city's satellite isles such as Burano or Torcello.
Meanwhile, in popular cities such as Verona, Padua and Vicenza, two-bedroom apartments range between €200,000 and €400,000 depending on their features and location.
In other small cities, prices can be quite a bit lower, with some apartments going for as little as €100,000.
In the leafy countryside hills or the Dolomite foothills, you can buy a detached house needing minor renovation work for about €100,000. Fully restored houses might ask €130,000 to €200,000.
Hills and watersides
Veneto really ought to be a bit better-known for its lovely hills. The region has three beautiful ranges, each handily positioned not far from a charming small city.
There are the Berici Hills south of Vicenza, the vineyard-striped Lessini Hills northwest of Verona, and the wonderful domed Euganean Hills south of Padua – famous for their spas and restful atmosphere.
Many foreign buyers have bought a rural retreat in these leafy hill ranges and their charming villages over the last twenty years. Prices are very attractive, with detached houses going for between €100,000 and €200,000.
Recommended hamlets in the Eugenean Hills include Montagnana, Cittadella and Este. In the Lessini Hills, Soave is recommended, and in the foothills of the Dolomites, Asolo is a good bet.
As mentioned earlier, water is an abiding feature of Veneto, with a long, sinuous coastline, umpteen rivers including the mighty Po and the Palladian-villa-lined Brenta, and the inland sea of Lake Garda all adding their shimmery beauty to the region.
Veneto's seaside is sandy, flat and appealingly punctuated with warm lagoons. There are plenty of lovely resort towns, and beach-lovers should take note that property prices drop considerably as you go further away from Venice.
Freshwater lovers, meanwhile, probably know that the eastern half of Lake Garda lies in Veneto. Italy's largest and most-visited lake has lower property prices in the flat terrain of its south and higher prices in the steeper, more dramatic terrain of its north. Holiday rental prospects are excellent everywhere on Lake Garda.
Venice and cities
For many buyers interested in Veneto, there's only one watery locale they want: Venice itself. This unique city is one of the most coveted places in all of Italy.
It's undeniably gorgeous at all times of the year, but also extremely crowded, receiving about 20 million visitors annually. Property prices are among Italy's highest, but the city's holiday rental prospects are some of the world's best.
The San Marco district is usually the priciest and most crowded, while more reasonably-priced districts include San Croce, San Polo, Dorsoduro and Giudecca – all of which are thoroughly charming areas with no shortage of Venetian magic.
The Venetian lagoon is a large area, and there are many islands and strips of mainland seaside that you might explore for lower-priced property within easy reach of Venice itself.
Venice isn't Veneto's only city loved by tourists, of course. Pretty Verona is a magnet for Shakespeare fans and romantics, as well as for opera-lovers drawn by the fantastic open-air Roman amphitheatre venue in the heart of the city.
Verona also lies within easy day-tripping distance of Lake Garda, which only adds to its appeal. Apartments in Verona are almost half the price of similar properties in Venice, and holiday rentals prospects are extremely good throughout the warmer months.
Veneto has no shortage of other affluent small cities offering a high quality of life as well as good holiday rental prospects.
Charming Vicenza with its wealth of elegant Palladian architecture is an affordable place to consider. And you shouldn't overlook under-rated, artistic little Padua or handsome old Treviso with its canals and café culture, both of which lie within easy rail day-tripping distance of Venice.
All images © Getty Images
For more Italian property information, visit our archive.
Tags:
Property