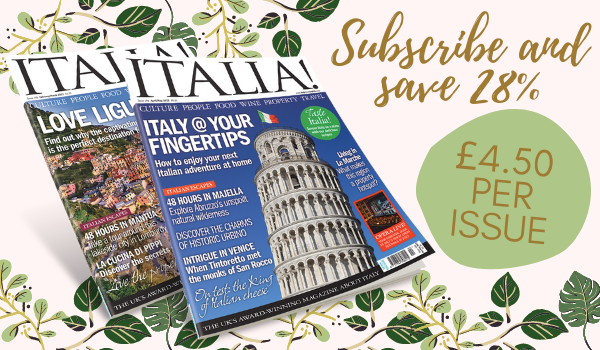 If you love Italy as much as we do here at Italia!, this fantastic subscription offer is the one for you! Whether you feel comfortable visiting Italy in person yet or not, Italia! magazine will always deliver Italy right to your home. Every issue is packed with travel inspiration, stunning photography, property advice, delicious recipes, and much more.
You can now pay for your favourite magazine issue by issue, when you subscribe today using simple and convenient Direct Debit. This way, you'll pay 28% less than if you pick your issue up in the shops! Subscribe today for only £4.50 and become one of the thousands of people who enjoy Italia! magazine every issue.
Italia! is a bi-monthly magazine that explores all things Italy. Whether you are passionate about Italian recipes, want to book a holiday to Italy, or are thinking of buying a property, we are on hand to offer advice and insights from travel experts and those enthusiastic about Italy.
Each issue is packed with amazing travel features, beautiful and inspirational photography, delicious recipes, helpful relocation guides, and much more. Subscribe today and start your subscription with our latest issue!
We also have amazing discounts for our overseas subscribers! Just click here to find out more.
🇺🇸 USA – $33.99 every 6 months, saving 30%
🇦🇺 Australia – $42.99 every 6 months, saving 18%
🇪🇺 Europe – €25.99 every 6 months, saving 9%
🌏 Rest of World – £23.99 every 6 months, saving 20%
Terms & Conditions: Savings are calculated from the local cover price, and is only available to subscribers paying by Direct Debit or continuous card payment. There are 6 issues of Italia! published in a year and you can choose your start issue as the issue on sale now, or an unpublished issue in the future. Offer code: MARITL22WEB. Offer ends 31 March 2022.