Vide 'o mare, quant'è bello! Spira tantu sentimento… Look at the sea, how beautiful it is! It brings out many feelings.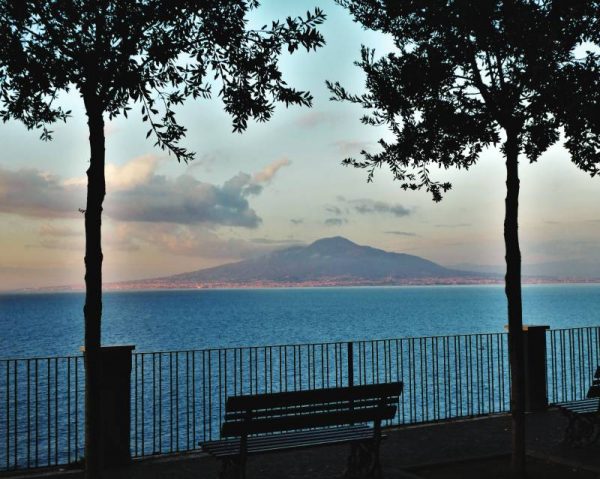 Image: Vesuvius across the Bay of Naples from Sorrento by Patricia Gartman
The Circumvesuviana commuter train between Naples and Sorrento is a somewhat ramshackle affair. It's often crowded and always noisy, and it seems to stop at every large tree; but the price is right: a five-euro note will take you the whole way, with enough left over for a caffè normale at the station bar in Sorrento. After your coffee, as you leave the station on the way to town, you'll see a bronze statue – actually a bronze bust on a stone pedestal. At first glance, the figure is a bit startling. The subject's prominent nose is a rather unattractive shade of pale green. His hair, forehead, and handlebar moustache are also green, as if someone just dumped a bucket of inexpensive wall paint on him. It's verdigris, of course – copper chloride that forms on bronze or copper or brass near the sea. So you could say the Bay of Naples is responsible for the vandalism.
However, the subject deserves much more respect than the salty sea breezes have given him, because he is the poet whose lyrics have been sung by almost all the great tenors (and some baritones) of this century and the last. He is Giambattista de Curtis, and with his younger brother, the composer Ernesto de Curtis, he created the classic Neapolitan Song, Torna a Surriento. In fact, whether you're a tenor, bass, soprano or contralto, you've probably sung along occasionally with a recording, perhaps by Dean Martin, or Luciano Pavarotti, or Andrea Bocelli, or Elvis Presley, or Carlo Bergonzi, or Beniamino Gigli, or Massimo Ranieri, or Vic Damone, or Andre Rieu, or Franco Corelli, or Meat Loaf, or… well, a hundred others… take your choice. (My choice is Roberto Murolo, the greatest exponent of Neapolitan Song.) There are thousands of songs that make up the "Neapolitan Song" genre. A few are instantly recognised by people all around the world: "Return to Sorrento" and O Sole Mio, Funiculi funicula and Santa Lucia all reside in the musical memories of millions. But there are many more unforgettable songs that have come from the passionate land of Campania. A true canzona napulitana is unabashedly sentimental, romantic, melodic, often bittersweet, and is ideally sung in the Neapolitan dialect.
It's music of the ordinary people, certainly, but a surprising number of rather highbrow composers and lyricists have tried their hands at the genre. Donizetti, for example, is said to have composed Te voglio bene assaje, a famous canzona. (The title means "I love you so much".) The renowned poet Gabriele d'Annunzio, who was from Abruzzo, wrote Neapolitan lyrics for a song called A Vucchella, a name that means something like "sweet little faded mouth". Despite the weird title, the song remains popular today. Andrea Bocelli, among others, has recorded it. The composer was Paolo Tosti, who later moved to England and became such a beloved songwriter that he was knighted by King Edward VII. And, in 1951, the great comic actor Totò authored a song called Malafemmena, dedicated to his estranged wife. (The title means just what you think!) It's a classic canzona napulitana, and has been recorded by many singers, including Gigi d'Alessio. By the way, Totò's real name was Antonio de Curtis, though he was apparently not related to Giambattista and Ernesto.
Ernesto de Curtis composed more than a hundred songs, many of them settings of his brother Giambattista's lyrics. Their collaboration was quite successful, though Giambattista was also a well-known artist and sculptor; so Ernesto wrote some of his own lyrics and worked with other lyricists. Both the brothers were born in Naples, fifteen years apart. Ernesto was the younger.
He moved to the United States in 1920, but the brothers continued to collaborate by mail until Giambattista died in 1926. Communication across the Atlantic was not very fast in those days, and two weeks after his brother died, a letter from Ernesto arrived in Sorrento.
Dear Giambattista, I enclose for you music for the song you sent me last month; I hope it pleases you.
Giambattista loved Sorrento, and for many years lived half his time in the Grand Hotel Tramontano, located on the cliffs above the Bay of Naples. It was once a grand palace called the Villa Strongoli. The poet Tasso was born there. The hotel is now called the Imperial Hotel Tramontano, and the grounds are worth a stroll in fine weather. It once belonged to Guglielmo Tramontano, the mayor of Sorrento in 1902 when Giuseppe Zanardelli, Italy's Prime Minister, stayed at the hotel while visiting the city.
There is a story that Tramontano asked Giambattista and Ernesto to write a song for the occasion, and Torno a Surriento was the result. I think the story is doubtful, because however personable the Minister may have been, he surely could not have inspired such a refrain as this: Ma nun me lassá, nun darme stu turmiento… Torna a Surriento, fame campá! – "But don't leave me, don't give me such torment… Return to Sorrento, let me live!" In fact, the brothers had registered the song with the Italian Society of Authors and Editors eight years before, and probably resurrected it for the occasion.
It's strange to think that they kept their most memorable and enduring song in mothballs for so long. And memorable it is – having finished writing this little essay, I find I can't get that darned tune out of my head.
ABOUT THE WRITER
JOE GARTMAN writes about travel, history and culture, and divides his time between the southwest US and Europe. Learn more at www.joegartman.com