The International Nora Jazz Festival is back for it's 8th Edition, "Women in Jazz".
This summer the International Nora Jazz Festival travels around the world. Now in its 8th year, the "queen" of Pula's summer season will feature four international artists: from Italy, the pianistic inspiration of Rita Marcotulli; from Argentina, the sensual voice of Karen Souza; from Portugal, the powerful vocals of Teresa Salghuiero; and from Azerbaijan, the extraordinary stylistic combination of the young Aziza Mustafa Zadeh.
But that's not all: a series of concerts in Pula's most scenic piazzas and sites will animate the historic centre with the black music of the Denise Gueye Band, the groove of Azzurra Parisi performing with Jazzin'on, the elegance of Valeria Martini, and the swing explosion of the Paolo Nonnis Orchestra accompanied by vocalist Francesca Corrias.
The Safir Nòu duo, the folk ballads of The Castaway, the prog/rock rhythms of Beeside, the piano solos of the extraordinarily young Mattia Casu, and the lively grand finale of the Jazz Marching Band bring even more melody and passion to this musical event.
The eighth edition of the International Nora Jazz Festival pays tribute to female genius.
The musical event will kick off on Wednesday, August 2 (9:30pm) with Rita Marcotulli's inspiration on the piano (accompanied by, among others, the great French-Vietnamese guitarist Nguyên Lê and with the participation of special guest Maria Pia De Vito).
Marcotulli, on the stage of the Teatro Romano di Nora, will pay homage to the genius and talent of Pino Daniele, who passed away two years ago, and with whom the Roman pianist and composer, one of Italy's jazz stars, collaborated on more than one occasion, participating in both studio recordings and concerts.
Winner of the 2012 Top Jazz prize, promoted by "Musica Jazz" magazine, as the best artist of 2011, over the course of her career Marcotulli's talent has crossed paths with many other great musicians, including Chet Baker, Billy Cobham, Pat Metheny, and Richard Galliano. Her homage to Pino Daniele stems from a profound respect and friendship. "Playing with Pino was one of the greatest experiences of my life," she said, "so I decided to dedicate a primarily instrumental concert to him which really focuses on composition, with a fantastic international band that's free to play with Pino's songs, interpreting them in completely new ways."
On Sunday, August 6 (9:30pm), surrounded by Nora's spectacular scenery, Karen Souza makes her Italian debut. This extraordinary Argentinian jazz musician has a rather unique history: known for her talent and for the warm and velvety timbre of her voice, she actually began her professional career in the world of electronic music under a pseudonym, performing in the world's most famous night clubs.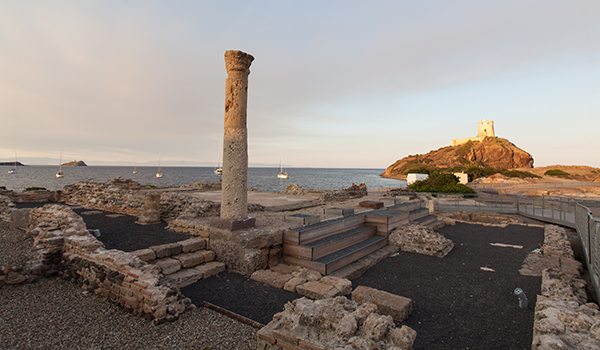 She became known to a wider audience with her extremely personal version of "Creep" by Radiohead, even used in the end credits of the film "The Zero Theorum" by Terry Gilliam. In recent years Karen has performed on the most prestigious stages of Venezuela, Brazil, Chile, Mexico, and all of Latin America.
On Wednesday, August 9 (9:30pm) Portuguese music comes to Nora in the body of musician Teresa Salgueiro, possibly Portugal's most iconic and captivating figure. Her musical career began in 1986 when, at only 17 years old, she was invited to be a founding member of the musical group Madredeus, with nine albums recorded specifically for her voice. Between 1987 and 2007 Teresa travelled non-stop, selling more than five million albums. Her subtle and delicate presence, accompanied by an extraordinary voice, led her to collaborate with high calibre musicians like José Carreras, Caetano Veloso, and Gilberto Gil. The quality of her performances and the technical precision of her concerts have been praised by both critics and the general public.
From Portugal's subdued styles to the great musical and pianistic tradition of Eastern Europe.
On Saturday, August 12 (9:30pm) this portion of festival concludes with another sensational international artist, extremely famous abroad but still relatively unknown in Italy: Aziza Mustafa Zadeh. Pianist, singer, and composer from Azerbaijan, Aziza is a musician that plays, sings, and composes in one of the most extraordinary jazz styles ever heard.
Her father, Vagif Mustafa Zadeh, who passed away at only 39 years old, was the most famous jazz pianist and composer of the former Soviet Union and creator of ''Aseri-Jazz', a style that incorporates "Mugam", a traditional form of musical improvisation from his country. Her mother, Eliza, who still attends all of her concerts, is a an opera and jazz singer.
At just 17 years old, Aziza won the Thelonious Monk Prize in Washington. Her first, self-titled album introduced her to the general public and her following albums established her as a great international artist, with 15 million copies sold. Immediately following the release of her first album, published by Sony Records, international critics compared her to great musicians like Keith Jarrett, Bill Evans, and Chick Corea. Through her extraordinary combination of genres and styles, western jazz meets Europe's great pianistic tradition and combines it with the sounds of traditional Russian folk music.
Once again, this summer the International Nora Jazz Festival offers a rich program of concerts and shows open to everyone, taking place in the piazzas of Pula's historic centre and in some of this striking tourist destination's most most evocative natural stages. It all begins on 3 August with the Safir Nòu duo, made up of composer Antonio Firinu accompanied by violinist Sergio Tifu, together in the unique setting of the Museo Civico Giovanni Patroni in Pula (8pm).
Listening to Safir Nòu, literally "rough diamond", it is easy be transported by their emotional music and come to inextricably link the two elements. Together, Firinu and Tifu will play the pieces from Groundless, the pair's debut album which captivates listeners with the sounds of the guitar and accordion and with its rich and passionate melodies.
On Friday, August 4 (8pm) in Piazza Chiesa, folk musician The Castaway will perform. A Roman singer-songwriter with roots in the North American folk tradition and inspired by the greatest ballads of all time, he pays homage to musicians from Bob Dylan to Passenger. The meditative folk rock songs of The Castaway, aka Luca Frugoni, enthral, cheer, and relax audiences. His concert at Nora Jazz Festival is also a chance to hear his latest single, already available on YouTube and all digital platforms.
Meanwhile, Nora's beach at sunset is the spectacular natural stage for the concert of Mattia Casu, the talented Sardinian pianist who will perform a solo show on Saturday, August 5 (8pm). Born in 2001 in Cagliari, Casu began studying the piano at four years old and at eight years old was accepted to the Cagliari Conservatory under the instruction of Maestro Romeo Scaccia. Known for having begun performing at a very young age, Casu, now fifteen, will revisit well-known pieces by some of the most famous composers in the history of classical music.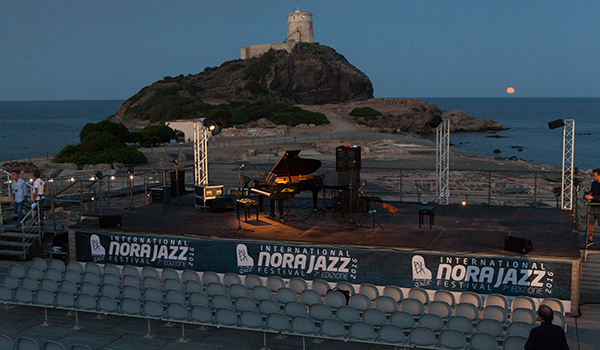 From the suggestive sounds of classical music to one of the most enduring Sardinian musical groups. On Monday, August 7 (8:30pm) in Piazza Chiesa the Denise Gueye Band takes to the stage, a new group formed from the union of the Mudras Quartet and singer Denise Fatma Gueye, one of the most captivating voices from the world of Sardinian music. In addition to being a soloist, Denise Gueye is establishing herself in various musical genres: not only jazz, where she has been involved in numerous collaborations, but also reggae and patchanka. Mudras Quartet has already released two albums produced by Blue Serge: Loading and Skywalkin. The quartet will perform a repertoire of original songs inspired by the black music of the 1970s, as well as reinterpretations of modern jazz pieces by musicians like Robert Glasper, Eryka Badu, R.H. Factor, Incognito, and Herbie Hancock.
Also on Monday, August 7, but later in the evening (10:30pm), in Piazza del Popolo the charismatic Azzurra Parisi takes to the stage, one of the most captivating R&B singers from Sardinia. With a voice that is both powerful and warm, deeply rooted in the culture of Afro-American music (as heard in her first album, Blue Eyed Soul, from 2014), this singer from Cagliari performs in Pula fresh from the release of her new album, My Sides, alongside Jazzin'on, the house band of Jazzino, and guitarist Mauro Laconi. Her repertoire will include songs from both albums, reinterpreted and rearranged in a more acoustic style but always with a profound groove.
The sounds are more sophisticated on Tuesday, August 8 (8:30pm) with Valeria Martini's concert in Piazza Chiesa: a narrative concert entitled Naturally Woman in which Valeria Martini, accompanied by her soul-pop quartet, uses music to explore female delicacy, desire, affection, sadness, loss, and the conquest of the other half of the sky. This is what Valeria Martini has to say about her lyrics: "There are women who write for women and for themselves, using their lyrics to describe aspects of the female condition in the various circumstances of life, or those who address God directly, openly stating their dreams and sentiments."
Also on Tuesday, August 8 (10:30pm), in Piazza del Popolo, the atmosphere changes dramatically with the explosive sound of the Paolo Nonnis Orchestra and the voice of Francesca Corrias.
The concert, entitled Paolo swings Francesca sings, is dedicated to the big bands and to the "First Ladies" of jazz. Nonnis' group is a modern big band (the second 15-element group founded in Cagliari by Sardinian drummer Paolo Nonnis) which pays homage to the great international orchestras through an eclectic and sophisticated repertoire, enhanced by the voice of Francesca Corrias.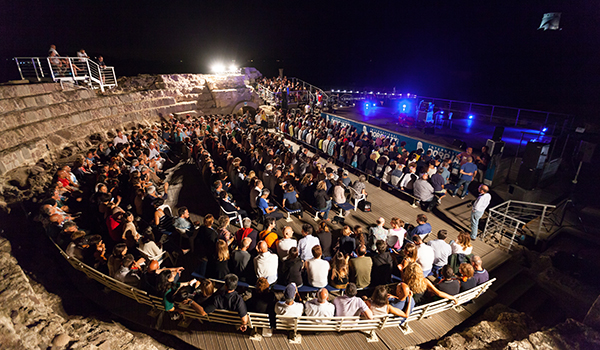 A journey through the golden age of swing and through 1920s and 1950s America, with musicians like Duke Ellington, Count Basie, Benny Goodman, Billie Holiday, and Ella Fitzgerald. Corrias, one of the most interesting and original Sardinian singers and founder of Roundella, will perform some of the most famous jazz standards of all time in a powerful tribute to the great ladies of improvised music.
From classical music to the sounds of the island's prog/rock scene: Thursday, August 10 (8pm), in Piazza Chiesa, Beeside, alias Federico Pazzona, takes to the stage, a multi-instrumentalist who actively performs with various Sardinian musical groups and as of today has released three albums. Accompanied by only his guitar, this folk singer from Sassari, deeply rooted in the matrix of British singer-songwriters, travels between traditions and styles, developing a variety of musical emotions within an intimate and personal dimension. For the audience in Piazza Chiesa, Beeside will reinterprete some of the most famous songs by international singer-songwriters, with arrangements exclusively created for acoustic guitar and voice.
The grand finale of this series of free concerts will take place on Friday, August 11 (8pm) with an inundation of vitality from the Jazz Marching Band, a musical group known for its high energy and its jazz repertoire. The band will march through the historic centre in a dazzling parade of music and colours, to the rhythm of famous jazz standards, enhanced by the solos of its individual musicians.
The International Nora Jazz Festival is an event presented in collaboration with the Municipality of Pula and supported by the Sardinia Region's Tourism Department, the Sardinia Region's Public Education and Cultural Heritage Department, and Fondazione di Sardegna.
Nora Jazz Festival dates:
Teatro Romano di Nora, Pula – August 2-6-9-12
Historic Centre, Pula – August 3-4-5-7-8-10-11
For more information head to www.norajazzfestival.it
Tags:
Culture
,
events
,
Jazz festival
,
Music