Shakespeare may have put Verona on the map, but it's the city's rich history that makes it unforgettable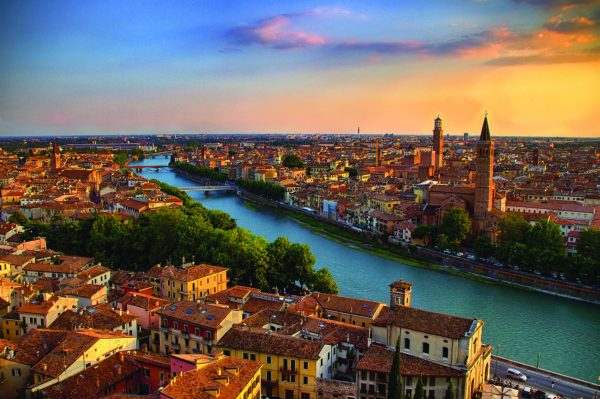 'Fair Verona, where we lay our scene' introduces William Shakespeare's Romeo and Juliet, yet the world famous 16th-century play and its fabled locations are mere dots on the historic timeline of this impressive city nestled at the foot of the Lessini Mountains, just a short train ride from Venice, and a mere bicycle ride from Lake Garda.
Juliet Capulet's balcony at the Dal Cappello family house draws in the tourist crowds, but it's UNESCO's inscription that reveals the true Verona with its celebration of the remarkable Roman, Romanesque, Middle Ages and Renaissance heritage that remains in abundance throughout the city.
The Roman Arena di Verona, built in the 1st century AD, thankfully no longer hosts gladiators but concerts and operas instead, taking advantage of the exceptional acoustics within the oval structure. The medieval Torre dei Lamberti towers over the Piazza delle Erbe, offering panoramic views of the red-roofed city from its 84-metre vantage point. The red brick and the white marble of the tower is echoed in the fortified Castelvecchio Bridge as it stretches across the Adige River – record breaking in its span when it was built in the 14th century, it was unharmed for over five centuries until its destruction in the Second World War, with a subsequent 1950s rebuilding.
And the Basilica di San Zeno – its unassuming bell tower and pale facade with its Wheel of Fortune rose window belies the exquisite Romanesque architecture within.
Just one day spent in Verona is to see the past two thousand years in the making.