An unusual reward for those who travel south from Salerno instead of north to the crowds of Pompeii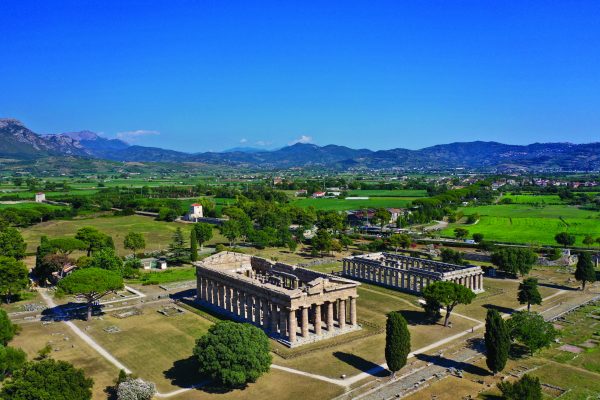 Originally named by its Greek inhabitants as Poseidonia, Paestum is surprisingly overlooked on the tourist trail, partly due to its only being accessible by car. The hour-long coastal journey travelling south from Salerno brings the reward of the absence of tourist throngs more commonly encountered when travelling north to the more popular Pompeii.
The city sits within Magna Graecia (Greater Greece) – the name bestowed by Roman settlers to the coastal area of southern Italy – as well as the vast Cilento and Vallo di Diano National Park. The UNESCO inscription indicates the value of this precious 160,000 hectare region, which also encompasses the clifftop city of Velia and the magnificent Certosa di Padula.
Within Paestum's city walls are three of the most exceptionally preserved examples of Greek temples in the world, built between 550 and 450 BC. At the highest point of the city sits the smaller Temple of Athena; set a short walk away from their sister temple, the two Doric-style Temples of Hera reside together in paralleled stillness. Although markedly different on first sight, with the second temple echoing the Parthenon in Athens, both hold a sacred cella (small chamber) within the rippled columns, reserved only for the powerful gods.
Altar remains outside the temple walls indicate not only the location of worship but also the multifaceted history of the city, with Greek and Roman artefacts melded together. Centuries may divide them in time, yet within each present moment they stand together.
Liked this article? Discover more like it in our archive.