Find some of the best places to stay, visit or eat while staying around Assisi, with Jane Keightley's guide to the highlights of the area…
Photos by Jane Keightley unless otherwise stated.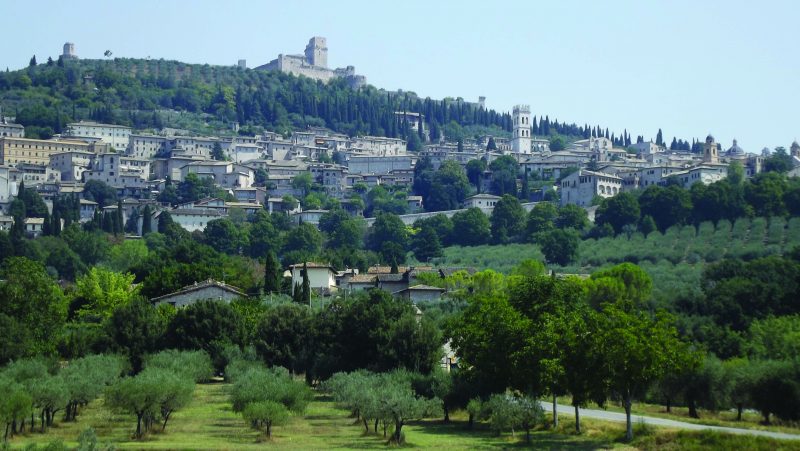 What to see and do
Piazza San Francesco 2, 06081 Assisi 
One of Italy's architectural and artistic masterpieces, with spectacular artworks by Giotto. The 13th-century basilica is made up of two churches and is the burial place of St Francis. The saint's relics were hidden in the crypt for safekeeping and only rediscovered in 1818.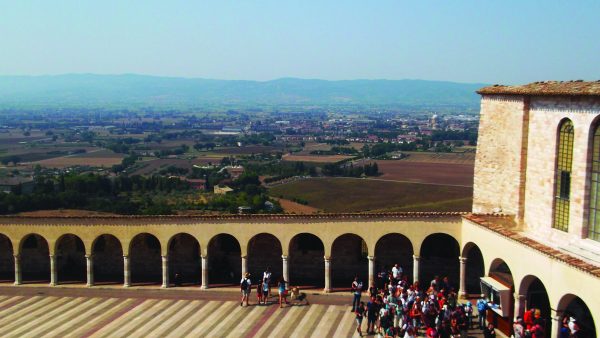 Piazza del Comune
Piazza Del Comune, 06081 Assisi
The main square of Assisi is thought to have been built over the Roman Forum. It is dominated by the Tempio di Minerva, behind which is a Baroque church where more ruins were found during renovations.
Piazza San Rufino 3, 06081 Assisi 
The Duomo di San Rufino (Assisi Cathedral) is dedicated to a 3rd-century martyr. The building has a typical three-tiered Umbrian façade with ornate friezes and sculptures. The main point of interest inside is the font used to baptise St Francis and St Clare.
The Basilica of Santa Chiara
Piazza Santa Chiara 1, 06081 Assisi
The burial place of St Clare, St Francis's devoted follower, was begun in 1257 and consecrated in 1265, twelve years after her death. It has a beautiful pink and white façade and inside you can see the Byzantine crucifix that originally hung in San Damiano church outside town.
The Rocca Maggiore
Via della Rocca, 06081 Assisi
The castle that dominates Assisi's skyline was built in the 12th century, but most of the current structure dates from the mid-14th century, when Cardinal Albornoz had it rebuilt. There are breathtaking views from the top.
San Damiano
Via San Damiano 85, 06081 Assisi
San Damiano, a 15-minute walk outside the town walls, is the site of St Francis's conversion in 1205 and where he composed the Canticle of the Creatures. A small and beautiful building, it housed the Order of St Clare, also known as the Damianites, after the church.
Santa Maria degli Angeli                                           
Piazza Porziuncola 1 06081 Santa Maria degli Angeli
This basilica in the valley below Assisi houses the Porziuncola, the tiny chapel where St Francis lived and the Cappella del Transito where he died. It's amazing to see this previously freestanding little building at the centre of a far larger one.
Where to stay
Corso Giuseppe Mazzini 15, 06081 Assisi 
Lovely, comfortable rooms in a 16th-century palazzo just off the main piazza. €63 per night.
Piazza Giacomo Matteotti 1, 06081 Assisi 
Friendly, family-run hotel on the outskirts of Assisi with plenty of parking. Beautiful views from the garden. €65 per night.
Via Fontebella 41, 06081 Assisi 
Not far from the Basilica, this grand old hotel has a terrace with beautiful views and a spa. €105 per night.
Via Frate Elia 3, 06081 Assisi 
Set in a 14th-century building not far from the Basilica, this hotel is friendly and welcoming and has a selection of art on its walls. €50 per night.
Via San Rufino 6, 06081 Assisi 
A relaxed, family-run hotel in the centre of town. Free coffee and cake on offer
all afternoon. €65 per night.
Nun Assisi Relais and Spa Museum
Via Eremo delle Carceri, 1a, 06081 Assisi 
Situated on the outskirts of Assisi, this renovated nunnery offers luxury accommodation and a spa set amongst Roman walls. €292 per night.
Where to eat
Via San Francesco 52, 06081 Assisi
I was pleasantly surprised by the quality of the food here as it is right next to the Basilica and I was expecting normal tourist fare. It was so good I returned twice. The mushroom risotto with truffle was really quite wonderful.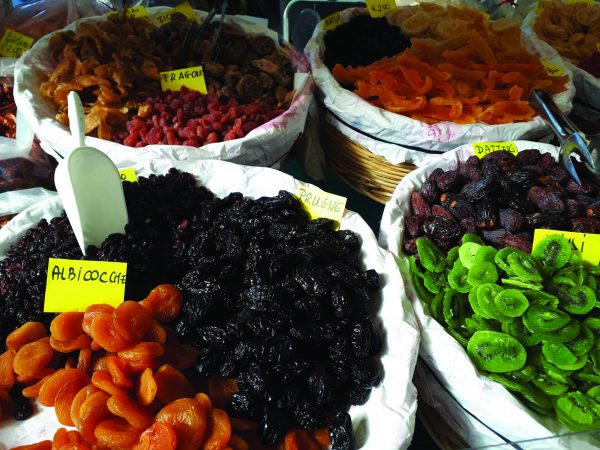 Vicolo della Fortezza 1, 06081 Assisi 
A very friendly, atmospheric restaurant with very good food. I enjoyed some tasty gnocchi with Gorgonzola.
Vicolo della Volta Pinta 3, 06081 Assisi 
Part of the Hotel Pallotta, near the Temple of Minerva, just off the main piazza, they serve lovely local dishes here such as strangozzi with mushroom sauce, and rabbit cacciatore.
Via San Gabriele Dell'Addolorata 15 06081 Assisi 
Well worth a visit for dishes like pork with figs and a chocolate dessert to die for. Pleasant outdoor area to sit and dine.
Don't miss!
The Calendimaggio
For a few days in early May, Assisi turns the clock back several hundred years for the medieval Calendimaggio Festival. Rivalry between the upper and lower parts of town is battled out through music, plays and costumes. The festival of St Francis (3-4 October) also features music, dance and religious ceremonies.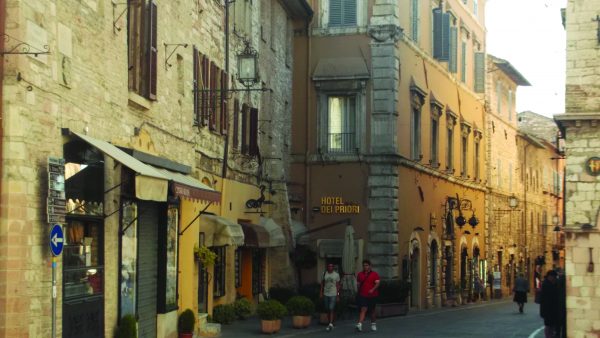 The centro Storico
Assisi's well-preserved medieval centre is a delight to stroll around. The pinkish stone in the buildings is from nearby Monte Subasio. One of the most atmospheric parts is towards Porta Perlici, beyond the cathedral, but the whole historical centre is a maze of intriguing alleys. Wrought-iron decorations and colourful plants abound.
Surround yourself by unspoilt wilderness where wild orchids grow, explore on foot and take in the spectacular views of this historic landscape. 
Getting there
By plane:
The nearest airport is Perugia, just 10 minutes' drive from Assisi. The nearest international airport is Rome Fiumicino.
By train:
The station is located 5km from the town, but after Perugia it is easy to connect to other cities.
By car:
Parking is not permitted in central Assisi and it is best to park on the outskirts in underground car parks such as the one in Piazza Matteotti. I parked in the car park at Porta Mojano, where you can get up to the town with your luggage in a lift and on escalators. It comes out near the Basilica di Santa Chiara and was reasonably central.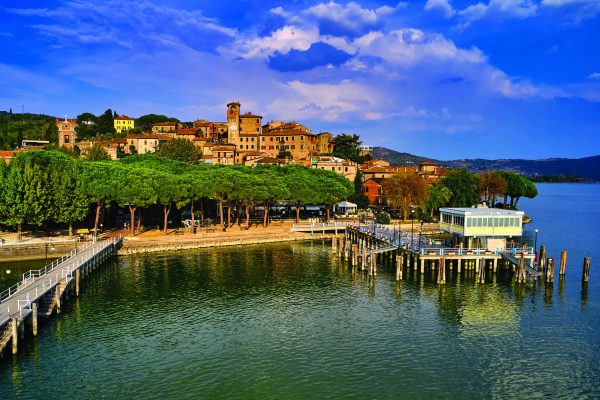 Find out more info about the area in our Assisi archive.