Our experts are here to help with all your questions about Italy. This month, art holidays, what to do with leftover panettone, driving around romantic Puglia, and income tax…
Painting landscapes
Q: It's my ambition one day to paint some Italian landscapes for my friends and family. Would you have any particular places you would recommend for an enthusiastic amateur to paint?
Paula Jones, by email
A: I have painted many regions in Italy, including Venice, Tuscany, Umbria and Rome, which we have reproduced as limited edition prints. They are all great places to paint. We do have one Christmas card of Ice Skating in Marostica too which is a small town in Veneto where I had an exhibition in 2005.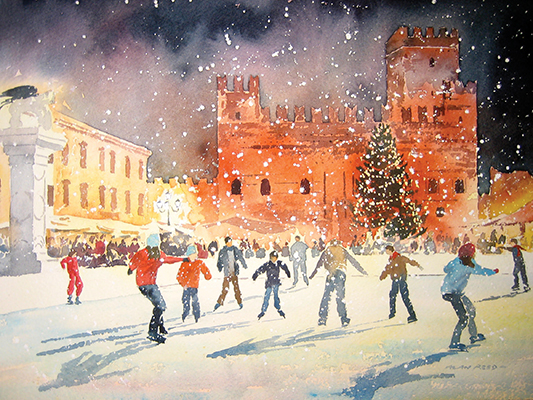 At Reed Art Holidays we can arrange for artists of all levels to come to Italy for personal tuition and to gain experience in painting landscapes and other subjects.
Alan Reed, Alan Reed Art
Panettone recipes
Q: Since it became easier to buy it here in the UK, we have always had a panettone for Christmas. However, there is usually some left over and, rather than throw it away, do you have any tips on how to use it up?
Sarah Robson, by email
A: Panettone is perhaps the most versatile – and fragrant – cake. For a tasty accompaniment to your hot cuppa, simply toast a slice and top with berries or honey. Alternatively, it makes a fantastic substitute for biscuits in a traditional tiramisù, in a trifle, or as a crumble topping. At home, this is a big crowd pleaser. It may be a bit indulgent, but it's my kids' firm favourite!
To below are two further suggestions: one for a breakfast, perhaps; the other a super easy recipe for a quick dessert – great for impressing unexpected guests!
French toast panettone/ Toast di panettone alla francese 
Serves 4   Preparation: 10 minutes  Cooking: 5 minutes
Ingredients:
8 slices of leftover panettone, at least 1cm in thickness 
your favourite preserve 
1 medium free-range egg, beaten in bowl with a glug of milk 
a knob of butter
icing sugar 
cinnamon 
Method: 
Spread a tablespoon of your preserve on each slice. Top that with another slice to make a sandwich. Dip the sandwich into the beaten egg mixture until it is fully submerged and soaked through.
Pan fry in a hot pan with butter. Once browned and beginning to crisp, take it out the of the pan, dust with icing sugar and cinnamon, and serve hot.
Panettone affogato
Serves 1    Preparation: 10 minutes
Ingredients:
leftover panettone, cubed
a double shot of espresso
whipped cream
sugar
grated chocolate
Method:
Taking a latte glass, fill it halfway with the cubed panettone. Pour the hot espresso over, ensuring that all the panettone is covered.
Mix the whipped cream with sugar and spoon over the panettone. Top with the grated chocolate and serve.
Romantic holiday in puglia 
Q: I would like to take my partner on a romantic holiday to Puglia next May – could you recommend somewhere for us to stay? We will be hiring a car so we can travel around as we enjoy discovering new places.
Michael Marks, by email
A Puglia is an enchanting place to visit for a romantic break, particularly in the late spring when the weather is warm and sunny but not too hot, the beaches are uncrowded and the restaurants are not full of tourists, so you can enjoy all that Puglia has to offer in quiet and relaxed surroundings.
As you will have a car we would suggest that you choose to stay in a villa with your own private pool and not in a trullo, unless it has adequate heating. A good location would be in the countryside outside one of the medieval hilltop towns, such as Cisternino, Locorotondo, Martina Franca or Ostuni, in the Valle d'Itria, which is a short drive away from the major sites and many of the beaches.
Depending on your interests there are many things for you to discover and enjoy: for food, a visit to Ceglie Messapica, which is renowned for its food and has an abundance of restaurants, from small trattorias to smart Michelin star eateries; Grottaglie for ceramics; Castellana Grotte for its caves; and wines, both white and red, in Martina Franca and Locorotondo. Take an idyllic walk or cycle ride along an ancient country road into a nearby town or explore one of the many castles that are found in the centre of many of the towns.
Also, throughout the year there are a multitude of celebrations and, in early May, both Bari and Taranto celebrate their patron saints' days of San Nicolà and San Cataldo, respectively; and on the last Sunday of the month numerous wine producers open their doors to the public for a tour of their production facilities and tastings.
Jackie Lear, Puglia Holiday Rentals Ltd
Income tax
Q: I am a self-employed graphic designer – I have a UK passport but I am planning to move to Rome soon as I have work there. My question is about income tax. I have clients based in the UK who pay me in pounds sterling, and currently I pay tax to the Inland Revenue in the UK. When I move to Italy, and am paid by my Italian clients, I imagine
I will be liable to pay my taxes in Italy instead, as a resident. Will I also need to pay tax to the Italian IR on my UK earnings as well?
Jane South, by email
A: Should you decide to move to Italy and reside there on a permanent basis, your worldwide income will be subject to Italian income tax. Generally speaking, you will be regarded as Italian resident if you spend 183 or more days in Italy, and as I understand it, you are planning to reside there on a permanent basis, so you would be.
Other criteria apply to establish the residency status of individuals and it is important that you clarify your status with both the UK and Italian tax authorities. The UK statutory test will also help you to establish whether you would still be regarded as a UK resident, despite spending more time in Italy than in the UK.
When a situation arises where it is difficult to determine where a person is resident, the so-called tie-breaker rules may assist in the assessment. In these cases it is advisable to seek independent professional advice to clarify your status.
If you permanently move to Italy and establish your business there, it is likely that the income you generate from your business will only be subject to Italian income tax. However, should your status be such that taxes are also due in the UK, the double taxation treaty between Italy and the UK will enable you to claim tax relief in order to offset the taxes paid in Italy against those that may be due in the UK. As time limits for the submission of claims apply, it is advisable to seek the assistance of independent tax advisers when submitting your tax returns and claims.
Laura Protti, LEP Law