Italia! has partnered with Smart Currency Exchange to offer our readers preferential exchange rates from the UK's most trusted currency exchanger. Here, Smart's experts reveal why no-one should be worried about buying in Italy.

10 simple steps
So you love Italy, you know your Umbria from your Abruzzo and your orecchiette from your farfalle. But do you know how to buy a home there? Or how to cut the cost by using a currency specialist? The Italian buying system is different from that in the UK, France or Spain, so here is how you can purchase your dream home, safely.
Set your budget
To do this, you will need (a) to understand the buying costs in Italy and (b) your currency costs. The latter will usually be much lower if you choose a currency specialist rather than your normal bank.
Find your agent
Ready to roll? Chosen your area? Then it's time to visit your Italian estate agents (agenzie immobiliari). In the UK, agents tend to be sales people working for the seller. One good thing about the Italian system is that the agent and the notary (notaio) are both working for the buyer as well as the seller. They are more than just sales people, and to retain their professional licence they must stay up to date with their training on all aspects of property law, and ensure that the sale is fair.
 Employ your own lawyer
Despite the legal protections of regulated estate agents, many buyers will still want to employ their own lawyer. The important thing is that your lawyer be independent of the estate agent and that you can communicate well with them.
Open your currency account
Open your currency account with Smart Currency Exchange. You will want to have this ready for when you find that home.
Find your dream home!
Choose the house you want to buy. Nosing around Italian homes is always fun!
Make your offer
When you're ready to buy, the agent will write a letter for you, making the offer. This is called the proposta d'acquisto.
Offer accepted!
Now the notary gets to work organising searches and the usual legal processes happen. As the buyer you get to choose the notary (ask your agent or lawyer if you need help here) but he or she will act for both parties.
No turning back now
If all is well, the next stage follows within 10 days and you'll pay at least 10% of the purchase price (the caparra confirmatoria). If you haven't already opened your currency account, you could well come unstuck here, especially if the rate has moved against you. This stage is the intention to buy, the contratto preliminare di vendita, which includes details of the property, boundaries, and so on, as well as the date of the handover, normally within 30 to 60 days. The buyer would now need a legally valid reason to back out or they would forfeit their deposit.
Nearly there…
The next stage is the atto di vendita, the deed of sale. You normally sign this at the notary's office (then celebrate with an Aperol afterwards). You've also got to pay the rest of the purchase price now – you can make a big saving here with Smart Currency Exchange.
It's yours!
You will be given the keys to your new property. Deeds will be issued on the same day. You see, easy, wasn't it?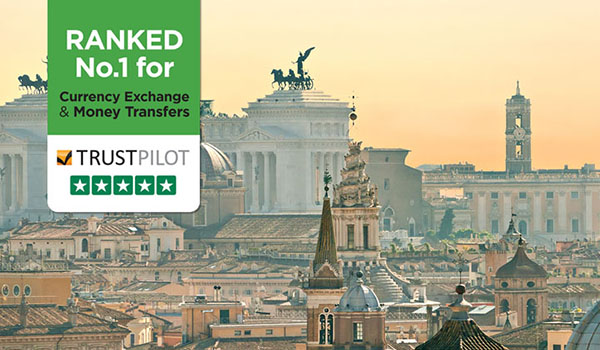 Timing your currency strategy
Here are three tools for different stages of your property buying journey. More information and guidance will be provided to you once you have registered for a FREE account with Smart Currency Exchange – which will only take
five minutes to set up.
Ready to buy, need to budget?
If you know you're buying but don't know when, get a Forward Contract. This secures your exchange rate now, on payment of a deposit, protecting you from any adverse fluctuations before you complete.
Paying now!
If you need to make your transfer now, consider a Spot Contract. You can benefit from exchanging your currency at the live exchange rate at the time that you contact us. Booking this rate now means you are protected from further exchange rate fluctuations but you do have to pay up front.
Already bought abroad, but need to make more payments?
If you need to send funds overseas on an ongoing basis, setting up a Regular Payments Plan can save you both time and money on every transfer. You can also lock in the exchange rate on these payments to ensure that you always know how much you are sending and receiving every time.
For more information on how you can save money with your property plans and to request a FREE Property Buyer's Guide – a step-by-step guide to buying aboard – please call the Italy team at Smart Currency Exchange on % 020 3504 4337 or email Italia!@smartcurrencyexchange.com.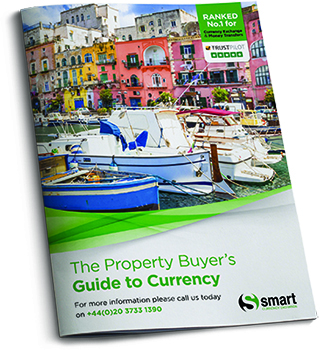 Tags:
buying in Italy
,
Exchange rates
,
Finance
,
Money
,
Smart
,
Smart Currency
,
Smart Currency Exchange