Sally FitzGerald goes on a week-long photography tour of Venice with Learning Holidays in Italy…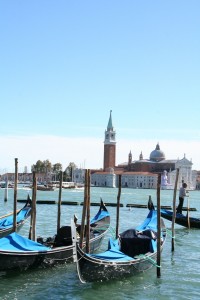 When was the last time you did something for the first time? It is often said that you should try something new to challenge or push yourself every day, and as I was clinging to the walls of a speed boat careering up the Venetian lagoon one rainy October morning, I can safely say I was feeling a little apprehensive. And it wasn't just the weather that had my stomach doing back flips – although the boat ride that should have resembled a scene from a James Bond movie and was more like a clip from The Perfect Storm wasn't helping. It had more to do with the fact that I had just joined ten strangers to spend a week photographing one of the most beautiful cities in the world on a Learning Holidays in Italy residential photography getaway. I'm no stranger to my Canon SLR camera, but would I really be able to capture the beauty of Venice accurately, particularly in such bad weather conditions? I wasn't too sure…
The week started as any good Italian holiday should – with a relaxed Sunday lunch getting to know the rest of the group. With Learning Holidays In Italy there are often a couple of residential courses going on at the same time, so while the majority of the group would be joining me in my quest to take the perfect photo, the remaining members were primed to set off with their equipment of choice – an easel, paper and watercolours. As we made our way through plates of pizza topped with ripe red tomatoes and spaghetti covered in charcoal black squid ink, we began to discover everyone's reasons for being on the trip. The group consisted of just two couples and the rest of us solo travellers, and backgrounds ranged from former actresses now based in Greece to retired school teachers looking for new adventures. Yet despite the differences, our shared passion and excitement for what the week had in store for us had us chattering away non-stop.
After lunch, most of the group decided to make use of our afternoon's free time by heading away from our base at the Lido, over to St Mark's Square for our first taste of Venice. We were soon to learn that while our group leader Rob couldn't be rivalled as a photography tutor, his knowledge of the Venetian boat system was somewhat questionable. Setting out on the vaporetto line he had suggested, two wrong boats and an hour later than we had first departed, we completed the 15-minute trip to St Mark's Square. Here we dodged the crowds and the duck boards which had already been set up in anticipation of the coming floods, and began to take our first photos of the city. The dreary, grey-hued results began to convince us that even the natural beauty of the city wouldn't save our photos – we needed professional help.
LEARNING THE BASICS

The first half of the week-long course followed a similar pattern. While the painters set off early in the morning to get straight to work, the photographers enjoyed a slightly more leisurely breakfast, then met up in the hotel basement to spend the morning learning about our camera's basic settings and what to do with them. We were soon to discover that there is little more dangerous than an SLR camera in the hands of someone who has no idea of how to use it. So during the first few days Rob guided us through everything from the basics of composition (we could seldom take a photo without Rob uttering the words 'think about the leading lines'), to the use of aperture and speed, with even a quick lesson in Photoshop squeezed in for good measure. What Rob lacked in navigational skills, he made up for in his clear explanations of some quite complex photography terms, and wouldn't move on until everyone in the group understood exactly what he was talking about. As we had the entire week to learn everything, rather than just a half-day taster session, we could afford to take our time getting the basics right, and it really did pay off.
After a leisurely lunch, the afternoons were when we would try out the skills we had learnt that morning. As everyone had a different level of experience – our group ranged from photography club members and motorsport photographers, to a lovely lady who had only bought her camera two weeks previously – we could all help each other out. Even if Rob was busy advising one person, the rest of us could usually join together to figure out the problem at that moment. It also meant that we all pushed each other to go to the next level and try a new setting that we had previously been too scared to. The ultimate setting you want to be able to master as a photographer is the manual setting, which means you are fully in control of the camera, having to set both the aperture and the speed. We were all reluctant to make this leap until Jan, the most adventurous member of the group, switched over to it and forced the rest of us to follow.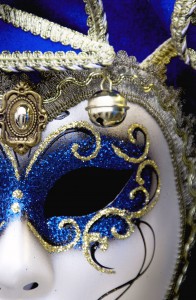 Of course, we weren't left to fend for ourselves even on the 'field trips' as Rob was always on hand to give a helpful hint at what speed and f-stop we should be using for a certain weather conditions (sadly cloudy with light rain was standard for the majority of the week). His teaching methods weren't always conventional though, as several members of the group experienced when they held their camera the wrong way and received a cautionary jab from the pointy end of his long umbrella! As it was done with an affectionate smile, it always seemed to get the required result.
The excursions were not only useful for practising different skills, but also provided a wonderful way to experience the 'off the beaten track' Venice. While we all took the compulsory shots of St Mark's Square, the Bridge of Sighs and the Rialto bridge, we also got a glimpse of Venetian history at the wonderfully peaceful and architecturally beautiful military area of the Arsenale.
Another day we experienced life as the true Venetians do, wandering around the backstreets of the Jewish Quarter and taking in the detail and buzz of the local market. Stalls packed with unusual local vegetables and baskets lined with green, red and orange chilli peppers stood facing shops displaying the vibrant blues, pinks, greens and blacks of the iconic Venetian masks. And of course every street corner provided a new canal to view, gondoliers steering their passengers away from the crowded waterways to show them something a little more special.
One of our full day trips took us to the glorious island of Burano. As well as being famed for its lace, the Venetian gem is also cherished for its multitude of coloured houses, each one a different shade to the last. A photographer's paradise in short. As well as the houses we stumbled upon a beautiful marina where we spent time photographing the anchors, ropes and nets lying dormant in the boats. Such an important part of Venice's history, it seemed apt that shots of these objects should be added to our holiday portfolio.
BECOMING A PHOTOGRAPHER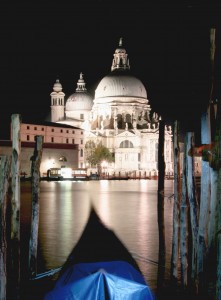 One of my favourite aspects of the holiday, and the one that made me most feel like I was starting to become a proper photographer, was the night photography sessions. I have always adored night photos – the tourist-free streets and beautiful mood lighting feel like you are getting a glimpse of the secret side of a city. But have I ever had any idea how to take one of those photos myself? Of course not! So with tripods in hand we set off two nights in a row, firstly to capture some of Venice's iconic night scenes, and secondly to explore the canals to see what lesser photographed sights we could uncover. With Rob there to guide us, it was deceptively easy! It really is up to the camera and tripod to do the work for you once you've got your settings sorted. So a lot of the time we were just able to stand back and soak up the beauty of Venice at night. Without having to battle with hundreds of other tourists, the city really is quite magical, and I got some of my favourite shots during those moments.
By the end of the week my passion for photography had completely consumed me. Thanks to having been immersed in my favourite hobby almost 24/7, not only was I thinking in f-stops, but I was also swaying on dry land due to the number of boats we had taken to our wonderful living photo shoots. I had met some absolutely lovely people and now, with a little help from Photoshop, I have photos of Venice that I am proud to hang on my wall to remind me of the week I decided to step outside my comfort zone and learn some new skills while enjoying the holiday of a lifetime.
And those skills will now be with me on every trip I take for the rest of my life. Who could resist that?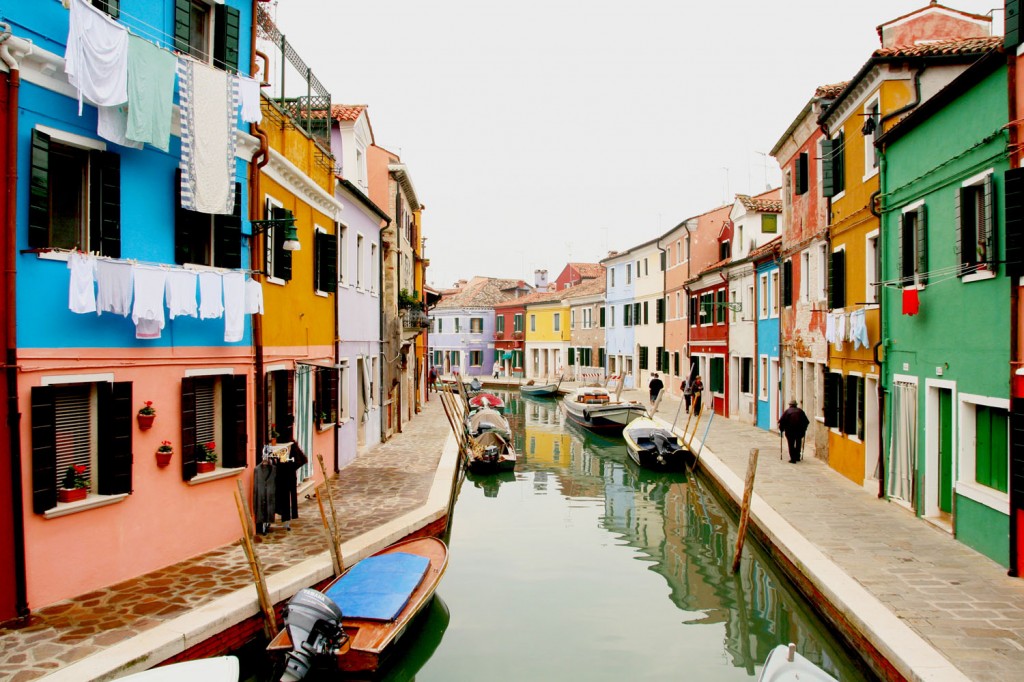 CONTACTS
➤ Sally travelled with Learning Holidays in Italy, which specialises in residential holidays in Italy covering subjects such as photography, painting, cookery and creative writing. Week-long breaks cost around £1,500 (no single supplement from 2014), and include accommodation, airport transfers, evening meals with wine, plus intensive tuition with a trained tutor. To see next year's dates, visit www.paintinginitaly.com, email info@paintinginitaly.com or call
0808 118 5729.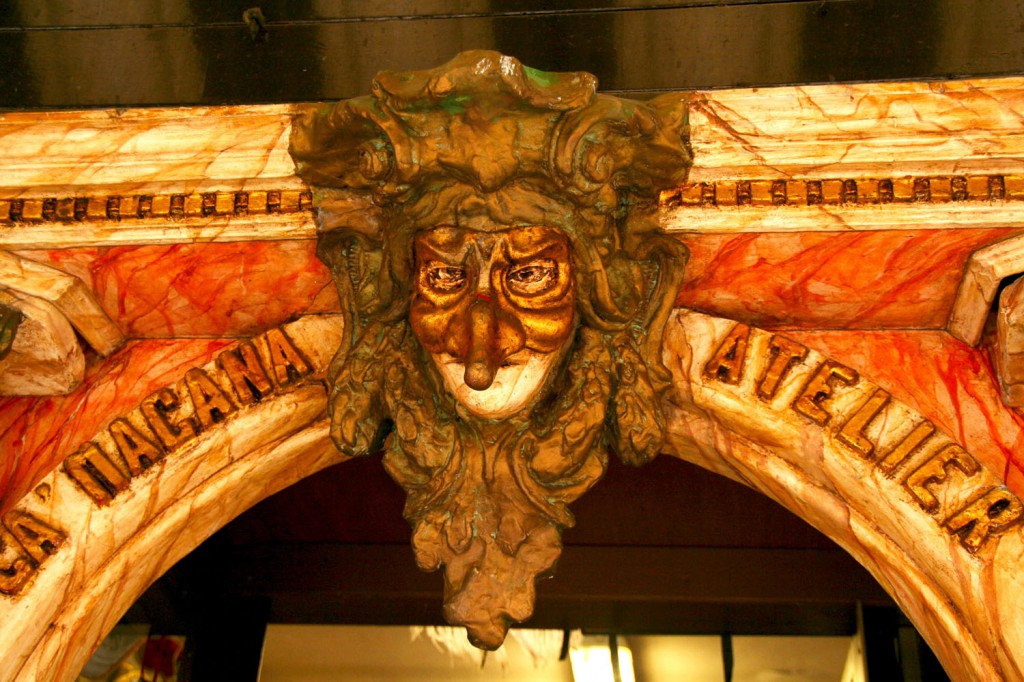 GETTING THE MOST FROM YOUR CAMERA
➤ Know what kind of photographer you are
There's no point in getting to know every setting on your camera if you're just going to revert to automatic each time you go out. It's fine to use the automatic setting if you're a beginner, but if you want to get to know the camera a little more, experiment with the P (program) setting, which allows you to control the exposure of your pictures. If you want to really get to know your camera, you can then move onto manual (M), which allows you to control speed and aperture to get the best shots.
➤ Think about composition
There are various rules that might help you improve every shot you take, such as the rule of thirds and leading lines, but in general just spend a little time thinking about the scene, which elements are most important, and what is going to make the best shot. Try changing your angle for added interest and don't be afraid to get down on your knees (or even lie down!) to get the right perspective.
➤ Experiment with white balance
As you get to know your camera better, experiment with the white balance setting rather than leaving it on auto. This will help with cloudy days, inside photography and more. Just remember to change the setting as the lighting changes!
➤ put settings back to normal
If you're playing around with your settings, put them back to normal when you've finished your session. That way you won't be shooting using your night settings in the middle of the day.
➤ Organise yourself
When trying out new techniques you'll take a lot of photos, so make sure you organise them well when you download them onto your computer. Delete any that are out of focus, the wrong angle etc, then edit down to keep your favourites. This helps when showing your family your holiday snaps as it means they won't have to sit through all 1,000+ pics!