An impeccably dressed Amanda Robinson steps back in time and discovers the art of elegant travel as she takes a trip on the iconic Venice Simplon-Orient-Express…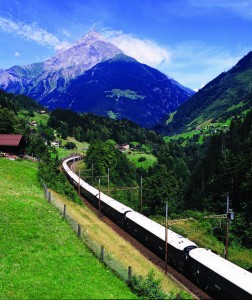 Let's face it, most people's main imperative for the daily train commute is more about getting to the office without delay or complication, to get the day started with as little hassle as possible. Working next door to a building site at the moment, it has to be said that sartorial elegance is rarely uppermost in my mind. Practicality comes first when you're dodging standing water and mucky detritus on a daily basis. So the irony of buying a new wardrobe of outfits just to wear on a train is not lost on me, but when the train journey is none other than the much-celebrated Venice Simplon-Orient-Express, who wouldn't make the effort?
And so it was, decked out in effortless chic, that I queued with my fellow travellers in Victoria Station at the Orient-Express check-in tucked away on Platform Two. With its red carpet and roped barriers, spotless facilities and complimentary refreshments, the mood for luxe was set as our luggage was deftly whisked away and our immersion in this modern-day recreation of the golden age of train travel began. An expectant flurry on the platform heralded the arrival of the British Pullman to take us to Folkestone on the first leg of our adventure. Resplendent in their distinctive livery, the charming staff offered us a warm welcome into elegant, art deco interiors where silver service, starched linen, bellinis and a gourmet brunch of smoked salmon and scrambled eggs awaited.
THE BELGIAN CONNECTION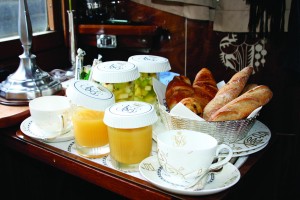 Immortalised in fiction by Agatha Christie and her little Belgian detective, there has actually been an Orient-Express train service in existence since 1883 – on the historic route from Paris to Istanbul. Founded by a (real life) Belgian, Georges Nagelmackers in 1876, La Compagnie Internationale des Wagons-Lits provided a luxury sleeping and dining car service throughout Europe, using the track, stations and locomotives of the various national railway companies en route. A complex timetable crossing borders and linking the various stops and changeovers took Nagelmacker's flagship service the Express d'Orient twice a week from the Gare d'Est in Paris to Istanbul.
The service continued with a hiatus for The Great War, and in 1919 the Simplon-Orient-Express started running with a more southerly route to Istanbul by way of Lausanne, the Simplon Pass, Milan and Venice with the final much pared-down service running in May 1977.
Later that same year, James B Sherwood, Chairman of Orient-Express Hotels bought two run-down carriages at auction, and so began his quest to track down and acquire original 1920s Pullman and Wagon-lits to restore to their former glory. Five years and 11 million pounds later, the VSOE made its maiden run from London to Venice.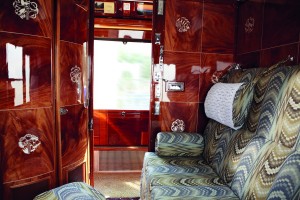 But back to our journey – we had reached Folkestone for the least glamorous part of the journey – under the Channel via Eurostar. A 30-minute shuttle ride later we disembarked at Calais Ville where we got our first sight of the Venice Simplon-Orient-Express, our home from home for the next 24 hours. I'm not sure if the jolly brass band was laid on especially for us, but it certainly added a celebratory air to the already expectant atmosphere, as we joined the (well-dressed) throng of travellers along the platform. No lugging of cases and scrambling for seats here of course; that was all taken care by lovely Hugh – our cabin steward – at our beck and call for the entire journey.
At first glance, 'small and perfectly formed' sums up the accommodation, a compact space luxurious with glossy wood panelling and ornate art deco inlays. No bathroom as such, just a washstand concealed in the corner of the carriage and shared toilet facilities at each end of the carriage, (but the smartest train loo you are ever likely to see). And then it was Prosecco o'clock and we simply sat back and enjoyed the transition to a slower pace of life.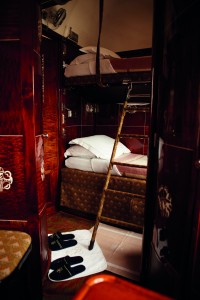 You get used to being fed and watered every few hours on the VSOE, and in such grand style that I was intrigued to find out how they achieved such perfection in the train's restricted conditions. "Organisation is the key", says Bruno Janssens, the train manager. "We work with the mindset 'what if' to prepare for any contingency." The train has two kitchens, one for prep and one for cooking. And with both gas and electricity serving the kitchens, it's not a disaster if one supply fails. Food supplies are taken on board en route in Paris and a complete backup menu available if it's needed. A remarkable feat of organisation in any kitchen, but when you consider the compact size of these travelling kitchens and the gourmet French-inspired four-course lunch and dinner menus, the scale of the operation is nothing short of impressive.
And no wonder, when you consider that Chef Christian Bodiguel has devoted nearly 30 years to running the restaurant on the trains to immaculate standards. He plans his menus with sous-chef Igor Maccagnan the winter before the season starts with military precision as nothing can be left to chance once the trains are en route. The evening's main course of Charolais roast beef with green asparagus and tarragon mousseline sauce, marrowbone with ox cheek rillettes and potato purée and spring vegetables, followed by dark chocolate cake with lightly salted caramel sauce will, I trust, speak for itself…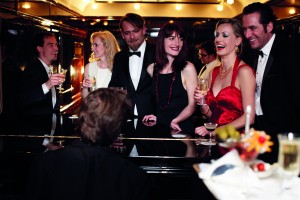 A SENSE OF PLACE
A sense of old-world luxury and romance pervades every inch of the train, from the exquisite attention to detail in every cabin, to the opulence of the splendidly appointed restaurant cars decorated with Lalique and original chinoiserie, the quaintness of coal-fired central heating in the carriages and the unfailing attentiveness of the staff. Even in these recessionary times, the routes are busy with many of the London to Venice journeys complete sell-outs. The staff regularly see (and collude in) marriage proposals, engagements, anniversaries and family occasions of every kind which only serve to create a magical atmosphere that imbues other passengers with a sense of wellbeing. It's a step back in time to an age of courtesy over creature comforts, a slower pace of life. And as the train rumbles slowly across the bridge over the water to finally arrive in Venice, the next stage of your well-dressed adventure begins…
MORE INFORMATION

➤ Venice Simplon Orient-Express
London to Venice (one way) costs £1,830 per person. Prices include all table d'hôte meals and accommodation on board is based on two people sharing. Single cabins are also available.
For the trip of a lifetime, Orient-Express also offer a range of inclusive luxury packages to Venice and other destinations on the VSOE routes.
For more details please visit
www.orient-express.com
➤ Onward Journey
Amanda stayed at the captivating Hotel Cipriani on the Giudecca in Venice (www.hotelcipriani.com) and flew back from Venice with Monarch, the scheduled leisure airline, which now operates flights to Venice from Birmingham, and London Gatwick with fares including taxes, starting from £36.99 one way (£76.99 return). For more details go
to www.monarch.co.uk
When you reach Venice, be sure to take some stunning photography! Click here for Sally FitzGerald's week-long photography tour of Venice… and don't miss The Gardens of Venice and Veneto.