The scenic village of Alassio on the Ligurian Riviera was once a magnet for Britons. They left when war broke out, and never came back. Mary Novakovich wonders why… (Photos by Adam Batterbee)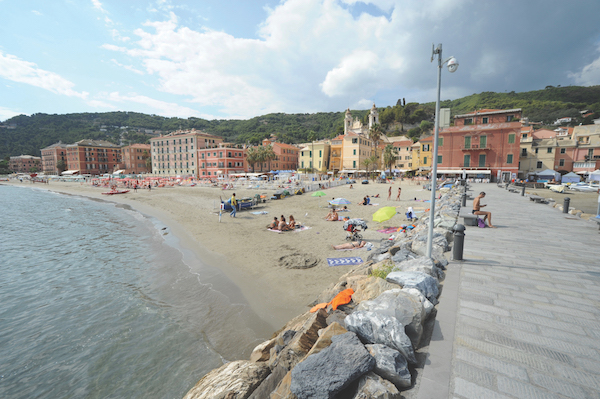 Wintering on the Riviera… The phrase immediately conjures up images of well-to-do 19th-century British families promenading along seafronts on the northern Mediterranean coast. Occasionally they would put down roots. If they really fell for a place, they would set up the holy trinity of British institutions: an Anglican church, a tennis club and a lending library. You'll find all three in Alassio in western Liguria. But what happened to the British colony here? There were 5,000 British expats here in the 1930s; today there is a permanent population of about 15. It's a bit mystifying.
As the coast road from Genoa curved into Alassio's bay, I could see the wide sweep of sandy beach backed by pretty houses in the standard Ligurian colours of terracotta, ochre and green. It really is a glorious beach, and the September light gave it a soft glow and a late-summer mellowness.
My own sandy patch of beach came with my seafront room at the friendly Hotel Eden. Most of the Passeggiata Cadorna, the waterfront promenade, is barred to traffic, making the 15-minute stroll to Alassio's pier a pleasure. Everything had an agreeably well-to-do look about it – not surprising, considering the number of demanding Milanese and Torinese who come down at the weekends and expect to be fed well. If there were any British visitors around, I didn't hear them in the waterfront restaurants and bars.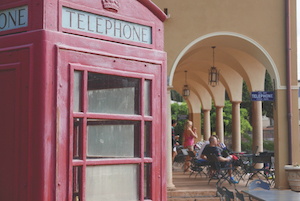 Waking up to a pink sky over a millpond Med, I set out to find Alassio's British past. First stop was the Hanbury Tennis Club (left), founded in 1923 by the same Hanbury family that created the wondrous Villa Hanbury gardens at Ventimiglia near the French border. In the 1970s, the club was bought by another Briton, Joe Skordis. It's a beautiful place, with ochre loggias, palms and a British red phone box here and there adding a witty touch. I didn't have to visualise how it looked back in the 1920s: its fascinating collection of tennis memorabilia did it for me. The British bright young things of the 1920s were plastered all over the walls, but it was 21st-century Italians who were pounding the red clay of the tennis courts.
While Alassio's Anglican church – the last of three to be built since the 19th century – is used now mainly for concerts and exhibitions, the lending library is still hanging in there. Alassio has Jacqueline Rosadoni, a 76-year-old volunteer librarian for more than 35 years, to thank for that. The Englishwoman had been on her way to Florence in 1959 when she stopped in Alassio, met an Italian and ended up staying here.
Love at First Sight
For Jacqueline (pictured right, in the library), it was love at first sight – with Alassio as well as with her husband. "I was going to stay a few days, and then I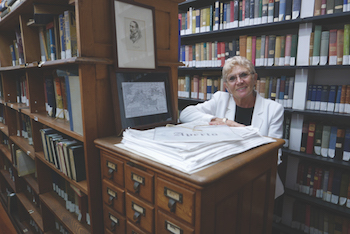 was moving on to Florence. But I met my husband, and I didn't go on to Florence," she recalled. "Instead, I went back to England to pick up my clothes, came back and I've been here ever since. Voilà. And I still haven't been to Florence."
There are thousands of books wedged into dark wooden shelves, with everything from thrillers to obscure reference books – along with a large collection of PG Wodehouse. "We have books on practically every subject you can imagine. I haven't enough space for the books I've got," said Jacqueline. "I have thousands of books in boxes. The rats will get them before the customers will."
Customers have become used to the library's eccentric opening hours: Wednesday, Friday and Saturday afternoons only. But then hardly any of the customers are British. "Most of my customers are Italian," she said. "I get students looking for specific books that you can't find anywhere else, as well as German and Swedish people. People come from Milan or Asti or Turin, and they bring the book back the next time they're in Alassio." Obviously, late books aren't a problem for Jacqueline. Yet in spite of her relaxed attitude to returned books, she still manages to preside over the second-largest English-language library in Italy.
She shares her library space with the Richard West Memorial Gallery, dedicated to the Irish artist who moved to Alassio in 1890. West had gone against convention at the time and actually stayed in Alassio during the summer, rather than going back in the spring as his British counterparts did. He couldn't resist the lure of the Mediterranean light, and the sight of him exploring the area on his bicycle with his palette became a familiar one.
Richard West's untimely death at the age of 57 in Florence in 1905 led to his friends setting up the gallery two years later. They were keen to have a permanent exhibition for their friend's works, canvases that recalled those bucolic 19th-century days when there was little more than a fishing village here.
British Villas
Many of the amenities the British built in the 19th and early 20th centuries have long gone – a bank, tea rooms, an English school, the English Club, a local newspaper. But head to the hills above the town centre and you can see how the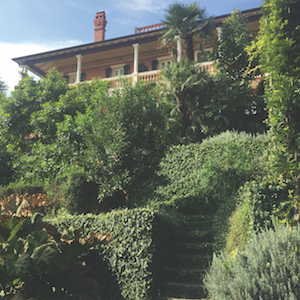 British changed the landscape. Scattered over low hills are numerous villas built by the British, the most famous being Villa della Pergola (right), created by two Scottish families, the McMurdos and the Gibbs, in 1875. When Virginia Woolf's cousin, Sir Walter Hamilton-Dalrymple, bought the villa in 1922, he designed a series of wonderfully lavish gardens that made the most of sweeping Mediterranean views. In 1922, the villa passed on to Daniel Hanbury, who by that time had founded the tennis club.
It's since been converted to a sumptuous luxury hotel, and the lobby's mini museum transported me to the days when Edward Lear and Edward Elgar were regular visitors. I could see original scores by Elgar and some watercolours and manuscripts by Lear among the paraphernalia artfully displayed. On a walk through the hotel's wildly luxuriant gardens, I could revel in the sea view that was one of the inspirations behind Elgar's 1904 overture In the South (Alassio).
The arrival of the Second World War caused most of Alassio's British population to return to the UK. When Daniel Hanbury died unexpectedly in 1948, his widow Ruth tried to keep Villa della Pergola – and the dwindling British community – going. Writers would still gather at the villa, including Cecil Roberts, who chronicled life in 1950s Alassio in his book Portal to Paradise: an Italian Excursion. But those pre-war decades were never to return.
Favoured Resort
Alassio, in the meantime, was becoming a favoured resort for people from Piedmont and Lombardy – less so for the British, who were bypassing the town in favour of Tuscany or more glamorous Portofino further east. Wandering along the
narrow alleyways of the delightful old town, I could immediately see just what the British are missing out on. The old town's main artery, Il Budello – which translates literally as 'the intestine' – is infinitely prettier than the name implies. Terracotta buildings harbour upmarket shops, cafés and tempting food shops as the narrow lane occasionally meanders through little squares.
Around the corner is Café Roma, an Alassio institution – and not just for the coffee and cakes. During the 1950s, it was a popular spot for Italian celebrities, and its owner, Mario Berrino, wanted to do something with his guestbook full of starry autographs. Between him and regular client Ernest Hemingway, they came up with the idea of putting the signatures on to ceramic tiles and decorating the low wall opposite the bar. Thus the Muretto d'Alassio was born, and if you look carefully among its 800-odd tiles, you can spot Max Bygraves and Eric Sykes.
But it isn't just Alassio itself on this stretch of the Ligurian coast that is worth exploring. The pedestrianised seafront promenade carries on for another 2km down to Laigueglia, one of Italy's officially most beautiful villages (I Borghi più belli d'Italia). It's like a smaller version of Alassio, with brightly coloured beachfront houses and a little Budello winding through the old town. Five kilometres to Alassio's north is Albenga, with a beautifully preserved medieval town following its original Roman grid. There are still a few of the 50 or so medieval towers remaining and – unlike that other town known for its towers, San Gimignano – it's not teeming with tourists.
Nearly halfway between Alassio and Genoa is Noli, another of Italy's officially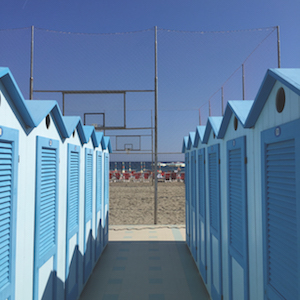 beautiful villages. Its walled town is as well preserved as Albenga's, and its
picturesque public beach is filled with vividly painted fishing boats. Hovering over the town is Monte Ursino and the forbidding yet inviting ruins and walls of its 12th-century castle.
It was easy to see what had drawn the British to this part of Liguria more than a century ago, and how Alassio's beaches and protective mountains were so appealing. But what was puzzling was why, even accounting for changing fashions and tastes, so few Britons came back after the war to this exquisite part of the Riviera di Ponente – the coast of the setting sun. Yet while the sun may have set forever on Alassio's British colony, its legacy lives on.
Where to stay
Pleasant three-star on the seafront, with many of the rooms offering sea-views.
Passeggiata Cadorna, 20
+39 0182 640281

Secluded luxurious rooms and suites spread across three villas in the hills overlooking Alassio.
Via Privata Montagu, 9/1
+39 0182 646130
Getting there
By Plane: British Airways and Ryanair fly from major airports in the UK to Genoa.
By Car:  Enjoy Car Hire offers four days' car hire from £95.
By Train: Alassio is one of the stops on the Genoa-Ventimiglia rail line.  Check Trenitalia for more details