Acclaimed author Emylia Hall set her novel, The Thousand Lights Hotel, on Elba. She tells us about the favourite places and characteristics of the island that inspired her.
Elba, the largest of the islands in the Tuscan Archipelago, is a place that defies expectation. Once a mining centre, it was repurposed in the 1950s as a holiday island, yet remains a haven of unspoilt nature and wild beauty. For all the crowds of summer visitors, it's always possible to find a quiet corner, a spot to call your own.
It lies only six miles from the well-loved, and well-trodden, Tuscan mainland, and yet there are few British voices to be heard. It's Toscana, but with an almost tropical hint: turquoise waters, sweeps of white sand, pink flowers rising from rocks; figs, palms, and prickly pears. With bountiful beaches, picturesque settlements, vibrant culture and beguiling folklore, it is an island paradise. Here are my ten favourite things abut Elba…
1. The journey
There are no direct flights from the UK to Elba, meaning it takes a bit of effort to get there. For me, that's part of the allure. From Piombino, ferries cross to the island more or less non-stop between April and October. While the industrial-feeling port town doesn't make for the most promising start to a holiday, the heart lifts as soon as you leave the dock: Elba is already in sight, wooded, and beckoning. Soon there are tantalizing glimpses of hidden coves, dense vegetation, and honey-coloured cliffs. The approach to its capital, Portoferraio, is impressive; two forts, historic architecture in ice cream colours, and a bright white marina. There are few things more romantic than arriving somewhere by sea, and Elba, from first glimpse to close-up, doesn't disappoint.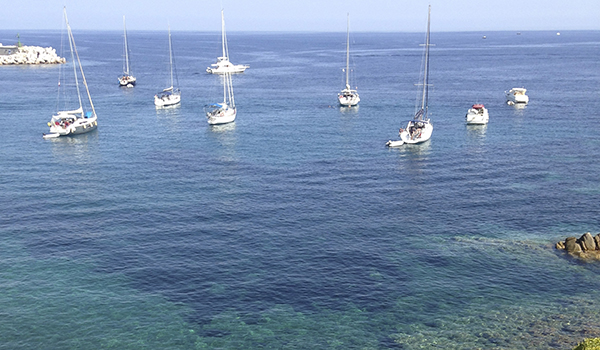 2. The beaches
Few can agree on the exact number of beaches, from 'more than 70' to the precise assertion of 190; the abundance of tiny coves, some accessible only by boat, perhaps muddle the numbers. Nor is there a 'typical' Elban beach, for you'll find everything from hidden gems best reached from the water, like pebbly Monte Turato, to vast stretches of golden sand, decked with loungers and beachside bars as at vibrant Marina di Campo; settling upon your favourite would make for a pleasurable lifetime's work. Fetovaia is famed for its natural beauty and pristine sands. Cavoli is a party beach, popular with teenagers, while dinky Direttore is a rugged spot, its sand glinting with iron flecks. Cotoncello, a sheltered cove adjacent to Sant'Andrea, is popular with locals; oft photographed, the cliffs behind it come ablaze with pink flowers in the springtime.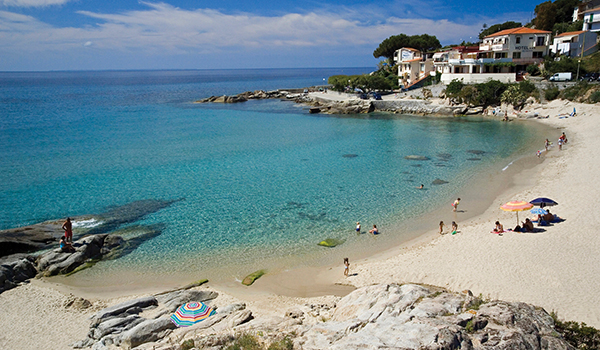 3. Portoferraio
There are eight key settlements on Elba, each distinct in character, and history. They all merit a visit, from elegant Porto Azzurro on the eastern coast to the jolly holiday town of Campo nell'Elba. It was only on my third trip to the island that I spent more time in Portoferraio, and realised what a gem it is.
Away from the functional ferry port there's a flash marina, and a host of cafés, restaurants, boutiques, museums, and, on Fridays, a lively market. Take the steep, narrow streets winding up through the old town, and every step brings a yet more dazzling view of azure water and cascading terracotta rooftops. It's an impressive cityscape, at once stately, and sun-kissed.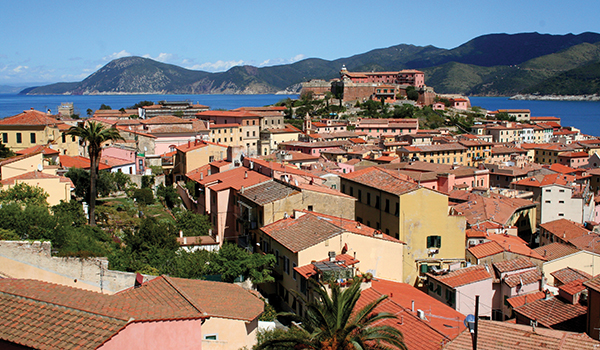 4. Marciana Marina and Alta
Marciana Marina is a stylish little north coast seaside town, with a splendid mountain backdrop. Tamarisks and oleanders rim its crescent-shaped bay. A charming piazza hosts concerts throughout the summer. The cotone is the most romantic quarter of this old fisherman's town; the narrow alleys are best walked at dusk when the inhabitants spill out of their homes to congregate on the benches overlooking the water.
Marciana Marina's rugged little sister, Marciana Alta, is perched on the mountainside about four miles inland. It's a film-set worthy place: medieval architecture, towering chestnut trees, steep drops and stone steps. Drink a coffee at any one of the cafés overlooking the spectacular vista, and contemplate Monte Capanne.
5. Monte Capanne
Elba's highest point, the peak of Monte Capanne, measures 1,019 metres, and the view from the summit is that of a wonderland. On a clear day you can see all the way to Corsica. A chairlift, rather resembling a string of birdcages, will get take you to the top in less than twenty minutes. It departs from Pozzatello, just outside of Marciana Alta, but if you've got the legs, take one of the many trails, the spectacular views are a great excuse to pause for breath. Watch out for birds of prey, orchids, and over 200 hundred varieties of mushroom!
6. Capo Sant Andrea
Capo Sant'Andrea is a place of wild beauty, beloved of divers and hikers. The richness of vegetation is striking here: silver olive trees, centuries-old chestnuts, extravagant bougainvillea, and the exotic contours of prickly pears. A sharply slanting road zig-zags down to the bay, where high cliffs give shelter to the crystalline water, and smooth granite creates something of a lunar landscape. A couple of beachside restaurants lend a convivial air. If you're not tempted by a sun lounger and parasol on the sand, make your way over the expanses of rock and bed down there; it's unexpectedly comfortable. Sant'Andrea is a mellow, seductive little spot.
7. The food
Elban food is similar to Tuscan, humble in its origins, and making best use of delicious local ingredients. Seafood, in all forms, dominates restaurant menus, from rich stews to salted finger food and unctuous risottos. A classic dish is an Elban version of Livorno's cacciucco, akin to a dense soup, replete with whatever the sea has yielded; octopus, dog fish, crab, mussels. Look out for gurguglione – surely onomatopoeic, as I imagine it gurgling on stove tops – a ratatouille-like dish made with garden-fresh vegetables; aubergine, onions, courgette, and tomato. A good souvenir to bring home is schiaccia, a hard, boozy cake with raisins and pine nuts, made from a centuries-old recipe it travels well. They've been making wine on Elba for more than 2,000 years, and every bar serves Elba's own rosso, rosato and bianco. The Aleatico di Portoferraio is perhaps the most celebrated, an elegant dessert wine, made with air-dried and lusciously sweet aleatico grapes.
8. The lush and varied landscape
Elban roads are hairpins and switchbacks, swooping bends and tight corners. Staggering views await if you can dare to take your eyes from on-coming traffic. It's fun to get around by the island's blue buses, admiring the nonchalance of the drivers as they go into the turns. The eastern side bears the most visible signs of Elba's mining past, as well as its geology, with literally sparkling beaches, while the southern coast boasts the widest sandy stretches. The north coast is characterised by small coves and bays; the western by steep cliffs and long, narrow beaches. It's achievable to experience the full length and breadth of Elba on one holiday – it measures 18 miles long and 11 wide – though it's better to return, and return again, taking in the diversity of landscape in a leisurely fashion.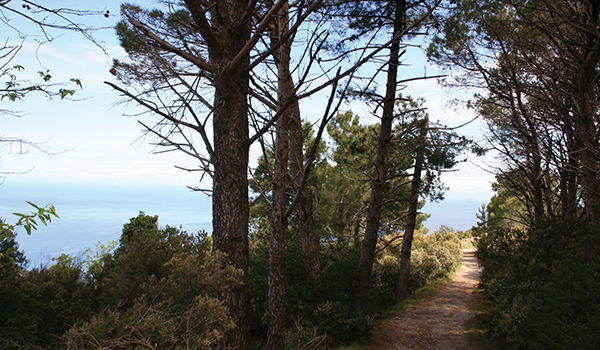 9. The history
Throughout history, many have wanted a piece of Elba. The strength of its natural resources drew the Etruscans, whose mining and smelting of iron would come to define the island linguistically, as well as industrially. The Greeks called it Aethalia, 'smoke', the Romans knew it as Favilla, 'ember', while Elba comes from the Latin Ilva. Duke Cosimo I de' Medici made Portoferraio the imposing sight that it is, building two forts, and impressive fortifications, to keep the Mediterranean safe from the attack of pirates.
But it's Napoleon Bonaparte whose name is most associated with the island. The French Emperor was exiled to Elba in 1814, and although he stayed less than a year, his legacy is everywhere. Napoleon's exile was far from an everyday incarceration: he was appointed Governor of the island, and got to work widening and paving roads, implementing drainage systems, and unifying the eight communes under one flag. You can visit his two homes – the Villa dei Mulini in Portoferraio, whose elegant gardens offer splendid sea views, and his summer residence, the grand San Martino, a Neoclassical villa in the countryside a few miles beyond Portoferraio.
10. The folklore
According to legend, Venus broke her necklace while bathing in the Tyrrhenian Sea, and the scattered pearls became the seven islands of the Tuscan Archipelago. Elba was the largest and most dazzling of all.
Meanwhile in Capoliveri, on the 14th of July every year, the Lovers' Festival takes place at the glorious beach of Innamorata. The festivities celebrate the legend of Maria and Lorenzo, the island's own Romeo and Juliet, the star-crossed couple whose sorry fates are marked by a thousand burning torches in the sand. Crowds party through the night, while teams of locals in historic dress race boats across the bay.
An island born of the Goddess of Love, and an annual celebration of everlasting romance: how fitting for Elba, a place that inspires amore in all those who visit.
Click here for more about The Thousand Lights Hotel and Emilia Hall.