Valentina Nicastro introduces us to the highlights of this città ideale of the Renaissance…
Photos by Valentina Nicastro unless otherwise stated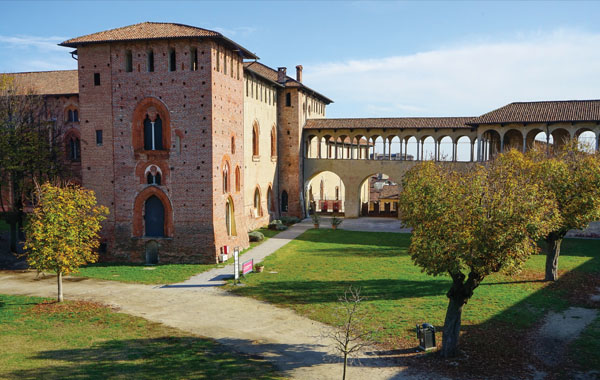 As a kid growing up in a small town in northern Italy, I couldn't wait to go out and see the world, and the result was that for a while I totally ignored the delights of my own country. As an adult, however, I have come to discover some remarkable places with intriguing stories to tell, and I have learned to fall in love with my homeland again. One of the places that has particularly taken my heart in recent years is Vigevano, a delightful town 35km south of Milan that has a rich cultural heritage and an authentic vibe – and yet no hordes of tourists to spoil the atmosphere.
Vigevano's modern history takes us back to the 15th century and the court of the then Duke of Milan, Ludovico Maria Sforza (also known as Il Moro). Vigevano was one of the preferred seats of the Duchy and, during his reign, Ludovico (who was born here, by the way) turned it into a magnificent town with a complex urban planning scheme based on the Renaissance principles of "the ideal city". Leading artists supported him in this effort, particularly Donato Bramante and Leonardo da Vinci, and Vigevano became a model of urban development. And the beauty of it all is that many of these elements are still clearly visible today.
1 Vigevano is home to one of the largest fortified castles in Europe
The primary symbol of Vigevano is Sforzesco Castle, one of the largest fortified castles in Europe. According to historical records, there has been some kind of fortified complex on this site since the Lombard era (6th-8th centuries AD), but it was Ludovico Il Moro who transformed it into a prestigious Renaissance palace to host his court and welcome illustrious figures of the time – not least King Charles VIII of France.
Highlights include a covered road conceived as a fortified bridge to protect the passage of the duke and the court; an elegant open arcade that was used for practising the art of falconry; and the 55-metre-high Bramante Tower, which used to mark the official entrance to the castle and today provides a unique viewpoint over Vigevano. There are also three stables, one of which is thought to have been inspired by Leonardo's sketches.
After the fall of the Sforza dynasty, the castle passed to the Spanish and later became a military base. Today it is a museum site hosting the Civic Picture Gallery, the Lomellina National Archeology Museum and the International Museum of Footwear.
2 A model piazza
The City Centre develops around the Piazza Ducale, a Renaissance piazza that is considered to be one of Italy's finest and that has became a model for town squares throughout Europe. So beautiful is it that the acclaimed Italian conductor Arturo Toscanini compared it to a symphony. Designed by Donato Bramante, who had its walls decorated with frescoes, it was built between 1492 and 1494 to serve as the grand entrance to the Sforza Castle. It is rectangular in shape, 134 metres long, and framed by elegant porticos on three sides and the cathedral on the fourth side. You will get the best understanding of the architectural layout from the top of the Bramante Tower.
3 The genius of Leonardo da Vinci
Leonardo Da Vinci arrived in Lombardy in 1482, at the age of 30, having already demonstrated enough of his engineering, technical and artistic genius to get him a job at the court of Ludovico Il Moro. During the years he spent at the court, both in Milan and in Vigevano, he carried out lots of studies on a variety of subjects, from architecture to hydraulics and medicine, and even became an acclaimed event organiser for the court. Today Leonardo's works are gathered at Leonardiana, a new museum recording his life and genius. There are reproductions of his drawings, the notebooks where he meticulously jotted down annotations and observations, and reproductions of his paintings, including The Last Supper, the Mona Lisa and The Lady with an Ermine. Closed on Mondays. www.leonardiana.it
4 Italy's only Museum of Footwear
Italy's first industrial footwear factory opened in Vigevano in 1866 and since then the town has been considered the capital of the shoemaking industry. It is here that the first rubber tennis shoes were made in the 1920s and the first stiletto heels were produced in the 1950s. One of Vigevano's highlights therefore is surely the International Museum of Footwear, the only public museum in Italy dedicated to shoes. It offers a fascinating journey through the history and evolution of footwear through the centuries, from the Renaissance chopine worn by Beatrice d'Este, the wife of Ludovico Il Moro, to beautiful booties of the Belle Époque and modern pieces by major Italian and international designers. There are also shoes worn by celebrities like Marilyn Monroe and basketball player Shaquille O'Neal, alongside the world's smallest shoe, called "the fly", and even some Papal red slippers. Closed on Mondays. www.museocalzaturavigevano.it
5 The Cathedral of Saint Ambrose and its Treasure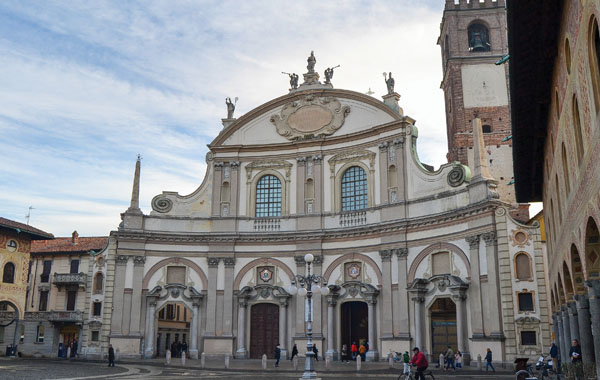 Built in the 16th century, the town's Cathedral overlooks Piazza Ducale and contains fine paintings by local artists like Cesare Magni and Bernardino Ferrari. The theatrical Baroque façade was added in 1680 to better align the church to the piazza, since it didn't run perfectly parallel to it. On that occasion the bishop also altered the original layout of the piazza by replacing the magnificent ramp leading to the castle with a staircase, in an effort to emphasise the presence of the church. Next to the Cathedral stands the recently opened Museum of the Cathedral's Treasure, which exhibits an interesting collection of precious manuscripts, paintings and stunning tapestries, as well as the vestment embroidered in pure gold used for the crowning of Napoleon Bonaparte as King of Italy in 1805. The museum is open only on Saturdays and Sundays, 3pm-7pm, while on weekdays it opens for groups by appointment only. www.mtdvigevano.it
6 The beautiful landscape of the Ticino Nature Park
Vigevano is the gateway to the Ticino Nature Park, a protected area that follows the course of the Ticino river and is one of the largest river parks in Europe. Since 2002, it has been listed among the UNESCO's World Network of Biosphere Reserves for its rich and diverse ecosystem, which includes over 6,000 species of flora and fauna. There are several itineraries to explore the park on foot, by canoe or with bicycles, and during the summer months adventure enthusiasts can experience the thrill of sleeping here in suspended tents.
7 Renaissance mills
Vigevano sits in a land rich in waterways, and during the Renaissance a series of watermills were built around town. Some are still visible today, including one right in the city that is still in operation and sells great flours (it's called Mulino di Porta Nuova). One of the most interesting is the mill of Mora Bassa, which Ludovico Il Moro gave to his wife Beatrice d'Este as a wedding present in 1494 (though rumours have it that he used it to secretly meet his lover Cecilia Gallerani, the young lady that Leonardo portrayed in the painting The Lady with an Ermine). Featuring two large water wheels, this windmill is now home to a permanent exhibition of wooden models that faithfully reproduce some of the machines sketched by Leonardo in his notebooks, demonstrating all his genius and inventiveness. These include clocks, drills, pulleys, war machines and his projects for the parachute and the lifebelt. The mill is open to the public on Saturdays and Sundays, and on weekdays by appointment only. www.mulinomorabassa.it
8 The story of local entrepreneurship
There's a little museum that is often overlooked but tells so much about the history of Vigevano. This is the Museum of Entrepreneurship, housed in the historic Palazzo Merula, which originally hosted a convent and male orphanage. The museum documents the economic evolution of Vigevano through posters, archive records, videos and old machinery, focusing particularly on the textile, shoemaking and mechanical industries. The museum has recently inaugurated an interesting exhibition about the history of Peroni, the Italian brewing company founded in Vigevano in 1846. The museum is open to the public on Sundays, 3pm-6pm, from March to October (also from November to February when there are particular exhibitions), while on weekdays it opens for groups by appointment only. www.museoimprenditoriavigevanese.rcvigevanomortara.info
9 A Renaissance farm
About five minutes' drive from the city centre, the village of La Sforzesca is home to the "Colombarone". Once again, this was an idea of Ludovico il Moro, who instructed Leonardo to design a network of irrigation canals to experiment the cultivation of mulberry and rice, a precious cereal that came from the Orient. The farm develops around a central courtyard with four towers at the corners, called colombaroni, and became a model of agricultural organisation. The Colombarone can be visited with guided tours only. infopointcastello@comune.vigevano.pv.it
10 Delicious local cuisine
Rice takes centre stage on local menus, since it grows abundantly in the surrounding countryside after Ludovico's experiments, so expect to eat lots of creamy risotto. Other local delicacies include pork and goose-based products and fish from the Ticino river, like eels and trout. Those with a sweet tooth shouldn't miss the dolceriso del Moro, a cake made with rice, rose water and candied cedar, and prepared by Pasticceria Dante following the original recipe used by the Sforza in the 15th century; nor the chocolate pralines filled with Buttafuoco wine made by La Dolce Vita bakery, and the cent franc biscuits resembling the old 100 lire coins.
WHERE TO STAY
LOCANDA SAN BERNARDO
Corso Novara, 2 – 27029 Vigevano, www.locandasanbernardo.it A homely guesthouse near Piazza Ducale with beautiful vintage furnishings. Spacious, comfortable rooms, hearty breakfasts and complimentary bicycles.
MAISON PICCOLA TORRE
Via Giovanni Merula, 39 – 27029 Vigevano, www.piccolatorre.it. Right in the heart of the historical centre, this delightful B&B is located in a splendid 19th-century building and offers three elegant rooms, as well as an on-site restaurant serving traditional dishes.
MAISON 39
Via Vecchia per Cilavegna, 39 27029 Vigevano, www.maison39.it. Located in a quiet spot about 3km from the city centre, this B&B is a great choice for exploring the countryside around Vigevano.
HOTEL DEL PARCO
Corso Milano, 95 – 27029 Vigevano, www.delparcohotel.it. A modern 4-star hotel at the entrance of Vigevano with all the major sights just a 5-minute drive away. Available to guests are a beauty and wellness centre, an on-site restaurant and free parking.
NIDO DEL PARCO
Via Aguzzafame, 101 – 27029 Vigevano, www.nidonelparco.it Nido del Parco is Italy's first Tentsile Experience Camp, where visitors can sleep on suspended tents amid the natural scenery of the Ticino River Park. Available only in high season.
WHERE TO EAT
LOCANDA IL CASTELLO
Vicolo Anselmi, 5 – 27029 Vigevano. Historic restaurant serving traditional dishes and homemade desserts since 1887. Don't leave without trying their risotto.
RISTORANTE DAL CAPITANO
Corso Anita Garibaldi, 18 – 27029 Vigevano Restaurant set in a palazzo once owned by the captain of Ludovico Il Moro's troops. Try the Milanese ossobuco con risotto and the Piedmontese battuta di fassona.
BAR PASTICCERIA DANTE
Via Dante, 6 / Via Madonna VII Dolori, 11 27029
Vigevano www.dantevigevano.it
This pastry shop is an institution in Vigevano, serving exquisite pastries, biscuits and the famous dolceriso del Moro.
CAFFÈ COMMERCIO
Piazza Ducale, 24 – 27029 Vigevano
www.caffecommerciovigevano.com
Historic café on Piazza Ducale. Recently renovated, it serves artisanal ice-cream, light lunches and cutting-edge cocktails.
TEERIA PASSAGGI DI TEMPO
Via Caduti per la Liberazione, 46 27029 Vigevano A cosy vintage-style tea room offering a wide selection of teas and sweet delights alongside light snacks and artisanal beers. Live music and stand-up comedy nights.
DON'T MISS
SAILING ON THE TICINO RIVER
AqQua organises lots of activities in the Ticino River Park, including short, relaxing river rides, full-day excursions in search of hidden corners and sunset trips that include a leisurely aperitivo on a tiny river island. www.aqqua.eu
HISTORIC PALIO
Twice a year Vigevano goes back in time with historical re-enactments of medieval tournaments. These usually take place on the second weekend of May and the second weekend of October. www.paliodivigevano.it
"VIGEVANO – MULINO MORA BASSA"
APP This app is free to download and sends all the town's highlights and latest news directly on your phone.
GETTING THERE
Vigevano is a one-hour drive from both Milan Linate and Milan Malpensa airports. It is also well connected to Milan city centre through regular trains departing from Milano Porta Genova station (about 30 minutes, tickets cost €3.60, www.trenitalia.it).