In the small town of Vetriano, in the province of Lucca, is this theatre, now part of the Guinness World Records.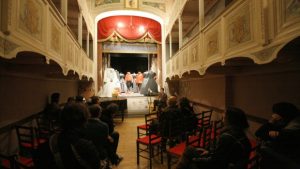 This historial theatre, is now recognised as the smallest world! The theatre is located between houses and the streets of this stunning Tuscan village and keeps features of the 19th century, with a very little stage which is still being used for performances and choirs.
The story dates back to 1889 when an Italian engineer, Virgilio Biagioni, had the idea to found a new theatre. In 1891, the theatre started its activity with musical comedies mainly played by the locals. As in the new century, the interest for this activity grew among dramatics and philharmonic actors, Vetriano became an important site for the whole area. In the early '60s, the theatre began to have problems because of some static instability and the deterioration of the roof covering the roof and painted decorations.
In 2000, the FAI took the responsibility to get to work on the building and a new space has been created. In 2003, the theatre got back to action. The Teatrino measures 750 square feet and people sit on chairs similar to those use you'd probably have at home.
This story first appeared on L'Italo Americano