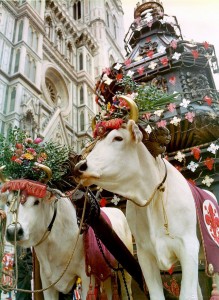 For centuries the positive outcome of the "dove's flight" from the central nave of the Duomo with the subsequent explosion of the fireworks mounted on the cart outside in the piazza, was a good omen for the farmers and the sign of plentiful harvests.
Legend has it that Pazzino de' Pazzi, a Florentine from a prominent family, was on a Crusade and the first man to scale the walls of Jerusalem. As a reward for this act of bravery, his commander gave him three flints from the Church of the Holy Sepulchre, which were then carried back to Tuscany. These are kept in the Chiesa degli Santi Apostoli.
From the sixteenth century onwards these stones were used for lighting the "holy fire" that on the day of Christ's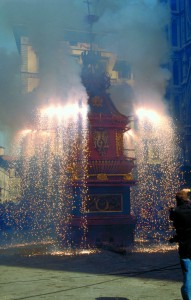 resurrection, served for lighting a cart covered with catherine wheels and fire works.
By the end of the 15th century, the Scoppio del Carro assumed its present form.
Still today, on Easter morning during the celebration of Mass, the Archbishop of Florence receives that fire already lit and offered as a gift from the city authorities. At 11 o'clock the Priest uses this holy fire to light a rocket hidden inside a make-believe dove that begins its flight from the altar up towards the door of the Cathedral, before finishing on the "Brindellone" sitting in the sacristy outside the Church. If its flight is successful and the rocket arrives still alight then the fireworks on the cart begin to go off and bring good luck, meaning that the coming year will be blessed by the Lord and guarantee a fruitful harvest.
For more information on Florence and upcoming events, visit the official tourist website here.
Images and content supplied by Firenze Turismo.
Tags:
Easter
,
Florence
,
Scoppio del Carro
,
Tuscany