Florence's River Arno is in tranquil mood as it flows through the arches of the Ponte  Santa Trinità, but these sleek still waters have borne witness to a more tempestuous history…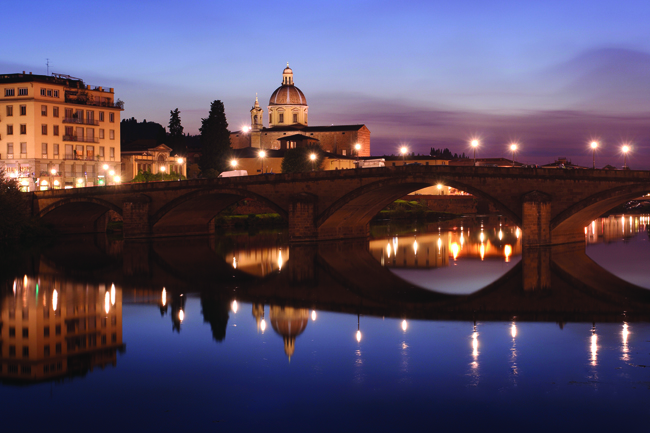 What could be more restful than the River Arno at dusk with Santa Maria del Carmine and the Florence skyline in the background. Rising in the Apennines, the river flows west through Florence and Pisa to the Ligurian Sea. At over 240 kilometres in length, it is the largest river in the region. But these serene, inky waters have many stories to tell as the River Arno has flooded regularly throughout history, wreaking havoc on the land.
The worst such incident in recent times began on the night of 3 November 1966, reaching its peak the following day. When the river broke its banks, it caused extensive damage throughout Florence, even ravaging historic landmarks like il Duomo. The flood levels rose nearly seven metres in the city, over 40 lives were lost and millions of priceless artefacts and books were destroyed in the swirling torrent. Still waters do, indeed, run deep.
Tags:
Arno River
,
Culture
,
Florence
,
Viewpoint