This 16th-century windmill is a striking but silent sentry in the tranquil Laguna di Orbetello, and just one spectacular sight in an area of breathtaking beauty and scenery…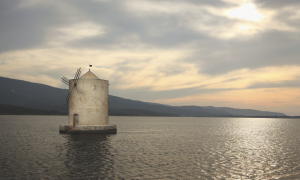 This lone windmill in Orbetello lagoon is an evocative reminder of earlier times, when Spanish military power presided over the territory. Orbetello, in the enchanting countryside of Tuscany's Maremma National Park, north of Rome, is known as the 'City of Water' for good reason. The promontory of Argentario juts out like an island, but is connected to the mainland by three tendrils of land.
On the middle strip sits Orbetello, flanked either side by lagoons and two further narrow strips. Long recognised as a gateway to the mainland, and thus of significant, strategic military importance, the island and its connective promontories came under Spanish rule in the 16th century, at which time significant fortifications were built or improved in the area, including nine windmills. Only this mulino a vento remains in splendid isolation in the northern lagoon.