Suffolk-based Elaine Falken bought a two-bedroom trullo cottage in Puglia's Itria Valley area in 2012.
She spends two months there every summer as well as a month over Christmas, and she makes the house available to friends and family as well as offering holiday rentals at all other times of the year.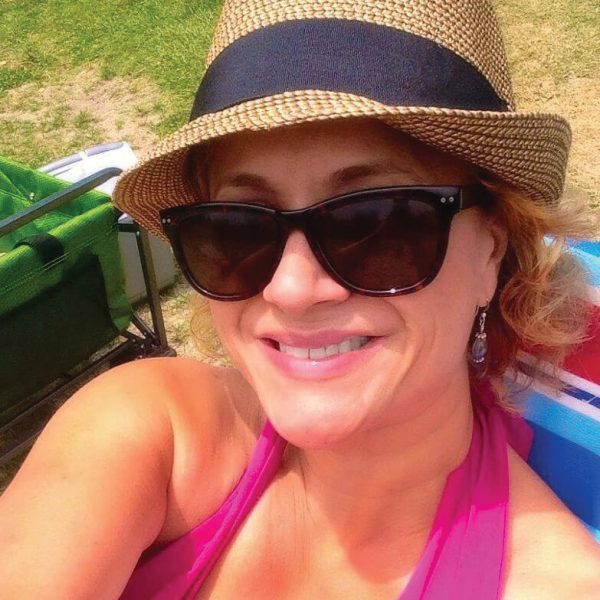 What drew her to Puglia?
"I'm an artist and designer, and I love the bold, elemental landscapes of southern European places," Elaine explains.
"Crete and Andalucia were big favourites of mine until a friend asked me to join her on a holiday to Puglia. I fell completely under its spell – the huge light, the quirky buildings, the gigantic old olive trees. It's such an inspiring place for painting and sculpture.
As soon as I was in a position to buy a property abroad, the choice of where was a no-brainer. "The cottage was quite tumbledown when I bought it, but that was perfect because I wanted to make some adaptations and turn part of it into a studio with lots of light.
An old school friend of mine, Paul, is an architect and he reassured me that everything was going to be okay. 'Loads of people restore old houses in Italy,' he said, and of course he was right.
My estate agent in Puglia hooked me up with a great group of builders and the work all went according to plan. They smartened up the stonework and the roof, slightly rejigged the layout of rooms, replaced the kitchen and bathroom fittings and updated all the plumbing, heating and electrical wiring.
There was a project manager who kept me updated on progress with photos and videos while I was in England, and every time I came out to visit it was wonderful to see the house slowly turning into exactly what I'd hoped it would.
"The best thing is that I'm in a quiet nook of countryside but I'm also only a ten-minute drive from the sea. There are stunning towns nearby to visit like Ostuni with its network of narrow whitewashed alleyways. And I really like Brindisi too – it's got a really relaxed vibe and some amazing restaurants. Puglia has this lovely atmosphere: it's exotic yet down-to-earth, upbeat but serene.
The sea being everywhere gives it a kind of dreamy quality too. The people are lovely, of course, and I'm always made to feel so welcome here.
I can speak a fair bit of Italian now, and it's great being able to chat with my grocer and butcher and baker every time I go shopping.
There are so many pleasures to enjoy every day here: the weather, the food, the tranquillity, the friendliness, the sheer physical beauty of the place. I'd recommend Puglia to anyone."