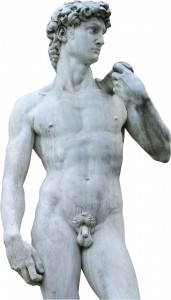 Michelangelo's David still standing… on fractured ankles
Bad posture can lead to joint problems in the fittest of us, and standing slouched against a tree stump for over half a millennium seems to have caught up with Michelangelo's statue of David.
Scientists have discovered "micro-fractures on the lower part of both legs", likely caused by vibrations from visitors and passing traffic, and the poor quality marble from which David is sculpted.
However, calls to move his five and a half tonne frame from the Galleria dell'Accademia to a dedicated, earthquake-proof home have been rejected by Florence's museum authority.
Spokesman Marco Ferri asserted that "even if there is an earthquake of 5.0 or 5.5 on the Richter scale, Florence will stay in one piece. And David would be the last to fall," simultaneously reassuring art lovers while also tempting fate.
By Dan Fox