We talk to David Bickerstaff, filmmaker for Exhibition on Screen about the genius of Michelangelo and the challenges of telling his life story on film.
The mission of Exhibition on Screen is to bring exhibition-based art to our cinema screens, working with notable galleries and museums like the National Gallery, the Rijksmuseum, the Van Gogh Museum, the Tate and the MoMA, among others, to bring fascinating insight into the works of notable artists around the world.
As founder Phil Grabsky explains, "What we offer is an opportunity to see the exhibition if you can't get a ticket or you don't live in the country of the exhibition. Secondly, we offer expert analysis, biography of the artist, behind-the-scenes, all those hidden nooks and crannies that you and I can't normally get to."
Twelve of these feature-length films have already been made over four seasons, featuring artists such as Monet, Goya and Leonardo da Vinci. Film maker and director David Bickerstaff has been involved in the last three seasons, and we asked him about his latest films on Michelangelo and Canaletto.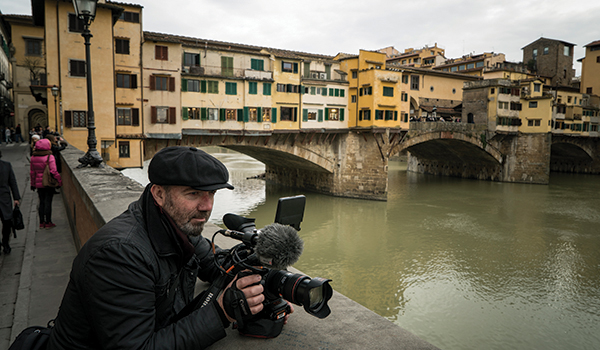 How did you get involved with making films for Exhibition on Screen?
I'm an artist but I worked a lot in the museum sector making films and audio-visual presentations. Phil Grabsky, the film producer, and the founder of Exhibition on Screen, is an old friend of mine. We had collaborated on several films in the past: we did one on Chernobyl for Channel 4, one on the making of War Horse and various other small TV productions.
At the time when we were doing War Horse, the National Theatre were starting to do their live programmes; and it was on the back of the success of the Metropolitan Opera House doing a performance live to cinema that Phil started to think about doing the same for art exhibitions.
That's how it all started. The first one he made was about Leonardo from the National Gallery and I wasn't involved with Exhibition on Screen then, I was doing my own things, but then we came together and the first film I did was Girl with a Pearl Earring: And Other Treasures from the Mauritshuis (2015). Ever since, Phil and I have been sharing the directorial responsibility for each of the films. He is the overall executive producer, and we would co-write the films. I have been involved with the last three seasons.
Can you tell us about the process of taking your ideas from concept to screen?
We start with an outline and I also do a lot of initial camera work and interviews. Then we get a transcript and start to block out the edit. That might go back and forward between me and Phil to try and get the story right, then it gets honed down and the film gets made.
My role is to direct it and do some of the filming; I write and also edit it which I find quite enjoyable as it appeals to the artist's side of me. It's a creative process – adding music, editing – like having a palette of scenes, ideas and stories. I work very closely with a composer called Asa Bennett; I've worked with him on all my films: we have a good working relationship, bouncing ideas back and forth. So then you bring all these pieces of the jigsaw together to make what we hope is a coherent film.
Tell us about the process of making Michelangelo: Love and Death…
This film took about six months to make, and it has been the most complex in a strange sort of way. Usually our films are based on a specific exhibition at a gallery or museum and our initial conversation with the National Gallery was about the Michelangelo and Sebastiano exhibition, which is on at the moment. In our discussions with them, we thought it might be interesting to do a film about Michelangelo, with a section that would feature the exhibition. But there's actually more focus on Sebastiano and his work, so it didn't quite fit together for the film.
But we felt it was a great idea anyway, and decided to do a really good biography of Michelangelo. So we released ourselves from the gallery situation, which meant we could go to other excellent locations where Michelangelos were housed and also to the various places he lived, just to try and visit the time he lived in. That's all been quite an exciting challenge, as usually we are dealing with just one institution, but we've actually had to deal with a number of institutions, and Italian ones at that, which can be quite challenging! That does make it a more a diverse film though, I think.
Following in the footsteps of Michelangelo, where did you go? 
We went to Carrara of course – it was a fantastic experience. We went to a studio called Nicoli; they have been in Carrara since the 1800s and have an amazing tradition in marble carving. They gave us generous access, such nice people. We interview Francesca Nicoli in the film and she's very entertaining, so enthusiastic and a fantastic character; it was great to meet her. We also interviewed Marco, who was a freelance sculptor in the studio and he was just carving away for us.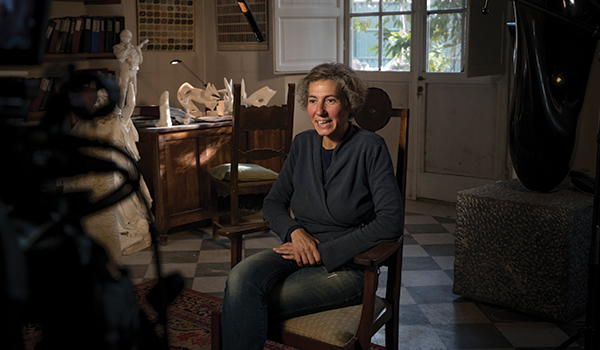 Visually, it's given us a great sense of what it is to carve marble, and what it is to visualise form inside big blocks of marble. I have an artist's background, but I still can't quite work out how they perceive form in a huge block of marble and get it absolutely right.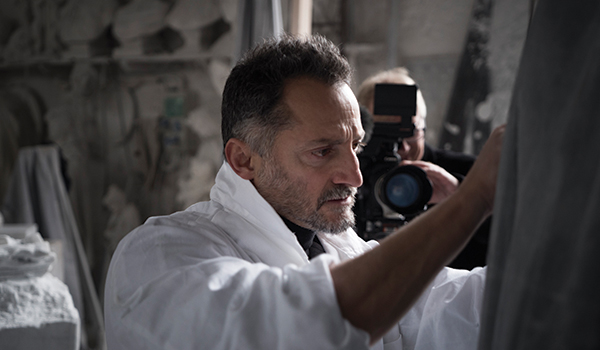 That's very much Michelangelo's genius: when you look at the Pietà in St Peter's, he has created this tour de force of carving out of one block of marble. It's one of my favourite pieces. It seems an obvious choice perhaps, but when you're standing in front of it, it's a bit of an epiphany. His treatment of fabric, weight and the human body is absolutely incredible, amazing.
Were you familiar with his work before you made the film?
I was as familiar as anyone who has an art school background. But when you are making a film about an artist, you start to think about their work in a different way. We went to Casa Buonarroti in Florence, where they had a series of Michelangelo's maquettes. When you see his finished sculptures, they're amazing and monumental, almost beyond our human scale, but when you're privileged enough to get close to his drawings and model making, you can really see how his brain is working – this is what we try to unpack and get over in the film.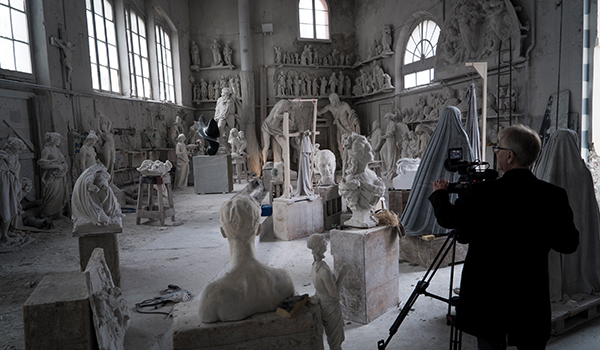 What were your impressions of Michelangelo as a person?
He strikes me as someone who had the most amazing natural talent. It's fascinating, because I made a film about Van Gogh and he didn't have a natural talent: he had to learn his craft. Michelangelo seems to have had this complete skill and ability from very early on. He grew up among intellectuals and politicians at the court of the Medici, so I think he saw himself as an intellectual too. He had a bit of arrogance about him and was aware of his gift; he was also very aware of other artists… Can you imagine, he was a contemporary of Leonardo da Vinci, Raphael and Botticelli – all living within a couple of hours of each other! So they all knew of each other and were competing for the same commissions, so there was definitely a bit of rivalry between them!
Michelangelo became famous when he was 25. These days, when people become famous at an early age, we see it affect them to some extent and I'm sure he was no different. To a certain degree, he tried to control everything about his life, but there's a lot of misinformation and mythology surrounding him.
The other thing I hadn't realised was that he destroyed a lot of work: letters, drawings, items he didn't want to people to know about. There have been other artists who have done that, like Francis Bacon, who destroyed a lot of his early work. He certainly had the artist ego, but he actually had the skillset to back it up. Very impressive.
You must be a regular traveller to Italy, do you have any favourite places to visit? 
I have travelled to Italy quite a lot, I do love Italy, and in fact we have very good friends who have a hotel and pizzeria in Anguillara on Lake Bracciano,  about 30 minutes north of Rome. It's the lake that feeds water to the Vatican fountains. We go there a lot! I did enjoy being in Florence – the food there was just amazing – and Rome is always fantastic, of course. While we were in Italy filming Michelangelo, we were able to get over to Venice for Carnevale.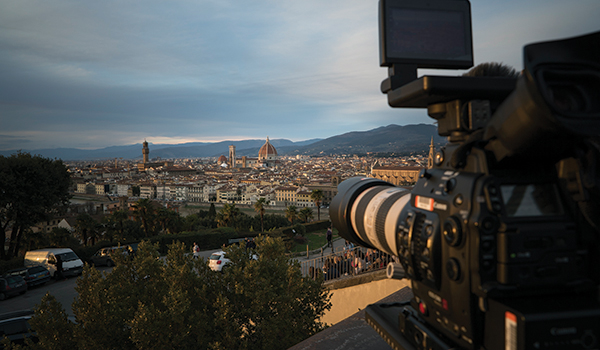 As the location for your Canaletto film, what did you think of Venice? 
Venice is never quite what you expect, but it gets under your skin. When you look at Canaletto's paintings, the light is very dramatic and the colours powerful, so when you go there you imagine you'll see it all like one of his paintings, but you don't, of course! It throws you slightly, as the light shifts all the time depending on the weather, and I know that's what Canaletto was responding to.