Whether you're a complete beginner or want to brush up your existing Italian skills there's a course out there to suit you. Here's our Italian Language Guide Review…
There has never been a better time to learn a language. Gone are the days when you'd have to rely on a fusty old phrasebook to teach yourself Italian – today we can choose from a vast wealth of interesting, innovative tomes (with or without audio guides attached), not to mention a host of ebooks, apps and online courses that cater for every level of skill and are designed to suit a wide array of technological platforms. Getting to grips with the local lingo is the perfect way to get yourself ready for foreign travels and to make the most of your time abroad. So if you're travelling to Italy next year, or simply making resolutions to brush up your skills in 2015, now's the perfect time to find a course that suits you. The only problem can be narrowing down all those choices! With this in mind, we've put together a collection of diverse options to ensure you get the most from your Italian language endeavours. We've listed the publishers' websites here, but most book/CD options are also available via www.amazon.co.uk and other online and high-street bookshops.
EDITOR'S  CHOICE

BBC Active Talk Italian Complete
From www.bbcactivelanguages.com
Price £29.99
This pack includes three books and four CDs, offering all you need to make the move from beginner to confident Italian speaker. The books are beautifully laid out and the interactive audio CDs support the course well. Clear explanations and learning tips and strategies along the way help you make progress, while regular exercises keep you consolidating your knowledge as you go. The two 'Talk Italian' books provide the main body of the course, while the Grammar book offers a concise guide to the backbone of the language.
BEST FOR: A good all-round course
For anyone who wants a complete guide to Italian (the components are also available separately if you want to break it down).
Living Italian
From Hodder & Stoughton
www.hodder.co.uk
Price £15.99
Consisting of a book and audio CD, this thorough course is now in its 6th edition – the first appeared in 1961. Its longevity is testament to the efficacy of its traditional, grammar-based approach which doesn't shy away from the nuts and bolts of the language, resulting in a truly in-depth understanding. Including exercises along the way, this will work wonders for anyone who can devote time and motivation to their learning.
BEST FOR: A grounding in grammar
Anyone with some existing knowledge should find the traditional approach of this grammar-based course ideal for improving your skills.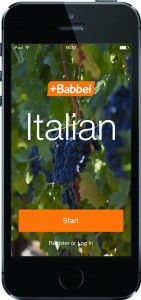 Babbel Italian
From Babbel
www.babbel.com
Price £8.95 a month, £17.85 for three months or £29.70 for six months
Babbel offers online, interactive courses for beginners and intermediate learners (plus additional courses that focus on grammar, vocab, writing, listening and speaking) in this compelling language aid. You learn at your own pace and each lesson is thorough, fun and effective. A free app for iPhone, iPod Touch, iPad and Android lets you access your course anytime, anywhere too.
BEST FOR: Keeping you motivated
Interactive, suitable for a wide ability range and available for various platforms, this is an excellent online option.
Fast Talk Italian
From Lonely Planet
shop.lonelyplanet.com
Price £2.50
Not had chance to pick up the language before you jet off? Also available as an app, this tiny tome is a handy guide to take to Italy. As the name suggests, it aims to impart instant knowledge so you can communicate with the locals while on holiday. It's basically a phrasebook, but its small size, excellent organisation and relevant vocabulary make it an essential holiday companion for any beginner.
BEST FOR: Taking on your travels
Pocket-sized and packed with info, this phrasebook will help you to get by if you need some vocab while you're away.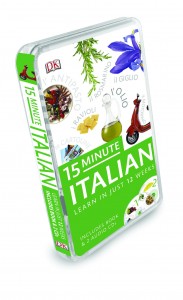 15-Minute Italian language pack
From Dorling Kindersley
www.dk.co.uk
Price £13.99
With 12 themed chapters, broken down into five 15-minute daily lessons, this course aims to teach you enough to get by in just three months. Covering all the holiday situations you'd expect, each session begins with a warm-up to consolidate your existing knowledge, then gives vocab and exercises on each topic (the end of each week is a 'review and repeat'). Two CDs offer pronunciation help.
BEST FOR: A quick and easy basic fix
If you've little free time to spend on learning, or need to brush up before an impending holiday, this is the guide for you.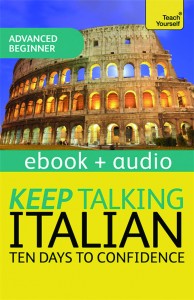 Keep Talking Italian – Ten Days to Confidence
From Hodder & Stoughton
www.hodder.co.uk
Price £14.99
This new ebook and audio course from the acclaimed Teach Yourself range aims to help advanced beginners to gain confidence in speaking and understanding Italian. It gives plenty of opportunity to listen and talk – you'll learn new things and practise as you go. With the chance to listen to Italian speakers then try it out yourself, you'll be raring to chat by the time you get to Italy.
BEST FOR: Boosting confidence  
Already have some Italian knowledge and want to chat happily to the locals? This could be the option for you.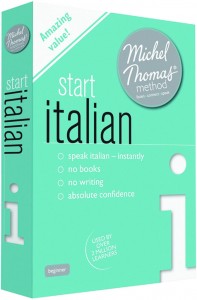 Michel Thomas Start Italian
From Hodder & Stoughton
www.hodder.co.uk
Price £12.98
Michel Thomas is a big name in languages, and with a long history of satisfied polyglots behind him, it's easy to see why. This CD is the basic option, teaching 50 key phrases (advanced learners may benefit from the 'Total', 'Perfect' or 'Masterclass' courses). The method breaks Italian into its component parts – learning in small steps means you can build the language back up to say exactly what you want.
BEST FOR: A great intro to Italian
This respected course offers a unique starting point and a good basis for further learning (no books or writing required!).