Cardinal Scipione Borghese (1577-1633) was a patron of Bernini and Caravaggio. The Baroque legacy at his Villa is a wonder to behold…
People are often surprised to learn that, at least as far as major European cities go, Rome actually has a very good green space to concrete ratio. It certainly doesn't feel like that when you're in Piazza Navona or at the Trevi Fountain, but there it is.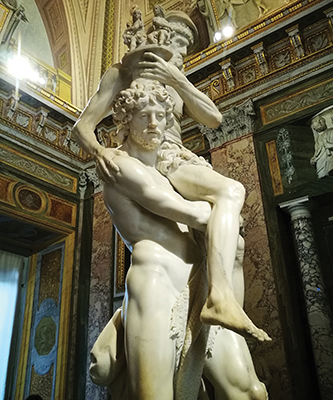 The reason for this anomaly is that the parks Rome does have are very big. The third biggest, and the most central, is the Villa Borghese. You can get there by climbing the hill beyond the Spanish Steps, the Pincian Hill, which is mercifully measured with places to stop, turn round and look down over the city.
People come here just to relax, but our purpose is the Galleria Borghese, at the other end of the park. Here there are important works by Bernini and Caravaggio, and a very civilized atmosphere in which to view them. To visit the Gallery, you see, you must book in advance. Take a guided tour. This affords you space and time to actually stand and experience the art – Bernini's David, Apollo and Daphne, Aeneas Fleeing Troy; Caravaggio's Boy with a Basket of Fruit, Young Sick Bacchus… Plus Rubens, Titian, Raphael… This is Rome!
It's a first-class experience, though if they were to find a little money to upgrade their audio system it wouldn't go amiss. A stroll around the park is nice. They hire segways too. And those four-seat bicycle cars. The signposting's terrible. But that's half the fun.
Information:
Piazzale del Museo Borghese. Open Tuesday to Sunday, 8.30am to 7.30pm. Ticket reservations are required for all visitors % +39 06 32810 info@tosc.it. If you want to use your Roma Pass, you have to book by phone.
SaveSave
SaveSave