If it's ancient statues you want, this is the place to be, but don't ignore the works on the piazza outside the museum either…
Words & image by Jon Palmer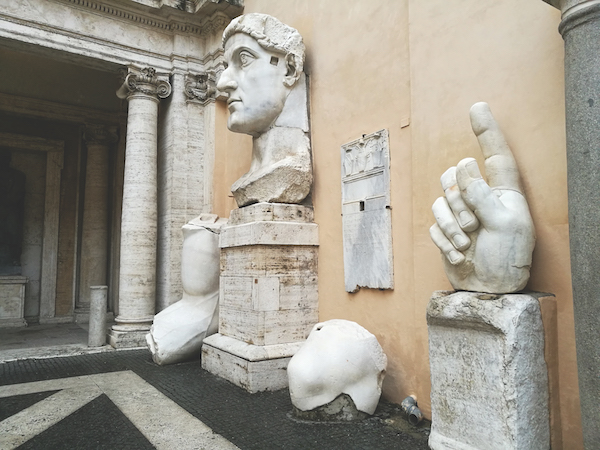 Recognised as the world's first public museum (though that really depends on what you mean by 'museum', what you mean by 'public', and what you mean by 'world'), the Capitoline first opened its doors in 1734. The Ashmolean in Oxford is actually 50 years older, but that was initially a university museum, and anyway the Capitoline collection dates back as far as 1471, which is the real basis for its claim. The question of whether there may have been earlier public museums in the Islamic world is rarely addressed.
The Museums (it's really just one museum, but it's contained within more than one building so it's known in the plural) are most famous for the 4th-century Colossus of Constantine, which was brought to the courtyard of the Palazzo dei Conservatori from the Forum; and the Capitoline Wolf, which used to be claimed as Etruscan, but is now actually known to date to the 11th or 12th century AD. (The twins are 15th century.)
Don't just consider this a museum treasure hunt, though. The Piazza del Campidoglio, the square on which the Museums stand, is an artwork in itself – by Michelangelo, no less – and if you go round the back you'll get the best views there are of the Forum.
To go inside, it's €15 on the door (full price) but if you can prove you live in Rome and you go on the first Sunday of the month you can go in for free – and lots of people do, so it can get crowded.
INFORMATION: Piazza del Campidoglio, Capitol Hill.
+39 06 3996 7800. Open Tuesday to Sunday, 9.30am to 8pm. www.museicapitolini.org