The official name is the Scalinata di Trinità dei Monti but we know them as the Spanish Steps, for the embassy once located here…
After our visit to the Vatican Museums last month, we thought it unlikely that you would want to go straight to the Galleria Borghese (where we will be going next month), so what better time to stop off halfway, get the old selfie stick out, and see if we can't break Instagram?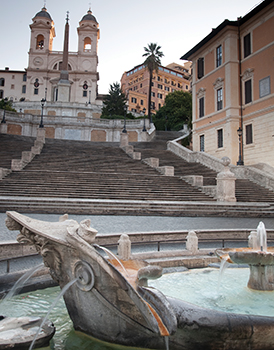 In the old days, of course, before mobile phones, the Spanish Steps served another important function in the life of the tourist in Rome: if you were meeting friends in the city, this was the place to find them. Even if you hadn't actually arranged to meet them at a specific time – in fact, especially if you hadn't – this would be the place to find them, because at some point they would come here.
If you approach the Steps from the direction of the Vatican, up Via dei Condotti, this stone butterfly floats ahead of you, not so much leading to the church at the top (as was the intention) as imposing upon it with its dazzling scale and fame. (After all, who goes to Rome to see the Trinità dei Monti, however Santissima it may be?)
John Keats spent his last three months at the house on the right, which you can visit, and there are some notable works of art in the church. (There used to be others, but they were 'relocated' during the Napoleonic occupation.) Like Keats, however, our time is short, and we're going to continue directly from here up the hill to the Villa Borghese.
SaveSave
Tags:
Culture
,
Insider's Rome
,
Italy
,
Rome
,
Rome culture
,
Spanish Steps
,
Travel