Italy is blessed with an abundance of stunning lakes – from romantic giants with Alpine backdrops to crystalline volcanic beauties fringed by leafy hills to secret wild ponds in the middle of nowhere. Fleur Kinson helps you choose the right one for your taste and budget.
When Italy isn't busy wowing us with its stupendous seaside or its magnificent mountains, it's melting our hearts with its lovely lakes. Seems like wherever you go in this country, it's not long before you're assailed by one kind of geographic beauty or another. Italy's lakes, of course, are famously attractive – with some commonly acknowledged to be among the most beautiful in the world, or having the most beautiful lake-island or some other accolade. So it might surprise you to learn that, while they're not exactly the cheapest places in Italy in which to buy a home, Italy's lakes yield plenty of very reasonably priced properties. There's a lot of good value to be had, especially if you look carefully.
Note that, as well as sporting sensible pricetags, homes in Italy's lake areas have a very good record for holding their value over time. Even when storms hit the national economy, lake homes usually weather it well. Meanwhile, their holiday rental prospects remain extremely good, as you might imagine. Italy's lake areas are usually well protected against overdevelopment, and indeed against ugly development, with legal restrictions on the quantity and style of new building. This safeguards the lake's appeal and also, of course, its property values.
All this said, you'll surely be familiar with the now decade-long woe that has beleaguered many foreign property markets since the international financial crisis began, and you can indeed expect property prices to be a bit lower in Italy's lake areas right now than they were back in 2008 – but not by very much. These are safe, stable places, currently offering the best of both worlds: you can benefit from slightly lower prices right now, but have little fear that you'll lose money on your investment long-term.
Numbers up
Obviously, different lakes and lake areas have different average prices and markets, as well as different characters. Italy's best-known lakeland is in the north, where steep slopes dotted with pretty villas plunge down to meet intricate and romantic watersides.
But central Italy has a clutch of delightful lakes too – serene, hill-fringed oases lapping at wild beaches and medieval villages. In the far south, meanwhile, isolated mountain tarns and sandy coastal lagoons are more the thing.
In terms of size and atmosphere, Italy seems to encompass every possible variety of lake – from the bustling, sophisticated inland sea of Lake Garda to the tiniest tranquil pool lying little-known and unvisited in lush semi-wilderness.
As a very rough guide, it's possible to say that lakeside prices are generally highest on the northern lakes, moderate on the central lakes, and lowest on the comparatively small pools of the far south of the country.
As for actual prices – if we start at the bottom and work up through the numbers – you might spend only a four-figure sum on a little rustic house on a waterside out in the wilds of southern Italy (but it might prove difficult to reach the place and your holiday rental prospects would be slim).
Rather more appealing, but still dirt-cheap, you might look at sleepy Lake Omodeo in central Sardinia, where a rural house might cost around €30,000.
Moving over to central Italy, a two-bedroom apartment or old village house near the shores of lovely Lake Trasimeno or Lake Bolsena might ask as little as €100,000 (and offer good holiday rental prospects to boot).
Meanwhile, two-bedroom apartments up on the famous northern lakes Como and Maggiore start at about €170,000, and two-bedroom houses about €250,000. Perhaps €300,000 would get you a very lovely villa on the central Italian lakes, but you'd probably have to spend more like €500,000 to get something similar up in the more glamorous north.
As you might expect, prices (and rental prospects) are usually higher the closer to the water a property is situated, with some very good bargains to be had further back from the shoreline.
Happily, with Italian lakes, stepping back usually means stepping up. Most lakes are surrounded by mountainous or hilly terrain, and so you often get to enjoy splendid, panoramic views from on high when you put space between yourself and the water. N
aturally you might also escape the potential for noise and bustling crowds associated with the main lakeshore streets. Buyers looking for old rustic homes to restore are of course more likely to find them in the wilder spaces far up from the waterside.
Eyes North
Italy's most famed lakeland is in the country's north, at the feet of the mighty Alps.
You've almost certainly heard of Lakes Garda, Maggiore and Como – the three largest lakes in Italy – but there are some lesser-known, smaller beauties up here too.
They're all arrestingly pretty and romantic places – with elegant, fruit-coloured townhouses and villas gracing their shorelines. Affluent and sophisticated, and beloved by discerning travellers for more than a century, the northern lakes are by no means cheap places to buy property, but they do still represent good value for money.
Bustling, yachty Lake Garda is the most visited of Italy's lakes, and the most expensive for property.
Its northern stretches are dramatically mountainous and hold some gem-like little towns, while further south the landscape is increasingly flat and populous. You might find a small home with a shared pool near the southern shore for about €160,000, or a two-bedroom home from €200,000. Prices are a little higher in the north.
Eighty miles west of Lake Garda, Lake Como is to some minds the most beautiful lake in Italy.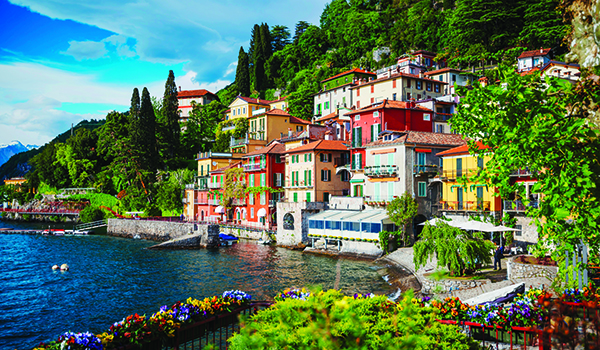 Shaped like an upside-down letter Y, the lake's every shore offers charming views across to another nearby shore, while evaporation haze makes dreamy folds of the surrounding green slopes. Southern shores, nearer to the town of Como itself, tend to be costlier than northern ones closer towards the Alps. Properties inland from the shore at the lake's northern end are cheapest of all.
The third of the big three northerners, Lake Maggiore sprawls from Italy over into Switzerland. It's a stately and elegant sort of lake, with tiny islands sporting fine old villas and gardens.
Property-wise, apartments in converted period villas can be an especially appealing option for the would-be investor – as well as a reasonably priced one. In general, one-bedroom homes round the lake start at about €150,000, and two-beds at about €200,000. Detached houses can ask anything from €350,000 upwards. It's reasonable to assume that prices on the western side of the lake will be higher than those on the eastern side.
You might also consider buying a property somewhere between Lake Maggiore and Lake Orta – such as Gignese – where you'd benefit from lower prices while enjoying easy access to both lakes.
Central sparkle
Descending from northern Italy into the heart of the country, you meet another significant lakeland area. The sun-kissed regions of Tuscany, Umbria and Lazio feature some lovely small and mid-sized lakes surrounded by soft hills.
These are rather sleepier and less developed places than the big northern lakes, and for you that might give them an even greater charm. Well-kept ancient towns and villages crop up along their reedy, sandy shorelines, and property prices here and out on the wilder hillsides can be very reasonable indeed.
Holiday rental prospects on these central Italian lakes are good and, as you're a bit further south now, summers are a little longer and warmer than they are up north.
Of the several lakes scattered about here, three are especially likely to interest you. These are Lake Trasimeno in Umbria and Lakes Bolsena and Bracciano in northern Lazio.
Lake Trasimeno is a warm, shallow delight that has understandably grown increasingly popular with foreign buyers over recent decades. It's easily accessed from regional capital Perugia's airport, and enjoys a desirable position on Umbria's border with Tuscany. Apartments on the lake start at about €90,000, while beautifully restored, prime-sited ones with outdoor space might ask €180,000-€200,000 or more.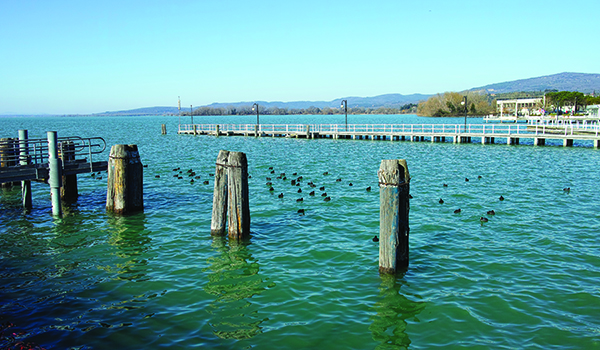 Northern Lazio's lakes, meanwhile, have volcanic origins and, as well as being thrillingly deep in the middle, are crystal-clear and almost drinkably clean. Overlooked by ancient castles and citadels, and encircled by lushly fertile hills, they are thoroughly enchanting places.
While Lake Bolsena sits on Lazio's borders with Umbria and Tuscany, Lake Bracciano is further south and lies within commuting distance of Rome – giving it slightly higher property prices and an arguably busier air.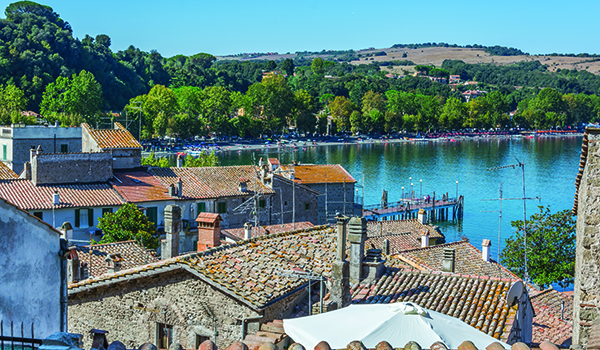 Lake Bolsena, rich in history and mercifully unspoilt, nonetheless enjoys a very lively calendar of festivals and public events despite being a spacious-feeling and generally uncrowded sort of place. Small village homes in the lake's vicinity start at around €90,000, two-bedroom houses at about €200,000 and larger villas at around €300,000. Both lakes offer very good holiday rental prospects.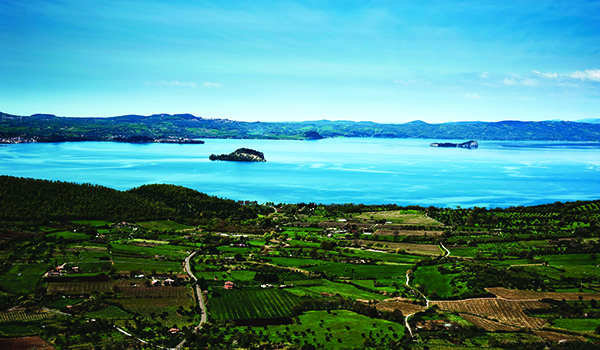 Lake love
Some people might wonder why, in a country like Italy with nearly 5,000 miles of intricate Mediterranean coastline, you would opt to buy a home on a lake at all.
But lakes have their own very special charm, quite distinct from the seaside's. There's the freshwater aspect, of course, which can make swimming and post-swim sunbathing feel nicer than it does at the sea. And there's the greater sense of safety in that strong waves and currents are less likely to pull you around.
But there's also the cosy sense of being part of a discrete little world unto itself. The sea is endless, and stretches from one far-flung place to another, but a lake has a concentrated identity all its own. People in towns around a lake have a focal point in common, and enjoy a natural sense of community.
On whichever lake you choose to buy in Italy, you're sure to build an intimate connection with the lake itself, becoming familiar with its distinct 'moods' at different times of day and in different weather conditions. It will become a character in your life, as will the local people with whom you'll bond over your shared connection: your love of the lake itself.