Isabella d'Este was the Marchesa of Mantua and the first lady of the Renaissance. Jane Keightley goes to Mantua to find out more about Isabella d'Este and the Gonzaga family she married into, to explore the Palazzo Ducale where she lived, and see the city she knew.
The letter quoted below fair representation of Isabella's character, although it was fairly typical of the way many art patrons of the time complained about their artists' work.
"We are glad to hear that you are doing your utmost to finish our Studiolo, so as not to be sent to prison… You can paint whatever you like inside the cupboards, as long as it is not ugly, because if it is, you will have to paint it all over again, at your own expense." – Isabella d'Este to a Mantuan artist.
However, Isabella was a feisty woman in a world where most women did not have a lot of influence over their lives. She grew up in a cultured family in the city state of Ferrara, the eldest daughter of Ercole d'Este, Duke of Ferrara, and Eleanor of Naples.
She received a classical education and met many famous humanists and scholars. When she was six she was betrothed to the future fourth marquis of Mantua, Francesco Gonzaga, and met him the following year. They were married in February 1490. Isabella was 15.
She moved to Mantua from Ferrara after her marriage and created her famous studiolo, first in the Castello di San Giorgio, for which she commissioned paintings from Mantegna, Perugino and Lorenzo Costa.
A studiolo was a fashionable addition to the rooms in any high-class dwelling. A private room or area dedicated to reading, studying and writing, it was often lavishly decorated by artists of the time. It was unusual for a woman to have a studiolo as they were considered masculine spaces.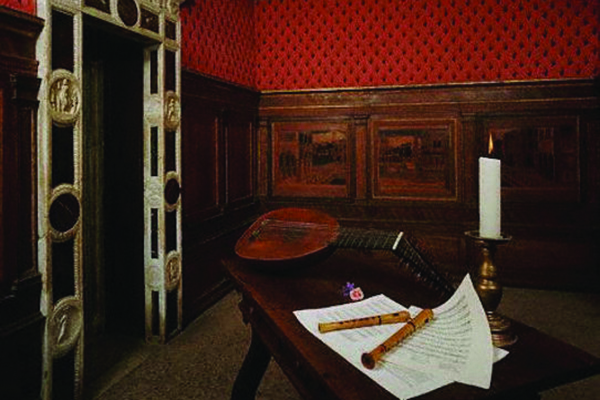 A voracious collector
Isabella later moved her studiolo to the newer part of the Palazzo and commissioned two paintings from Correggio to join the five from the Castello di San Giorgio.
She became a voracious art collector; such was her reputation that Niccolò da Correggio called her la prima donna del mondo, the first lady of the world. Isabella had golden hair and dark eyes and was described as a beauty. She was also well known for her fashion sense, which was copied by noble ladies all over Italy and Europe.
She was painted by many famous painters of the day, most notably by Titian who, when she was 60, risked his reputation by painting from an image of her when she was 25.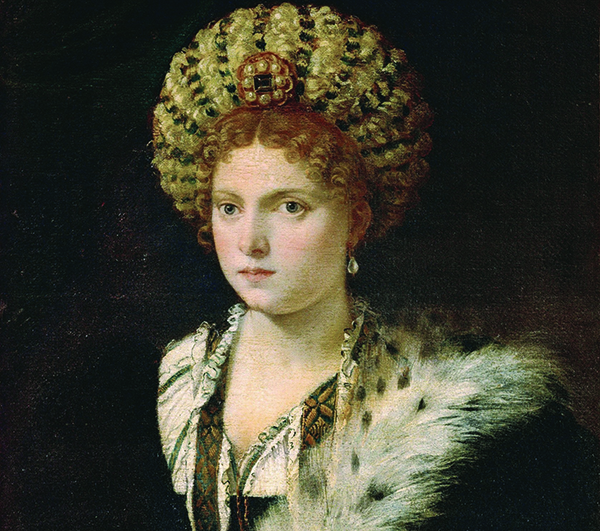 In 1502 Isabella welcomed the infamous Lucrezia Borgia to her family when she married her brother Alfonso, the Ferrara heir. Initially, the ladies got on well but the relationship rapidly cooled when Isabella found out that Lucrezia was having an affair with her husband.
In 1509 Francesco was held prisoner in Venice and in his absence Isabella served as regent and eventually negotiated a peace treaty that provided for his safe return in 1512. On his return she discovered he was ill with syphilis and from then on the relationship deteriorated.
He died in 1519 and Isabella became regent for her young son Federico until he was old enough to rule on his own, though Federico knew how popular his mother was and gave her a prominent role in governing the city.
She also persuaded Emperor Charles V to raise her son's status from Marquis to Duke. She eventually became ruler in her own right of a small city state, Solarolo, which she governed until she died in 1539.
The Mantua of Isabella
The Italians call Mantua 'La Bella Addormentata' – the Sleeping Beauty – because it hasn't changed in 600 years.
Mantua is often overlooked by tourists, which makes it even more special for interested visitors. It's possible to wander around the streets mingling with the locals and, as Mantua is a compact city, you are able to walk across it in 20 minutes. Flanked by man-made lakes on three sides, the city is enclosed within them, just as it was hundreds of years ago.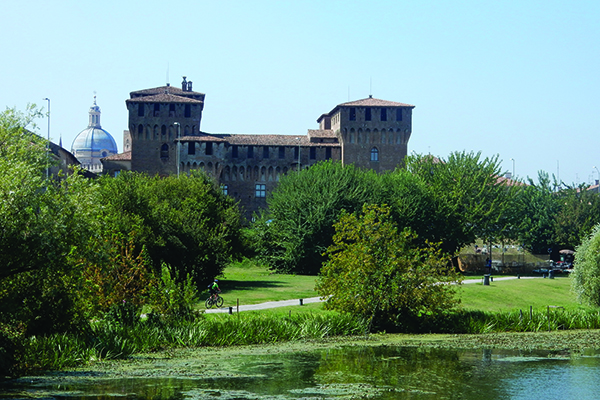 Originally there was a fourth lake, but it dried up in the 18th century. These were built for defence purposes in the 12th century.
The three lakes – Lago Superiore, Lago di Mezzo and Lago Inferiore – are fed by waters from the Mincio River, a tributary of the Po which comes down from Lake Garda. The one long since dried up was called Lago Pajolo.
I was staying at the Hotel Broletto, a friendly, family-run hotel in the middle of the historic centre between Piazza delle Erbe and Piazza Sordello, the grand cobbled square where the Palazzo Ducale is situated. The balcony of my room overlooked the bustling main street and in the evening before I went out I stood and watched the beginning of the passeggiata – the stroll Italians love to take in the early evening.
The morning after I arrived, I was going to meet Lorenzo Bonoldi, who I had been told, was one of the best and most knowledgeable guides in Mantua. Indeed, as soon as we had been introduced, he presented me with a book he had written about Isabella. To say that I was impressed was an understatement.
Exploring the Palazzo Ducale and the other sights of Mantua with him was a joy. His passion for his subject was plain to see and to have him all to myself was an added bonus. He made the past come alive as we wandered through the many frescoed rooms, including the two studioli that belonged to Isabella.
I saw the Mantegna frescoes in the Camera degli Sposi (the Bridal Chamber) that I had seen in so many art books. One of my favourite stories was of how visitors trotted up the graduated staircase on their horses to be received in all their armour and finery. I was also impressed by the roof garden.
As we wandered across the cobbled Piazza (which he laughingly explained to me that only Italian girls could walk across in high heels) we went for coffee before exploring more of the city.
We headed off from Piazza Sordello, through Piazza Broletto to Piazza delle Erbe, where we admired the 11th-century Rotonda di San Lorenzo.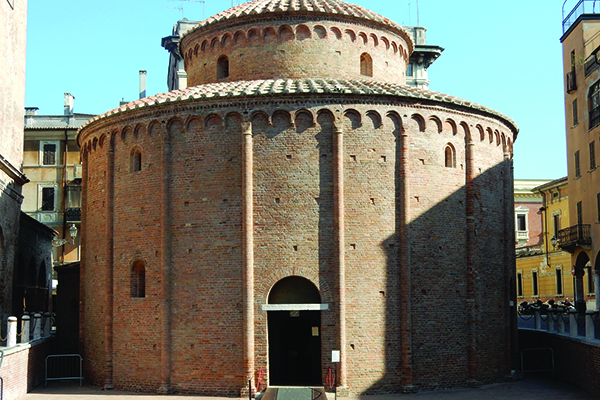 For many years it became hidden from view until all the houses around it were demolished. It now stands there in its former glory and you can go inside to see the remains of 12th- and 13th-century frescoes.
In the Piazza Mantegna we found the Basilica di Sant'Andrea, which safeguards the golden vessels said to hold earth soaked by the blood of Christ. Longinus, the soldier who speared Christ on the cross, is said to have scooped up the earth and buried it in Mantua after leaving Palestine. These containers now rest beneath a marble octagon in front of the altar and are paraded around Mantua in a grand procession on Good Friday.
The final stop on my tour with Lorenzo was the Teatro Bibiena, which is famous for hosting a 13-year-old Wolfgang Amadeus Mozart, who played here in 1770. Very ornate, it is shaped like a bell and has four storeys of stucco balconies arranged around curving walls.
Before we parted, Lorenzo advised me not to miss visiting the Palazzo Te.
Palazzo Te
Built on the southern edge of the city, Palazzo Te was conceived as a love nest for Duke Federico Gonzaga and his mistress, Isabella Boschetti. I have seen a lot of frescoes in my travels around Italy but nothing quite like the ones that adorn the walls here.
The Sala dei Giganti is full of grotesque giants and monsters, and the Cupid and Psyche room, where the Duke held his banquets, depicts Bacchanalian scenes beyond description. The next day, needing a rest from art and culture and wanting to escape the fierce August heat, I booked a boat trip on the lake and I am so pleased that I did.
Seeing Mantua from the water was a revelation. It looked completely different and the cooling breeze on the water was bliss. Everywhere you looked there was a chance to take beautiful photographs of the wildlife. Herons, swans, ducks and moorhens abounded. It was such a relaxing experience and I disembarked feeling quite lively and raring to go, ready to make the most of my last day in Mantua.
"To be quite honest, I could not tell the difference between donkey and beef, but it certainly tasted good".
I must mention the local food, which is interesting to say the least – stracotto d'asino being one of the best-known dishes. This is a rich stew cooked for eight hours using donkey meat and I was determined to try it while I was there. It is not usually served nowadays in the restaurants in the centre for fear of upsetting the tourists, but I managed to track some down to try.
To be quite honest, I could not tell the difference between donkey and beef, but it certainly tasted good.
Other local dishes are tortelli di zucca alla mantovana, which is a pasta dish with pumpkin and amaretti biscuits. It was delicious but very rich and you would not need a big portion. Torta sbrisolona is another well known speciality, which you can see in all the shop windows.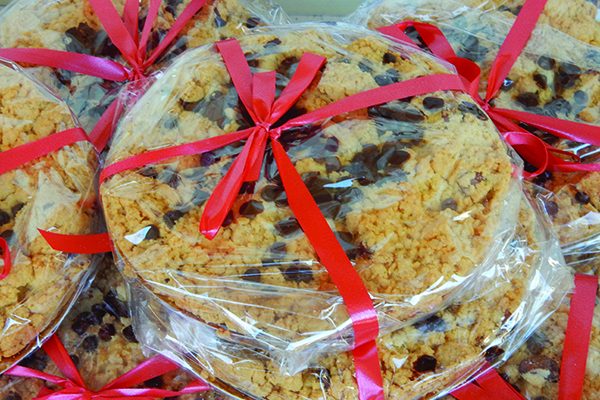 It is like the top of an apple crumble but crisper. According to local tradition, it is not cut into slices but is broken up by punching it in the middle: if it crumbles it has been well made.
I had come to find out about the Gonzaga family and Isabella d'Este but ended up loving the whole city – the tightly-knit historic centre, the beautiful lakes full of wildlife, and of course the food!