The fashion house became the go-to shop for luxury crafted and beautiful fur clothing – it is still known for this today…
Like Gucci and Ferragamo, Fendi was started in the 1920s and, like Missoni, it was started by a married couple, in this case Edoardo and Adele Fendi. They opened a fur and leather goods shop in Rome in 1925 in via del Plebiscito and a decade later relocated and expanded to via Veneto. At this time Fendi began to become known outside the capital – and the name was associated with top quality. Edoardo and Adele had five daughters and all worked in the family business. Paola joined at 15 and was followed by Anna, Franca, Carla and Alda, who all joined after they finished school.
In the 1960s, Fendi began to collaborate with an up-and-coming designer called Karl Lagerfeld. He created for Fendi clothes and jackets in fur. This was unprecedented. Until then, fur had only been used for heavy coats; now it became lightweight, moulding the body, easy to wear and stylish. Lagerfeld presented the first fur couture collection in 1966, and three years later the first ready to wear fur collection. (He is also responsible for the creation of Fendi's signature double F logo.) With Lagerfeld's creativity and Fendi's quality, the fashion house became the go-to shop for luxury crafted fur clothing. It is still known for this today.
Fendi have always experimented with tanning methods, colours and cuts in fur, as well as in their leather goods and accessories. In the late 1960s the house began to use canvas instead of leather and ribbed rubber as materials. In the late 1970s, Fendi officially launched their ready to wear clothing line, to complement their fur line. In 1997 Silvia Venturini Fendi, daughter of Anna, created the baguette bag, one of the most famous bag creations in fashion. It is a small, rectangular bag with a semi-circular strap short enough so the bag fits snugly under the arm, like a French baguette, and the clasp is the FF logo. What makes the bag so addictive to fashionistas is that it can be customised, made to measure, and editions are released periodically: crocodile skin, snake skin, silk, velvet, adorned with crystals or sequins… More than six hundred versions have been made.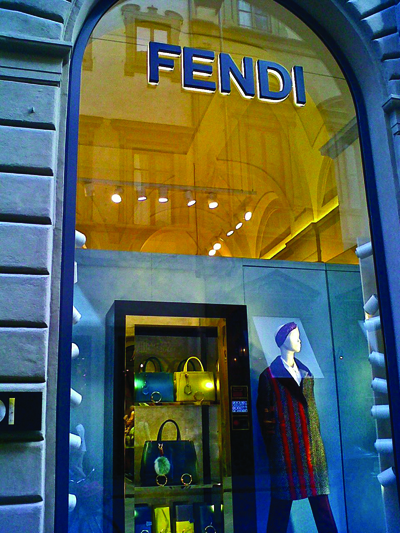 In the 1990s the Fendi family was large, comprising as it did the five sisters, who had eleven children between them, and 30 grandchildren. With many of the family members on the payroll, there were often difficult days in the office. In 1999 the Fendi sisters sold 51 per cent of the company to LVMH (Louis Vuitton Moet Hennessy) and Prada. Only one of the family members remains working with the company – Silvia, who has worked as the creative director of accessories since 1994 and also looks after children's wear. Lagerfeld is still there though. After more than 40 years of collaboration with the company, he is still very much a presence in today's Fendi collections. 
In Florence, the windows of Fendi's beautiful shop are my favourite aspect of the brand as it is represented here – they are never over-adorned, always chic, and often dashed with a touch of humour. In Rome, Fendi dominates one of the most chic streets in Rome, the via Borgognona, as it has now for 70 years.
Text and Photos © Freya Middleton