Jane Keightley exposes herself to new experiences in the city that has become known as a centre for the avant-garde…
Turin has always been well known for being the home of The Shroud and, more recently, the place where the car manufacturing company FIAT was based. FIAT became the biggest company in Italy and one of the biggest in Europe, attracting many workers from southern Italy seeking better paid jobs.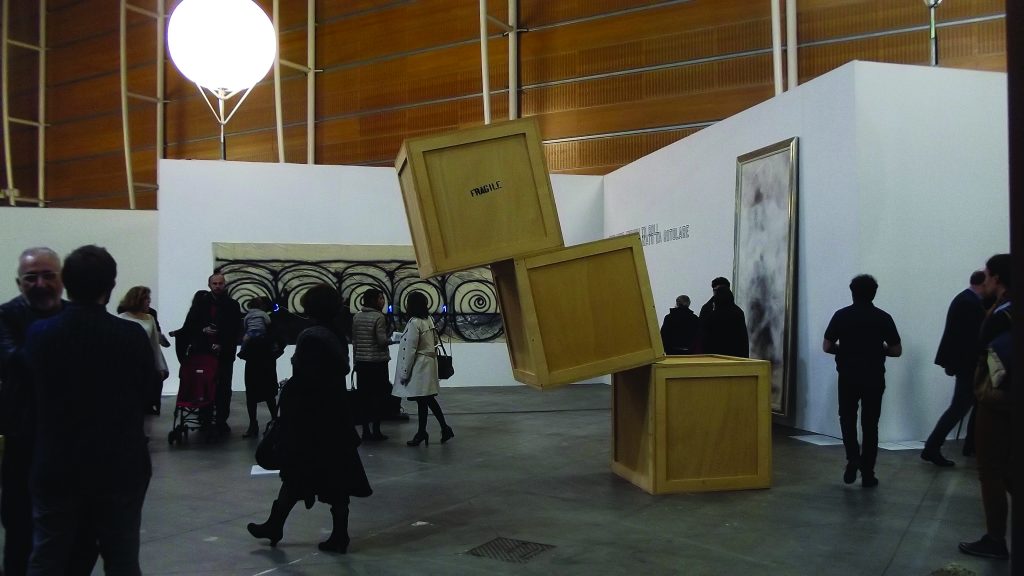 Unfortunately, FIAT suffered in the economic crisis of the 1980s and eventually the huge headquarters shut down. As a result of this Turin lost its label as the "workers' city" and focussed its attention on its many historical and artistic assets, showing them off proudly when they hosted the 20th Winter Olympic Games in 2006. This was the starting point for its rebirth. It now hosts major events and trade fairs with a range of services and facilities that, together with its artistic, cultural and culinary heritage, make it an exciting, modern city.
I was very lucky to get the chance to spend a few days in Turin experiencing their modern and contemporary art scene. As I was driven to my hotel I realised what a beautiful city it was, with its Baroque and Art Nouveau architecture and its historic cafés. The snow-covered Alps are not far away and the Mole Antonelliana, the symbol of Turin, towers over the city.
Hungry after my journey, I decided to go to try out Turin's slow food alternative to McDonalds called M**Bun. Their ethos is to supply healthy and delicious food made from locally sourced ingredients with a short supply chain. Their menu includes a 100 per cent pure Fassone beef beefburger with balsamic vinegar, steak tartare and baked cheese with truffle. They even have their own healthy cola drink.
The Artissima Modern Art Fair
Ready and raring to go to the Artissima Modern Art Fair, I travelled on a very modern and clean underground system out to the Lingotto district, where the Fair was being held. Lingotto was the building built by Giacomo Trucco to house FIAT's production line and management staff. That was in 1914 and very soon FIAT came to be considered Europe's most efficient car manufacturer.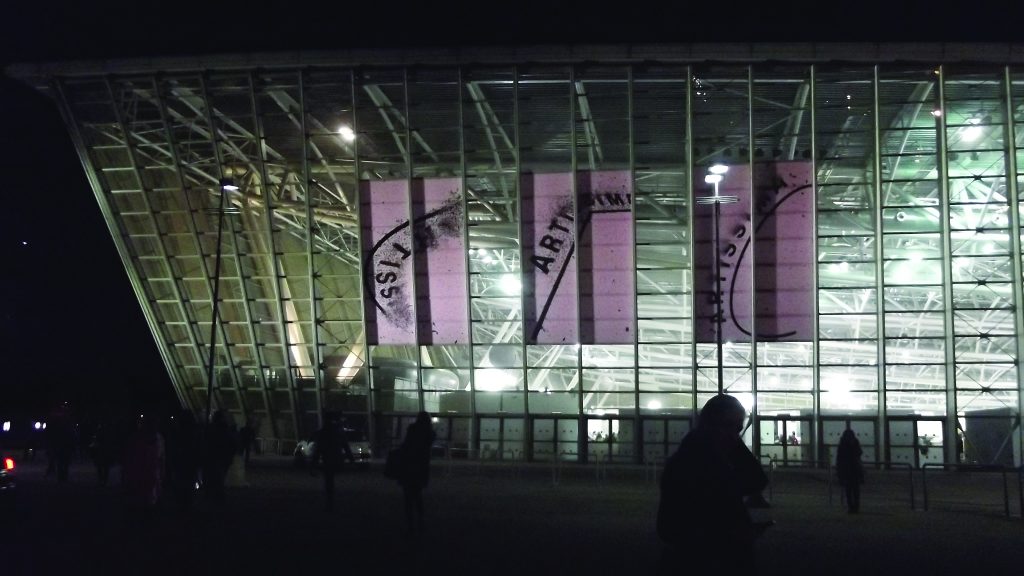 After they ceased production here in the 1990s the building was converted into art galleries and now holds a large convention centre, a shopping mall, cinemas and several cavernous exhibition halls. The Artissima Fair was being held in a large hall next to the Lingotto complex. As I approached it I mingled with the great and the good of Turin, all looking chic and elegant, which the Italians do so well.
On entering the hall the various stands and their artworks seemed to go on for miles. There were 207 stands and exhibitors from 35 countries. Where to start, I wondered, but in the end I just wandered around stopping at exhibits that took my fancy. I must say I have never been a particular fan of modern art. My favourite place to wander round is the Uffizi in Florence with its wonderful selection of Renaissance art. However, I was pleasantly surprised how many of the exhibits I actually liked. Of course, there were a few that I thought were a waste of time but on the whole I had a very thought-provoking and enjoyable evening.
After all the art and culture I needed food and luckily for me Eataly was only just down the road from the exhibition. Eataly is a large emporium showcasing and selling the best of Italian food. I could have browsed around it for hours but eating was the priority and I was whisked off to the Restaurant Casa Vicina, which is situated inside Eataly. The food was so beautifully presented I could hardly bring myself to eat it but of course I did and it was wonderful.
La Galleria d'Arte Moderna
The next morning it was time to visit the Gallery of Modern Art, GAM, Turin's Civic Gallery of Modern and Contemporary Art. This is one of Italy's oldest and most important modern and contemporary art museums. Indeed, Turin was the first Italian city to promote a public collection of modern art, in 1863.
Today the museum contains more than 45,000 works, including paintings, sculptures, installations and photographs, as well as a great collection of drawings and engravings and one of the most important European collections of art films and videos. The museum holds important works by major 19th- and 20th-century Italian and international artists, followers of the Arte Povera movement and the new avant-garde of the second post-war period. These include works by Merz, Paolini, Boetti, Anselmo, Penone and Pistoletto. There were quite a few exhibits I quite liked but again some I found a waste of space.
La Fondazione Sandretto Re Rebaudengo
My next port of call was the Fondazione Sandretto Re Rebaudengo, where there was an exhibition by Adrián Villar Rojas. In 2002 the Fondazione Sandretto Re Rebaudengo, which was established in 1995, inaugurated a large Centre of Contemporary Art, designed by Claudio Silvestrin. The Neominamilist-style building has a large hall for temporary exhibitions as well as an auditorium, a bookshop, an education room, a restaurant and a stylish cafeteria designed by Rudolf Stingel from the Trentino Alto Adige area of Italy.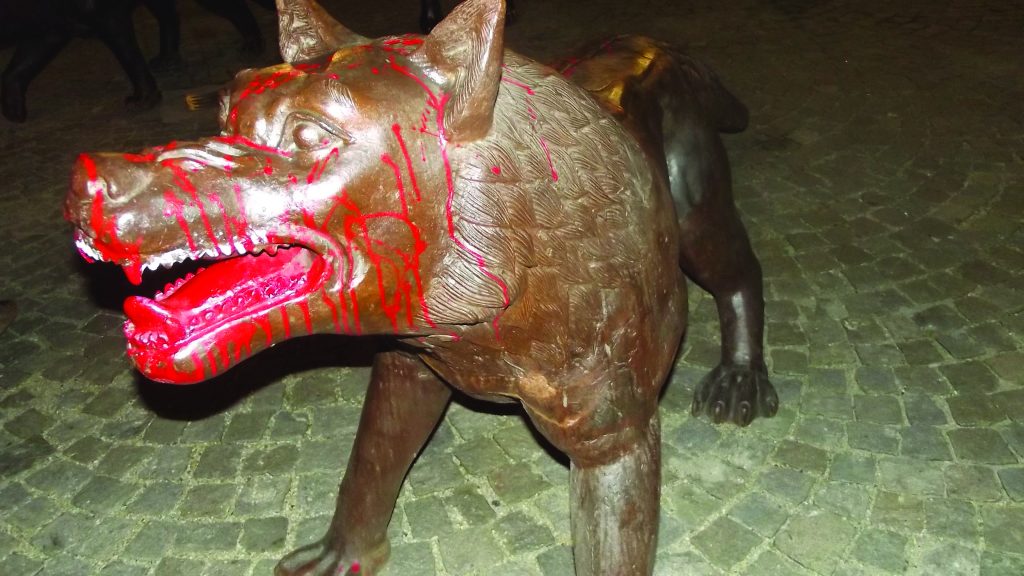 The centre, designed to address the latest contemporary issues, is a flexible venue suitable for events as well as concerts, theatre shows, movie screenings, literary meetings and discussions. This exhibition was my favourite. I certainly didn't know what the artist was trying to say but it was certainly a bit different. The huge hall was filled with huge rocks that must have been a nightmare to put into place. They were covered with random objects such as food, clothing, shoes and various other weird and wonderful things. I did wonder whether the food would be replaced or whether it would just moulder away and smell the place out until the exhibition finished. I never did find out. We finished our morning by eating at Restaurant Spazio inside the Fondazione Sandretto. Like our meal the evening before it looked to good to eat and was wonderful.
The Spina Centrale
After this I strolled along the Spina Centrale, a huge panoramic boulevard which crosses the city from north to south and which was created by covering up a railway line. There are contemporary artworks displayed along here such as the Fountains-Igloo by Mario Merz, the Opera per Torino by Per Kirkeby and the Albero Giardino by Giuseppe Penone.
As the sun went down I toured the city centre admiring the Luci d'Artista. This is the world's first outdoor light exhibition. Launched during the Christmas period it soon expanded abroad, becoming a veritable en plein air exhibition of works by Italian and foreign artists. Some of the works are permanent, such as the Fibonacci series created by Mario Merz on the dome of the Mole Antonelliana, and Michelangelo Pistoletto's installation on the ancient eaves of the clock tower in Porta Palazzo. These permanent works are switched on when there is a special occasion, whilst alternating works by other artists such as Buren, Casorati, Horn and Mainolfi are installed every year. Whilst wandering around the city centre I got chance to admire the historical highlights such as the Palazzo Reale, the Palazzo Madama and the Mole Antonelliana, which houses the National Cinema Museum.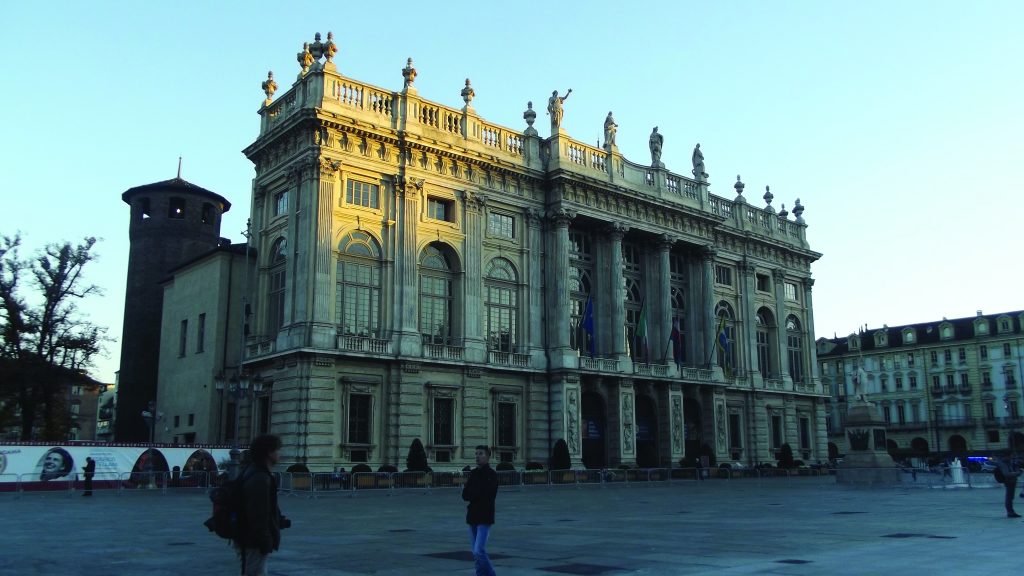 Thirsty and hungry I called for an apericena at the Mago di Oz. This is a ritual of Turin. Dinner is preceded by the ritual of the aperitif: a cocktail or glass of vermouth, which is accompanied by appetizers such as sandwiches, cold meats and local cheeses. These all come free with your drink. I filled up with so much I decided to skip dinner after my busy day and wended my way back to the hotel. I pride myself on my sense of direction and I made it back without getting lost once and as I wandered back through the huge squares and beautiful arcades I came to the conclusion that I must visit Turin again and visit some of the places I had not got the chance to visit on this trip.
Il Museo Ettore Fico
The next morning I visited the Museo Ettore Fico. This is situated in an urban area called Spina 4 next to the Docks Dora, where many artists' studios are based. The Museo Ettore Fico organizes exhibitions, cultural events, workshops and meetings. The exhibition was interesting but the performance Vanità/Vanitas by Ruben Montini and Alexander Pohnert really made me realize I just don't get modern art. It consisted of two men, one holding the other. We watched while the man holding the other one struggled harder and harder not to drop him but of course finally he had to. This was greeted with rapturous applause by the audience whilst I just stood and wondered what all the fuss was about.
I really enjoyed my foray into the world of modern and contemporary art in Turin but would love to return one day to discover its historical heritage and visit the other great attractions such as the Shroud, the Cinema Museum, the Egyptian Museum and all the other fascinating places that the city has to offer.